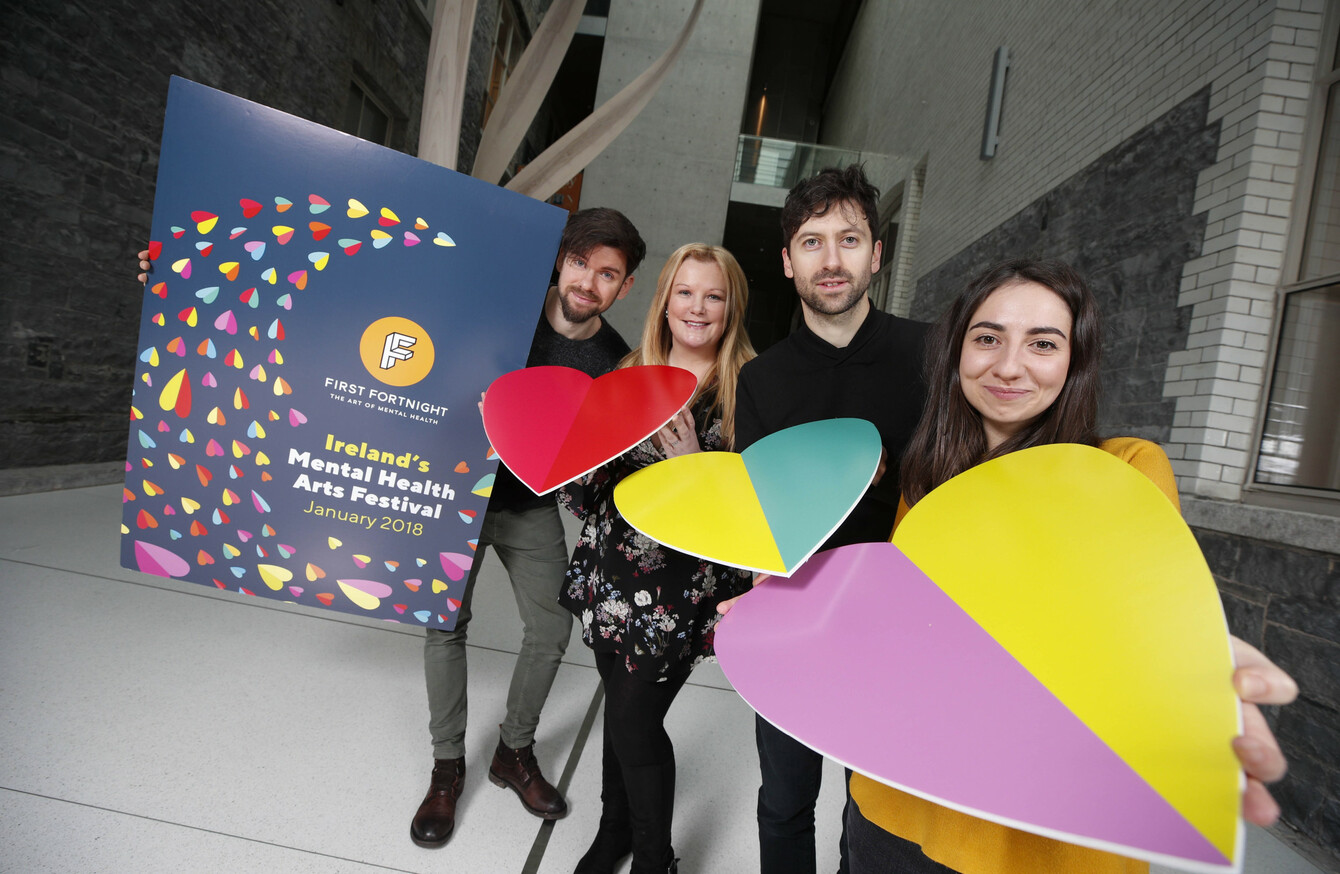 Image: Conor McCabe Photography Ltd
Image: Conor McCabe Photography Ltd
THE NINTH ANNUAL First Fortnight – Ireland's mental health festival – kicked off this week, but there is still a host of events coming.
Now in its ninth year, First Fortnight 2018 sees live music, film, theatre, discussion, sport and arts events staged to "create open discussion and understanding of mental health problems, and challenge prejudice and discrimination".
Among the events now taking place across Dublin and selected venues nationwide include Lunatic, There I Go, a powerful new play based on the memoir Bird's Nest Soup by Hanna Greally which is currently being staged at the Civic Theatre until tonight. The play recounts Greally's 20-year incarceration in an asylum.
For the first time First Fortnight will examine aspects of technology and mental health in Don't Worry be APPY, a discussion event in Dublin's Trinity College on 10 January.
Mental health advocate, author and DJ Nikki Hayes will chair #InOurHourOfNeed, a panel debate on current mental health policy held in association with Mental Health Reform and A Lust For Life in Dublin's Wood Quay venue on 10 January.
This year's music events will include four Therapy Session events in Cork and Dublin, two of which will be curated by Delorentos and All Tvvins. Delorentos will perform an intimate and special three-piece acoustic set as part of the First Fortnight Therapy Sessions at The Workman's Club, Dublin on Friday, 12 January that will also feature Limerick trio, Bleeding Heart Pigeons.
The annual Big Gig also returns on 13 January in Dublin's Tramline and will feature Rusangano Family, Ailbhe Reddy, Le Boom and A. Smyth, while this year's Banter event will feature An evening with Barry Hyde of The Futureheads.
Other events taking place as part of First Fortnight 2018 include: heArts and Minds, a series of events within the National Gallery of Ireland discussing art and mental health, a special screening of the movie Loving Vincent and a post show discussion in the stunning NGI courtyard; The Public Diary, an interactive multimedia installation of personal diary entries collected at last year's First Fortnight; Corinthian: Sports & Mental Health debate featuring former Kildare footballer Dermot Earley; screenings of acclaimed films Loving Vincent, 32 Pills and The Departure from Emmy award-winning Lana Wilson; and OutStraight – a concept-based show combining spoken word/ hip-hop theatre with visual art graffiti.
First Fortnight co-founder and project manager JP Swaine said:
"First Fortnight has become synonymous with fresh, creative and innovative ways to spark the national conversation on mental health. Each festival that passes seems to encourage a new crop of artists to work creatively in response to mental health as an issue in Irish society and it has been hugely encouraging to meet with artists who have been developing their work with the expressed purpose of contributing to the First Fortnight."

For the full schedule, click here.