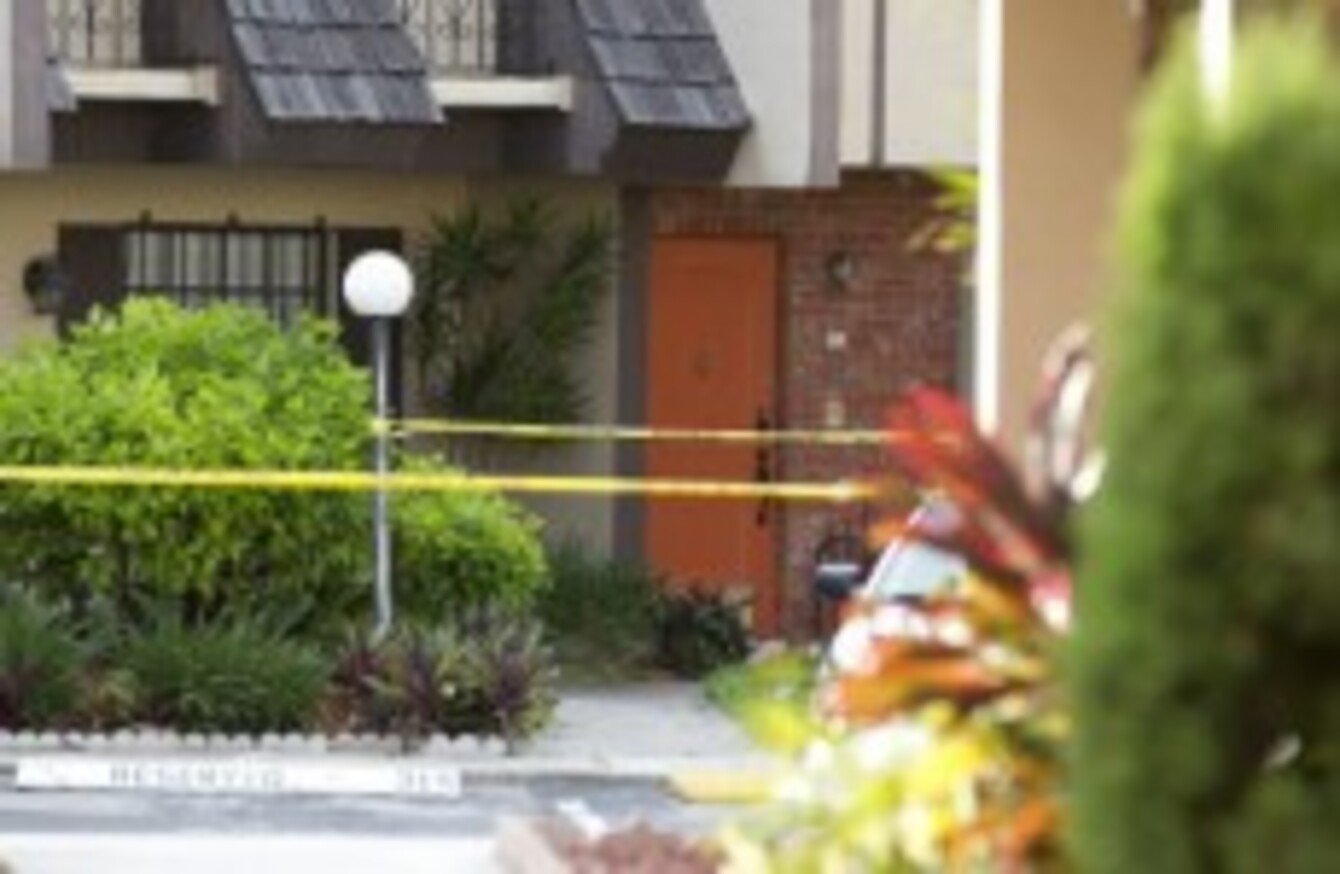 Police tape blocks the entrance to a murder scene in Miami
Image: J Pat Carter/ PA Images
Police tape blocks the entrance to a murder scene in Miami
Image: J Pat Carter/ PA Images
A FLORIDA MAN has been charged with first-degree murder after allegedly killing his wife and posting pictures of her dead body on Facebook.
"Im going to prison or death sentence for killing my wife love you guys, miss you guys take care Facebook people you will see me in the news," said the Thursday morning post on Derek Medina's Facebook page.
The South Florida man then apparently posted a photo of his 26-year-old wife's body slumped on the floor and turned himself in to police, who late on Thursday charged the property management supervisor with first-degree murder.
Miami-Dade police said the 31-year-old Medina turned himself in to police after Jennifer Alfonso was fatally shot inside the couple's home in South Miami, a suburb of Miami. When officers responded to the home, they found Alfonso's body, as well as her 10-year-old daughter, who was unharmed.
(Two people sit behind a police car as Miami police officers investigate a murder. Photo: J Pat Carter/ PA Images)
According to the affidavit, the 6'2″ Medina said the couple became involved in a heated argument in an upstairs bedroom when he armed himself with a gun and pointed it at her. He said Alfonso left the bedroom, returning later to say she was leaving him. He says he went downstairs and confronted her in the kitchen, when she began punching him. He claims he went back upstairs to get his gun and confronted her again, at which time she grabbed a knife. Medina said he was able to disarm her and put the knife in a drawer, but that when she began punching him again, he shot her several times, the affidavit says.
The post about the slaying on a Facebook page identified as Medina's went out to friends at 11:11 a.m. on Thursday.
The post claimed that his wife was punching him and that he wasn't going to stand any more abuse. However, YouTube videos linked to his Facebook page earlier this week show him working out in a martial arts studio, punching and kicking a heavy bag.
The next and final post — also at 11:11 a.m. and titled "Rip Jennifer Alfonso" — was a gruesome photograph showing a woman in black leotards slumped on the floor. She looked like she had fallen backward from a kneeling position, with her legs bent to her sides and blood on her left arm and left cheek. The photo was up for more than five hours before Facebook removed the page late on Thursday afternoon.
(An unidentified woman looks through a fence near a murder scene. Photo: J Pat Carter/ PA Images)
A Facebook spokeswoman said in an e-mail to The Associated Press that she couldn't comment on a law enforcement investigation but could provide a general comment from the company.
"The content was reported to us," the spokeswoman wrote. "We took action on the profile — removing the content and disabling the profile, and we reached out to law enforcement. We take action on all content that violates our terms, which are clearly laid out on our site."
Police declined comment on the Facebook posts.
Public records show that Medina and Alfonso first married in January 2010, divorced in February 2012 and then remarried three months later. Medina bought the house where the couple lived in March 2012 for $107,000.
#Open journalism No news is bad news Support The Journal

Your contributions will help us continue to deliver the stories that are important to you

Support us now
On his Facebook page, Medina claimed to be a supervisor at a property management company and to have appeared in the Miami-based crime drama "Burn Notice," though his name doesn't appear in online credits for the show.
On a personal blog to which the Miami Herald linked, someone named Derek Medina touted e-books of his on subjects ranging from saving marriage through communication to "humans who are gifted and can see the supernatural spirit ghost world we live in."
"The author was with his wife in New York and his wife was attacked by a ghost," he writes, describing the e-book. "She was seeing a ghost and was being taunted and messed with. She informed her husband and he told her to go to sleep and he would watch over her. Minutes later he was attdacked by a demon ghost and he was sick and throwing up."
Police said in the arrest affidavit that Medina never called '911′, only turning himself in to police after going to see family and confessing.
On Thursday night, police had taped off the area around the complex where the couple lived. The complex is made up of yellow-peach colored townhouses with faded wood roofs. Several cars filled the parking area in front of the townhouses as police questioned neighbors and possibly friends of the victim. Some of those gathered were crying.
Neighbor Phil Eby said he didn't know the couple very well but expressed surprise at the shooting.
"I met him a couple of times. He seemed like a pretty nice guy," Eby said. "But I don't remember her at all."