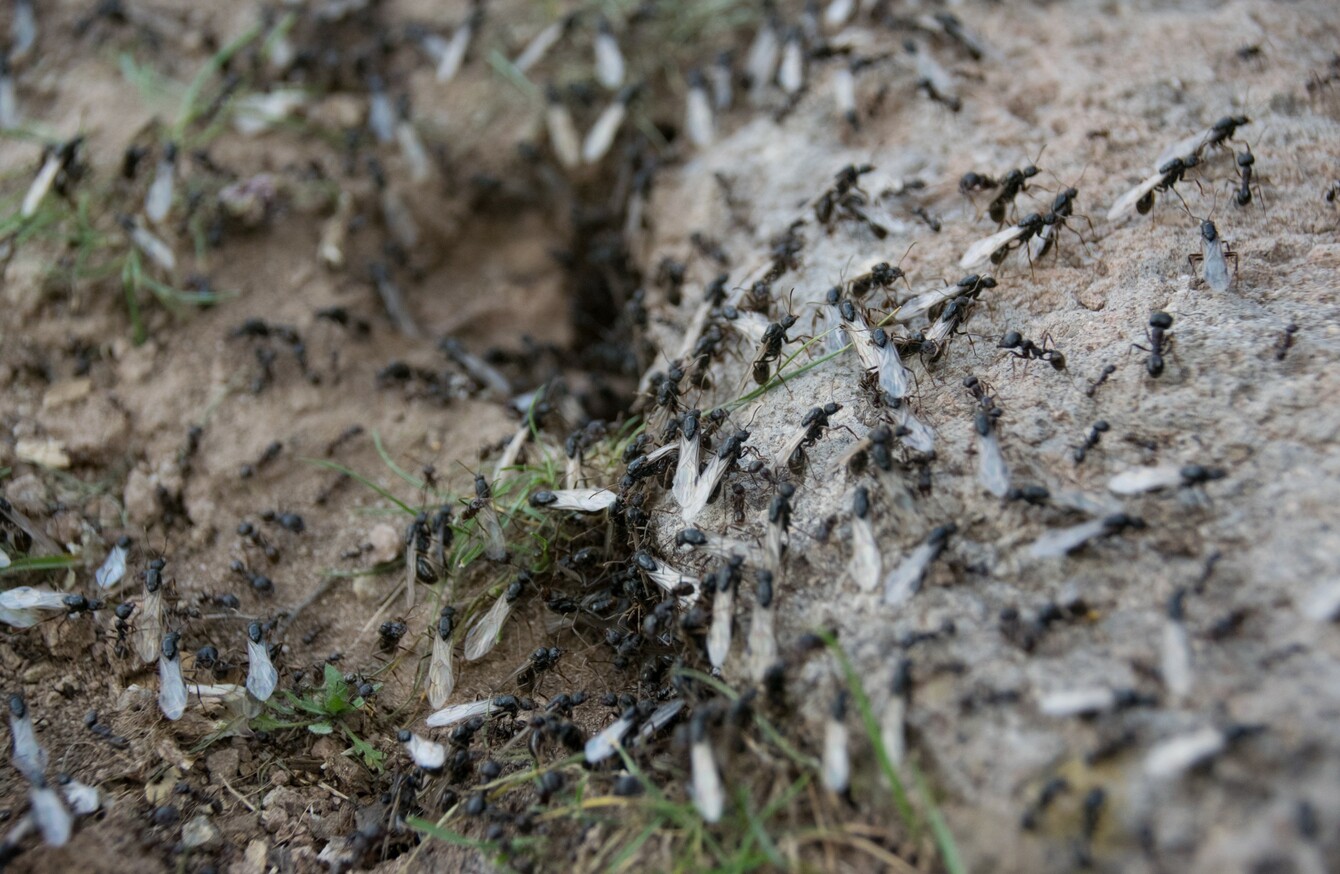 Image: Shutterstock/santoelia
Image: Shutterstock/santoelia
FLYING ANT SEASON has returned.
Earlier today, the UK Met Office shared a radar image of what it said was a swarm of flying ants passing over Ireland and in the UK.
The ants – which are the same as regular garden ants – are currently taking to the skies for their annual mating season.
There's a common misconception that ant colonies across the country coordinate their flight on one day, "flying ant day".
But actually, the phenomenon happens over a number of weeks during the summer, and there have been reports on social media of the ants appearing across the country since May.
Brendan Ryan, director of PestFree.ie told TheJournal.ie that the phenomenon is largely to do with the weather, specifically warmth and humidity.
He also notes that although the flight generally happens at the same time every year, it's happening earlier than in previous decades.
"Crawling ants are emerging even earlier, we're now starting to see them in February," he says.
"Ten years ago you wouldn't see them until April, and twenty years ago you wouldn't see them until May. If they're emerging earlier, they're going to be flying earlier."
July is the peak time for winged ants to take part in what's known as their nuptial flight, because it's when ant queens seek mates in order to form a colony.
But despite being disconcerting, flying ants are simply a later part of the life-cycle of regular ants.
Both males and females develop wings during the mating season. The female ant then loses her wings after mating and finds somewhere to lay her eggs. The male, however, dies soon after mating.
Ryan is keen to remind people that the ants pose no harm.
#Open journalism No news is bad news Support The Journal

Your contributions will help us continue to deliver the stories that are important to you

Support us now
"There is no correlation between cleanliness, hygiene and ant activity," he says.
"It's sometimes presented as an epidemic, but it's nothing of the sort. The key point is that ants nest on the sunny side of buildings, and their preference is for sandy soil."
Ryan recommends common sense housekeeping as the best way to prevent infestation.
"They're going to travel long distances to find a sweet food substance," he said.
He also notes that ant activity is linked to human activity, and advises those who want to keep them away to clean their dishes after eating, and remove spillages of fizzy drinks and food preparation.
The season is expected to last until the end of August, but may continue for a bit longer if weather conditions permit.