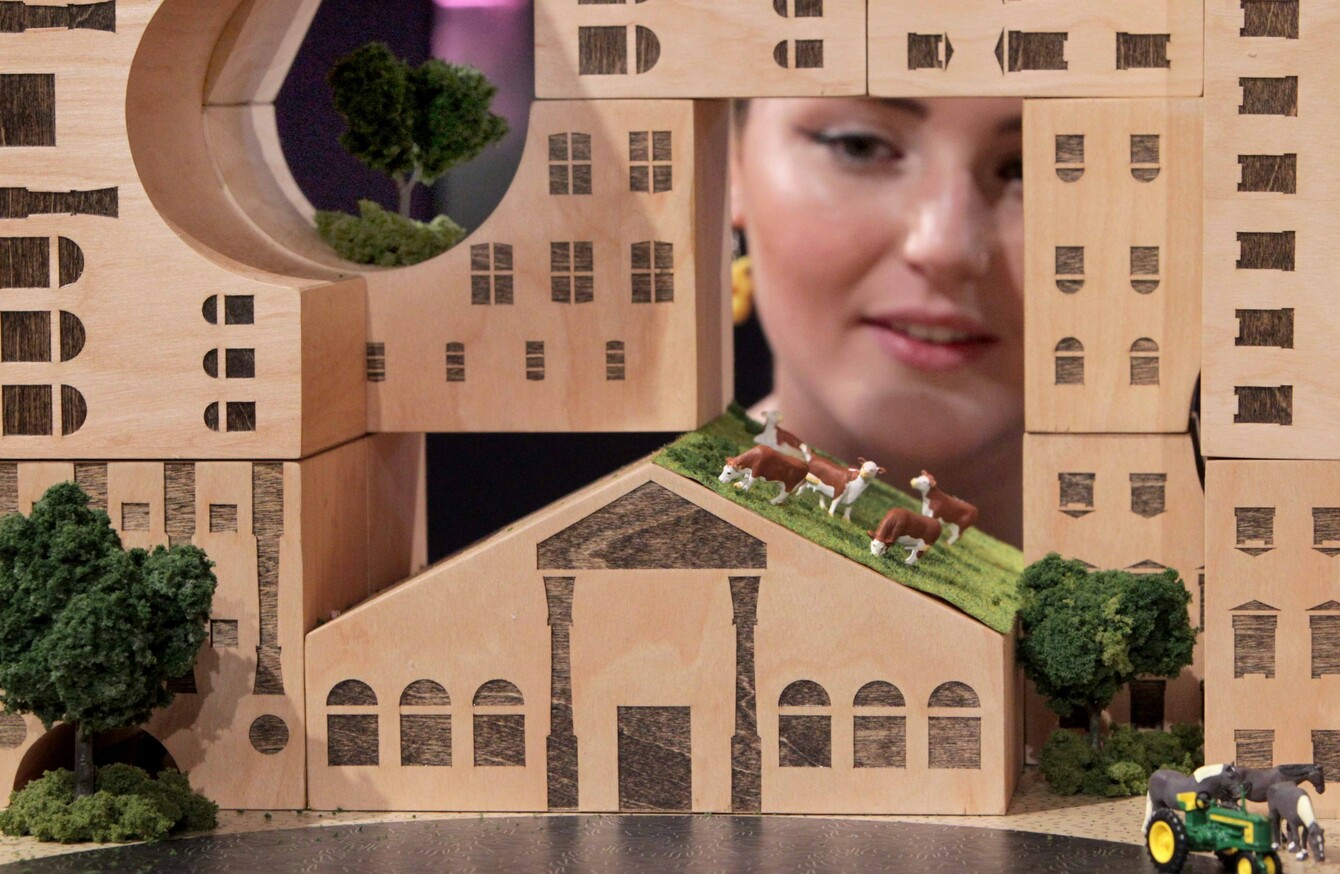 Image: Mark Stedman/Photocall Ireland
Image: Mark Stedman/Photocall Ireland
WHEN YOU REACH for your breakfast, lunch or dinner ingredients, you probably won't have thought about where the food comes from.
However, a new exhibition in Dublin's Science Gallery on the future of farming may just make you.
Away from the sensors that text a farmer when a cow is about to give birth or a VR headset for chickens (seriously) Field Test poses a number of questions about how the food we eat is obtained.
It focuses on the future of farming, but includes a number of systems and techniques that have the potential to transform the ways we will farm in the future.
From robotic bees to oyster mushrooms growing in coffee grounds, it will give visitors an immersive experience.
It is curated by the Centre of Genomic Gastronomy and Director of Science Gallery Dublin, Lynn Scarf. Zack Denfeld of the Centre told TheJournal.ie that the exhibition will pose a number of questions about where food comes from, how it is produced and the sustainabilty of current food production.
It includes examinations of alternative sources of protein, from bugs to synthetic meats as well as exhibits on the future of growing food, particularly in urban spaces.
Denfeld says that changing how people view their food is not impossible.
"There were no tomatoes or potatoes in Europe until a little over 400 years ago and even when they came over, people wouldn't eat them.
They were planted in a royal garden in France and guards told to look the other way when they were stolen. That's what it took.
"So there's a huge hope for a cultural shift."
Some of the exhibits display how plants can be grown to taste different, including one bean which it is claimed tastes like beef, an example of how the cultural shift has to be driven.
"There is the opportunity there to make the right thing beautiful and tasty and the obvious thing.
Imagine 40 restaurants opening up in Ireland that serve vegetarian food that is tasty and accessible that received government funding. We give government funding to all kinds of things, so why not?
While that may sound high-minded, Denfeld says that there are simple steps the average person can take.
"Familiarise yourself with farming and with where your food comes from. Look at different things, different tastes."
Field Test runs from today until 5 June in the Science Gallery on Dublin's Pearse Street.