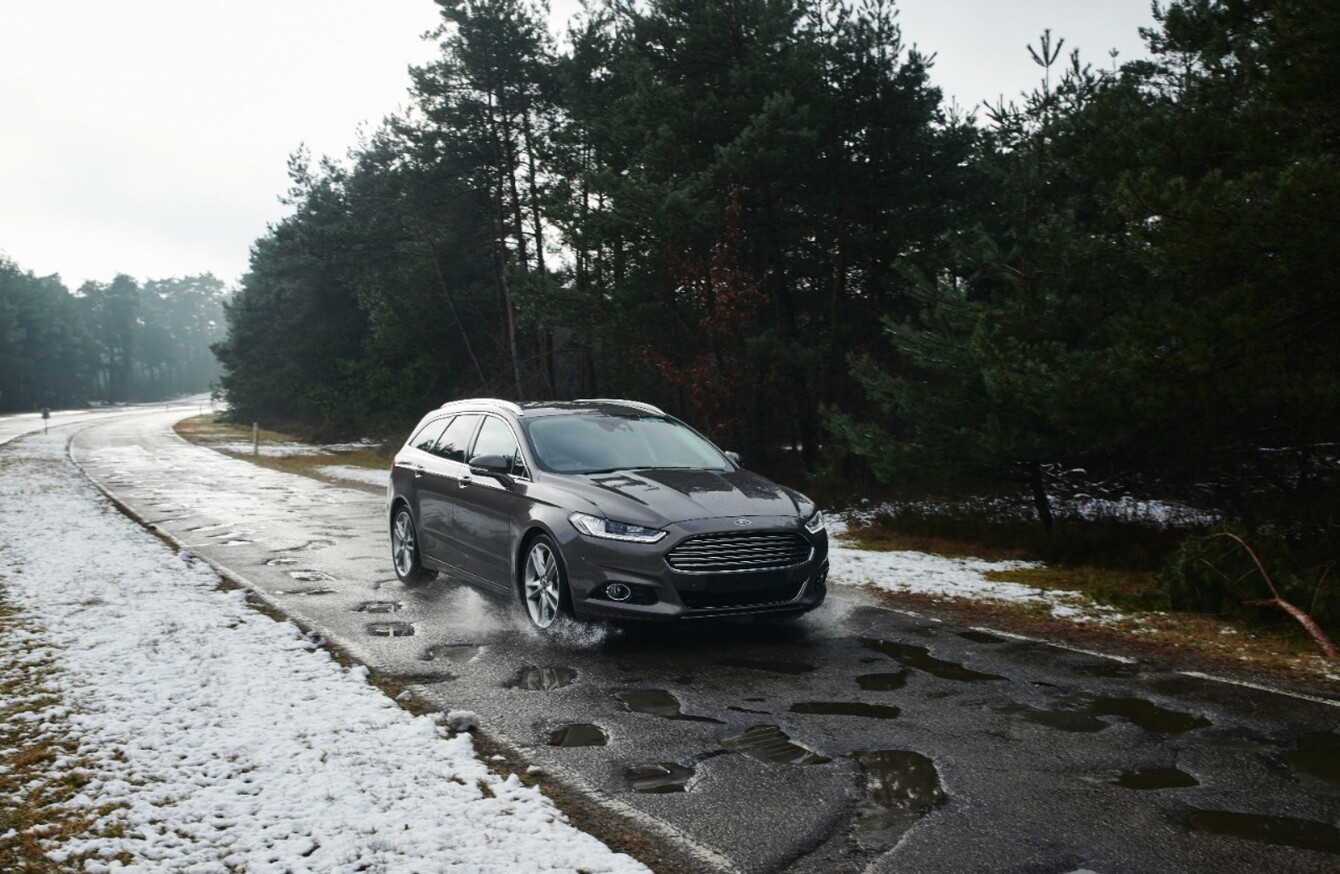 Image: Newspress
Image: Newspress
THIS WEEK WE are checking out new virtual pothole mapping technology that could mean an end to costly car repairs due to hitting a hole in the road.
It is an ingenious, crowd‑sourced virtual pothole map being researched by Ford, with testing due to start later this year.
Ford has been looking at potholes, so to speak, for a while. Some Ford cars,  such as the Galaxy, Mondeo and S-MAX, already use on-board sensors which detect potholes stiffen up the suspension before the tyre hits the hole.
This prevents the wheel from dropping completely to the bottom of the hole and also keeps the shocks fully stiff as the suspension absorbs the impact of the trailing edge of the hole, which helps reduce any potential damage to the car and reduces impact on passengers.
At the Ford Research and Innovation Centre, in Germany, engineers are now researching the use of cameras and embedded modems. Together, these technologies would gather detailed information on potholes and beam it to the cloud where it can be made available to other drivers in real time.
(Ford already tests new cars on a nightmare 1.2‑mile road at Lommel Proving Ground, in Belgium, using replicas of some of the world's worst potholes.)
What does it do?
The interactive map would show drivers, in real-time where potholes are, how severe they are, and what alternative routes you could take to avoid them.
There is no video of the mapping technology available yet, but here is the pothole mitigation tech found on some Ford models – it is this that the mapping system will build on.
Source: Ford Media/YouTube
Why would I want it?
Well, potholes and other rough road surfaces can be a pricey problem for motorists around the world. So this technology would help you avoid the causes of damage – or at least make an informed decision on whether or not it is worth driving over the potholes.
As Uwe Hoffmann, research engineer, Advanced Chassis Control Technologies, Ford of Europe says:
A virtual pothole map could highlight a new pothole the minute it appears and almost immediately warn other drivers that there is a hazard ahead.
Jason Michener, continuously controlled damping engineering expert at Ford, said that Ford tested and tuned this system by driving over countless brutal, square-edged potholes of the Romeo Proving Grounds to finesse the software.
It was long hours of not very pleasant work, but the results are well worth it.