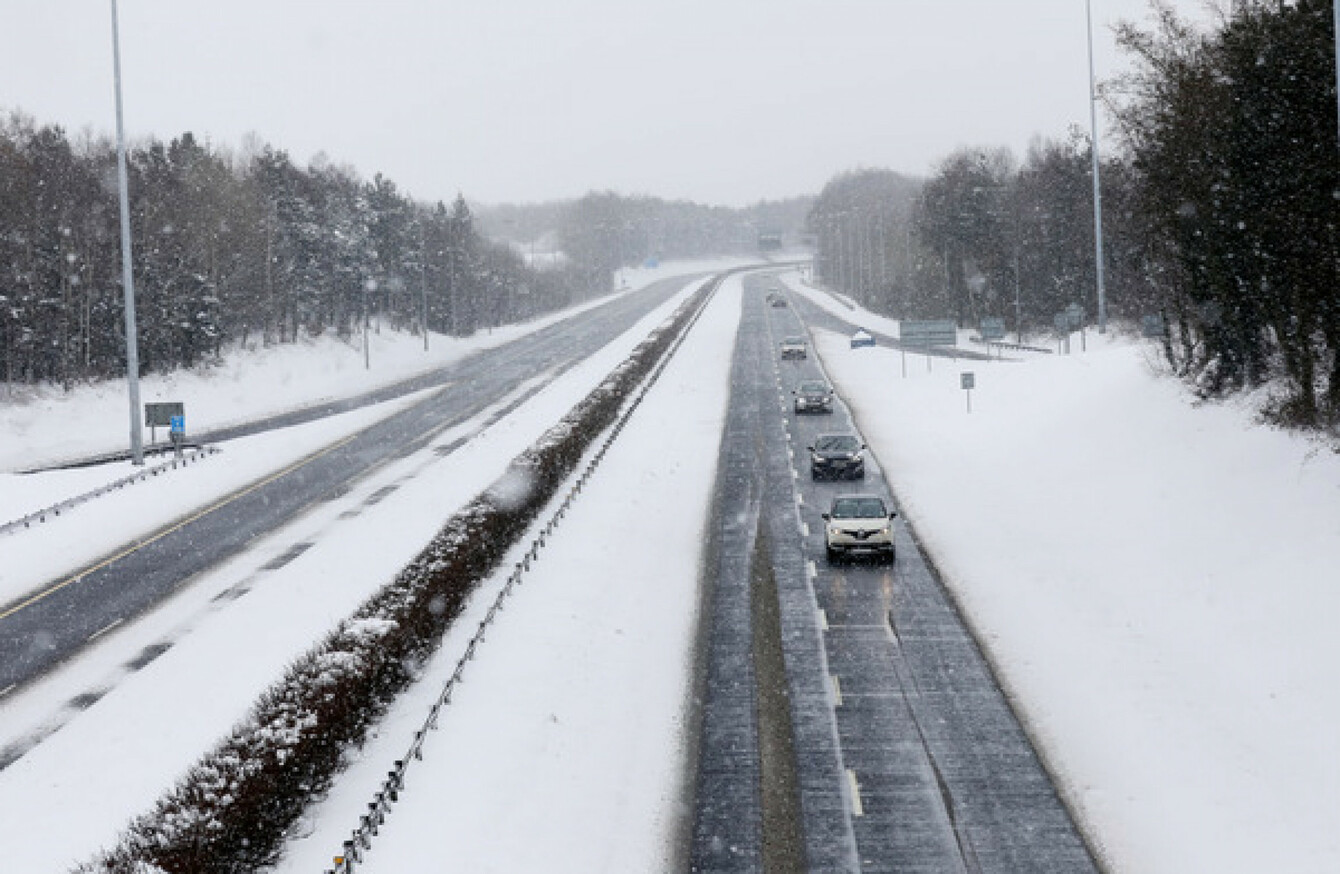 The M7 near Newbridge, Co Kildare today.
The M7 near Newbridge, Co Kildare today.
MET ÉIREANN'S EVELYN Cusack has said that up to a metre of snow could fall in eastern areas of the country as part of the current severe weather event.
The weather service's latest update comes as the country braces for the worst effects of Storm Emma, which will bring blizzard conditions in the coming hours.
People are being urged to stay indoors until the snowstorm conditions pass tomorrow.
Met Éireann has updated its weather warning for two provinces this evening. The status red alert for Leinster and Munster is now in place until 6pm tomorrow.
The red warning for Connacht and Ulster is in place until 6am tomorrow.
"What is certain is that we're obviously in for very serious weather conditions especially in eastern and southern areas," Cusack said in her update on tonight's Six One news.
Regarding the snow in the Dublin-Wicklow area, she said, "the wind is coming in off the sea and it is rising up off the mountains".
She said she expected the snow to "feed in continuously for 24 hours".
There could be "amounts of up to one metre of snow in eastern areas – with a knock-on effect of flooding throughout the days".
Cusack explained that, with the mountains, "south Dublin is normally in a rain shadow but with the north-easterly winds it's the opposite effect".
This is the wording of Met Éireann's current 'red alert' warning for Leinster and Munster:
Blizzard conditions tonight and during Friday in Leinster and Munster. Southern and eastern coastal counties expected to receive exceptionally high accumulations.
And this is the alert for the Connacht and Ulster counties:
Sub-zero temperatures and icy conditions continuing tonight in strong easterly winds with heavy snow showers and high accumulations in some areas.
You can find the latest updates on the weather service's site throughout the evening. We're also live here  with the latest updates on the severe weather.
Public transport has come to a standstill amid the snowy, stormy weather – we won't see another Luas, Dublin Bus, Irish Rail train or Bus Éireann bus in operation until Saturday.
Shops, government offices and various other services also shut entirely today or closed early.