DIMOCK TOWNSHIP IN Susquehanna County, Pennsylvania, is a rural town at the foothills of the Appalachian mountains.
With a population of 1,497 at the last census in 2010, its rolling hills and expansive fields are home to many farmers, and people who enjoy the lifestyle that living in a remote area offers. In the early 2000s, companies began to approach homeowners there to see if they could undertake hydraulic fracturing, or fracking, on their land.
This controversial drilling procedure is aimed at extracting natural gas from the Marcellus Formation, sedimentary rock across parts of North America. The limestone layers under the Marcellus have trapped natural gas reserves in the rock, and hydraulic fracturing literally involves creating fractures in it using a pressurised fluid.
The resulting fractures can encourage gas and petroleum to move to reservoir rocks, and the hope with fracking is that countries can use this instead of fuel from other countries, thereby saving money and encouraging local industry.
Dimock Township
From 2009, some residents of Dimock Township began complaining that fracking on their land had caused issues with their water. In May of this year, water treatments were placed in some homes, and methane and arsenic was found, Reuters reported at the time.
The EPA tested water at 61 homes in Dimock, and in early May said that the results their sampling showed did not give them a reason to take further action. America's Environmental Protection Agency issued the first national air pollution regulations for fracking in April 2012. In 2005, fracking was exempted by the American Congress from the Safe Water Drinking Act.
Dublin-based photographer Sean Breithaupt found out about fracking last year and decided to go to Dimock to find out more. While there, he met with community members who spoke – some on condition of anonymity – to him about their experiences.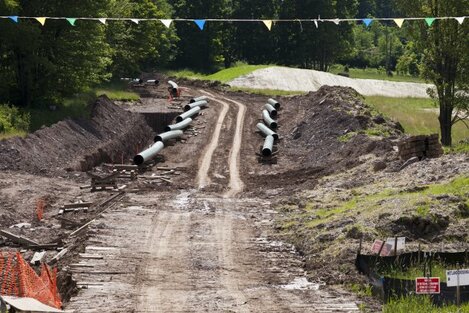 The money paid to people who allow fracking on their land is not small – thousands to hundreds of thousands of dollars that can be of huge benefit to householders for paying off mortgages and keeping up farm work.
In Dimock, water from the Susquehana river is used during fracking, with 16 per cent of its supply allocated to the industry and each site using 14 million litres per day. Some locals say the drilling and the flare which is used to burn off the gas cause noise pollution. A number of those Breithaupt spoke to said that the fracking had changed their lives, and not for the better – but that they had neighbours who were perfectly happy with how things had worked out for them.
Fracking has created jobs and industry in the township, and for some people, fracking is patriotic; for others it is a way to earn money. A 2010 documentary, Gasland, focused on the stories of some people who had experienced fracking on or near their land, including in Dimock county, and many of the issues raised are also seen in the interviews with the people Breithaupt met.

Fracking taking place at night. (Video: Sean Breithaupt)
Larissa
Speaking to Breithaupt, Larissa said that her family had had to sell their cows from their dairy farm due to the effect of the water on their health after fracking took place on their land. She claimed that high barium levels led to a drop in milk production.
Larissa said that the first landowners the gas companies went to reach out to were farmers, particularly the dairy farmers, as they owned most of the land and were in the most financial trouble.
She said that farmers have had their land leased out for natural gas drilling several times over last 100 years, and nothing ever came of it before, so they assumed this time it would be similar. "We did not realise that drilling actually would happen," she said.
Her family let the company use 550 acres of their land for $50 an acre. Her family do not have water filters for their drinking water, but other families were offered this, she said. They have been drinking bottled water ever since, but their cows drank unfiltered well water, and she said milk production decreased after they began drinking it.
Larissa's mother has taken complaints to the EPA. The family want to get out of their current lease and re-sign it with water protection, but so far this has not worked out.
This is not a bad industry. the problem with it though is that most of people they're dealing with don't know what they're getting into; don't know what to look for.
Often, when people signed their leases they didn't know to ask about water protection, air noise quality and other aspects of fracking, said Larissa. "This industry makes a lot of money, they have the ability to do things properly," she said. For her, it is not a black and white issue.
I believe we've got to make them do it the right way, we've got to make them do it properly, and when they screw up they've got to pay for it properly.
For her, fracking has the opportunity to be of financial help to a lot of struggling communities – but it shouldn't be "at the cost of these communities".
Rebecca
Rebecca told Breithaupt that she and her husband received notices asking would they give the go-ahead for fracking on their land in 2004, and went on to sign a lease in 2006 with a company. She says they were told there would only be drilling for a short period of time, and is unhappy with how the arrangement worked out.
Roter says she has seen fracking impact on the local community. "I think this was an insulated static community that hadn't had a lot of change. You didn't have to lock your door. I felt so safe." She said there was low crime, and not much traffic, and now that has changed. There are a lot of transient workers, and the crime rate has also gone up.
"If you have people who aren't vested in this community then they are willing to sacrifice it," she said, adding that she and others had commissioned community-designed billboards on the issue that were not put up in the local area.
She said that the noise from the flaring at night during frackong "is unbelievable". "All these kinds of things break down unspoken contracts of civility in the community," she said.
Bret and Susan
Bret's water supply contains such a cocktail of chemicals that it has been cut off, and he has a separate water buffalo – filled by a local charity – to provide his family with water to shower. The gas company originally supplied that water but stopped.
He cannot sell his house, while the local swimming spot nearby bubbles with methane.
Another homeowner, Susan, also has problems with her water, and told Breithaupt she had experienced elevated barium in her water supply.
Below are photos that Breithaupt took while in Dimock, showing the many different sides to the townland, including fracking sites. While there, he took portraits of some of the locals on their land, as well as sites which have been marked for fracking, indicated with a row of bunting, and those on which fracking is taking place – such as near a graveyard.
1. Dimock Proud

1/27

2. Dimock Proud

2/27

3. Dimock Proud

3/27

4. Dimock Proud

4/27

5. Dimock Proud

5/27

6. Dimock Proud

6/27

7. Dimock Proud

7/27

8. Dimock Proud

8/27

9. Dimock Proud

9/27

10. Dimock Proud

10/27

11. Dimock Proud

11/27

12. Dimock Proud

12/27

13. Dimock Proud

13/27

14. Dimock Proud

14/27

15. Dimock Proud

15/27

16. Dimock Proud

16/27

17. Dimock Proud

17/27

18. Dimock Proud

18/27

19. Dimock Proud

19/27

20. Dimock Proud

20/27

20. Dimock Proud

21/27

21. Dimock Proud

22/27

22. Dimock Proud

23/27

23. Dimock Proud

24/27

24. Dimock Proud

25/27

25. Dimock Proud

26/27

26. Dimock Proud

27/27