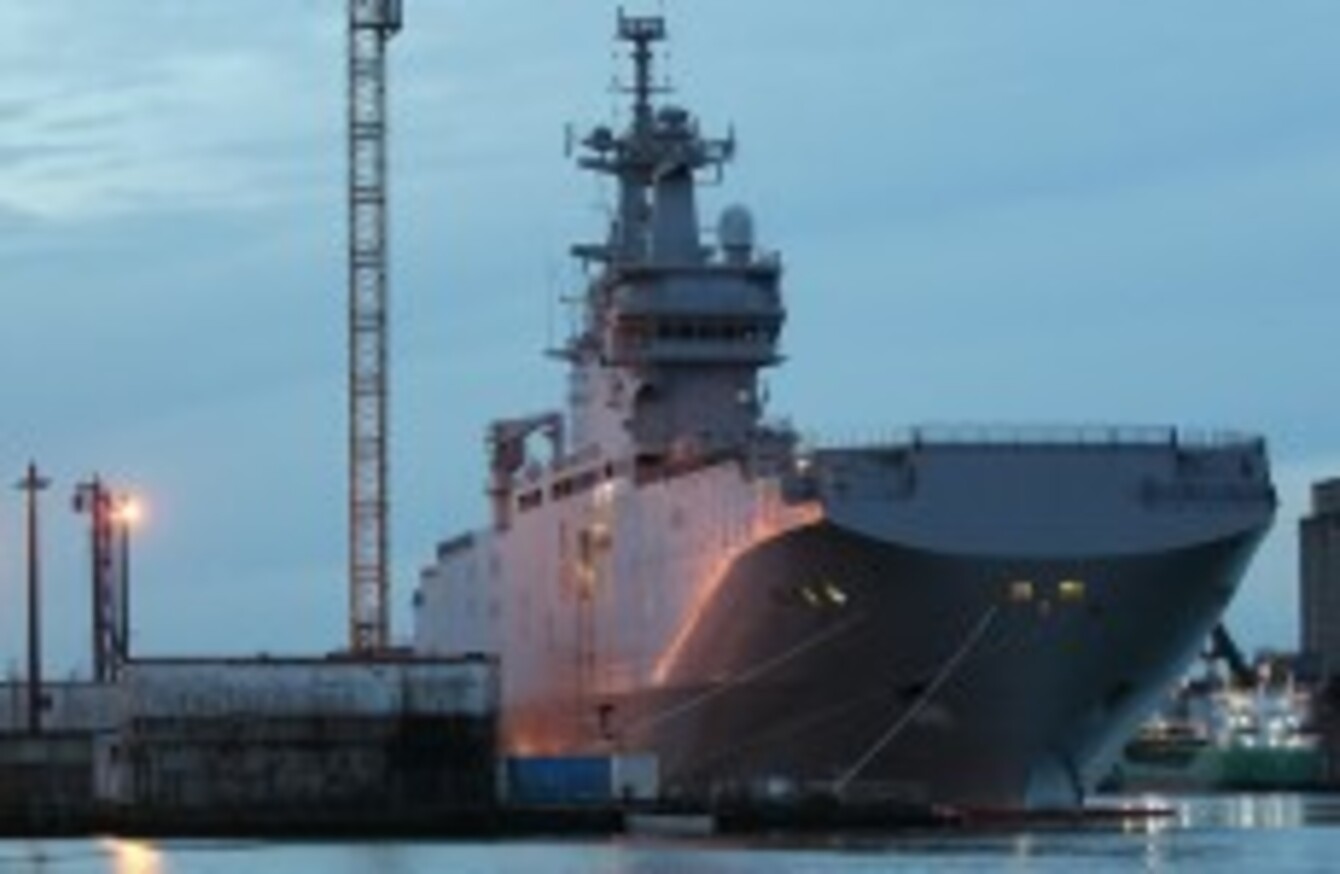 Image: AP Photo/Laetitia Notarianni
Image: AP Photo/Laetitia Notarianni
FRANCE HAS PUSHED back "until further notice" the delivery of a controversial warship to Russia because of the Ukraine crisis, sparking a measured initial response from Moscow.
President Francois Hollande said in a statement that the "current situation in eastern Ukraine still does not allow for the delivery of the first" of two Mistral-class vessels France has built for Russia.
"He therefore decided to delay until further notice" the decision on whether to grant the export licence needed to deliver the ship to Russia, the statement added.
Russia has reportedly warned Paris of "serious" consequences unless France delivers the first of the two Mistral-class helicopter carriers by the end of November.
But Moscow's reaction was relatively calm after Hollande's announcement, with Deputy Defence Minister Yury Borisov saying Russia did not immediately intend to file a claim against France for breach of contract.
He told RIA Novosti news agency.
We'll wait patiently… So far we are not filing a claim anywhere.
France could be liable for hefty fines if it breaches the €1.2-billion contract, but it would also risk the wrath of its allies around the world if it were to deliver the hot-button technology to Russia at a time when Moscow is in the diplomatic deep-freeze over the Ukraine unrest.
The first of the two assault ships — which can carry 16 helicopters, four landing crafts, 13 tanks, 450 soldiers and a hospital — was supposed to be delivered earlier this month, according to the original deal signed in 2011.
But amid the Ukraine conflict and the rapid decline in the West's relations with Russia, France has come under intense pressure from its allies, particularly the United States, and in September postponed the delivery.
A source close to the case said Hollande's announcement was tied to the deadline for the contract, without revealing further details.