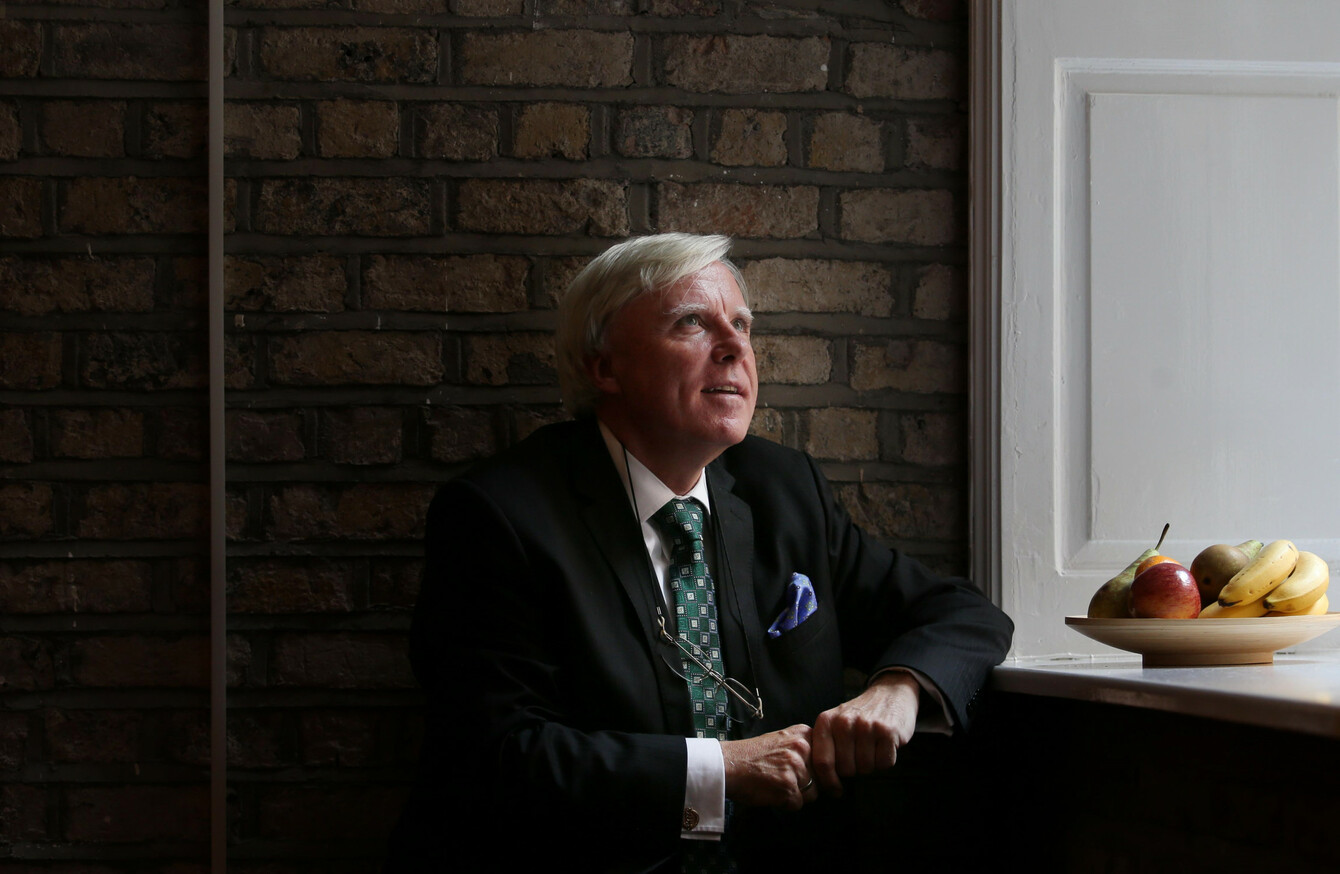 Image: Leon Farrell/Rollingnews.ie
Image: Leon Farrell/Rollingnews.ie
FRANCIS BRENNAN ONCE described himself as a "little angel" who's always looking after people.
"If you're a hotelier, that is your nature," he said.
This time last year, the star of RTÉ's popular At Your Service and Francis Brennan's Grand Tour shows confirmed that he'd given up complete ownership of the Park Hotel Kenmare, which he runs with his brother, John.
But Brennan, a hotelier of the old stock, is still very much the man in charge at the luxury resort and continues to dedicate his life to doing what he does best: making a fuss over his guests.
For the latest instalment of our question-and-answer series, we spoke to Brennan about his love of watches, the time he had to clear sewage out of a Dublin pub and why a celebrity chef would be his dream hire.
Here's what he had to say:
On average, what time do you start work in the morning and what time do you clock off?
On average, I start at 8.30am and I clock off after 10pm. It's a full day, I never leave the premises.
It could be working until 12.30am sometimes, but we're not a late hotel. It rarely runs at one or two o'clock in the morning. Probably never once this whole year. We don't have entertainment or singing or dancing or lepping around or jumping.
How often do you take a day off?
I rarely take days off at home in Kerry, maybe six days a year.
I would be away from here quite a bit because we do 40 days of TV work. A day away from here is like a day away for me, even though I'd be working, because everybody's work day is only half of mine.
I try to top and tail some time off when I'm working in America. I was in America at Thanksgiving last year with friends in Florida. I did work in Florida, then I came to New York and worked there.
If you weren't doing your current job, what do you think you would be doing instead?
I'd love to be a watch maker. I don't know why that is, but I've always wanted to be a horologist.
I love the precision of a watch and the way that all the bezels turn. I've always loved that since I was a small child. I've always thought if I wasn't doing this job, I'd be making them.
My grandfather, who was dead before I was born, used to do marquetry work. He was great with his hands so it probably comes from that.
What's your favourite day of the week and why?
The only day I know that's any different is Sunday because I go to mass. Every other day is the very same.
Who is your hero?
Not so much a hero, but someone I admire is Hillary Clinton.
Politics isn't clean in any country in the world. For her to get up every morning and make speeches, I just think it's great. It couldn't be easy, but she does it every day. I admire that determination.
She doesn't have a clean slate, I know that, but just for the fortitude to get up every day and face the 'public' and get on with it, I admire her a lot.
Name one thing that would put you off hiring someone.
Lack of experience and personality.
What bad work (or business) habit have you had to kick?
Not personally, but in the business: people arriving late.
We're a team here. One team tags the other before they go off so if you come late for your job, the other team have to stick around. It just becomes a mess. We don't really like you being late for work at the Park.
#Open journalism No news is bad news Support The Journal

Your contributions will help us continue to deliver the stories that are important to you

Support us now
What has been your biggest mistake to date and what did you learn from it?
Putting my pension into property would be my biggest mistake in life. I lost a lot in the carry-on.
But listen – I have my job, I have my health and I'm fine. I always say I'll be getting the bus from the airport rather than a chauffeur car. So what?
What do you do when you're out of office?
I talk all the time at the hotel, so a treat for me is to not talk to anybody for a day. I just love a bit of downtime where I don't have to talk.
What's the one piece of advice you would give to someone starting out in your industry?
Hard work never killed anybody. If you're in a management situation, the more you can learn when you're young the better, because when you get older it's easier to be able to relate to people.
I started in the wash-up, so I can talk to the person on wash-up now, not a bother on me. If you just learn like that from the early days, it's good.
What's the worst job/task you've ever had to do?
I worked in a pub in Dublin. One night, there were sewage problems and we were sloshing around, up to our ankles in sewage with rods trying to clear systems. That was the worst task I've ever had to do. That's as low as you can go.
If there was one person in the world you could hire, who would it be and why?
Neven Maguire. My God, he never stops. He's everywhere, God bless him. He'd be in Donegal today, west Cork tomorrow. I'd give Neven a job any day because he has a great work ethic.
Sign up to our newsletter to receive a regular digest of Fora's top articles delivered to your inbox.
Written by Conor McMahon and posted on Fora.ie