THE PRESIDENT OF France travelled to Timbuktu in Mali today to meet with local elders just days after the country's forces liberated the Saharan town.
Francois Hollande was accompanied by Foreign Affairs Minister Laurent Fabius, Defence Minister Jean-Yves Le Drian and Development Minister Pascal Canfin for the triumphant trip.
The President was greeted with chants of 'Thank You, France' as thousands of people gathered in the city's main square. Well-wishers also danced to the beat of drums, an activity forbidden during the extremists' 10-month occupation.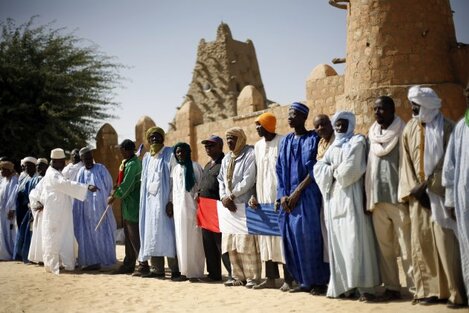 Elders gather with over two thousand well-wishers to greet French President Francois Hollande during his two-hour-long visit to Timbuktu, Mali.
Earlier in the week, Hollande had indicated that he would push for African troops to take over the French-led offensive that drove back Islamist rebels from the country's desert north.
He told the crowds that although France's mission was not finished, African countries would have to take over soon.
"We've already done a lot of work. It's not over yet, it's going to take several weeks, but our goal is to pass the baton. We have no intention to stay. Our African friends will be able to do the job we've been doing until now."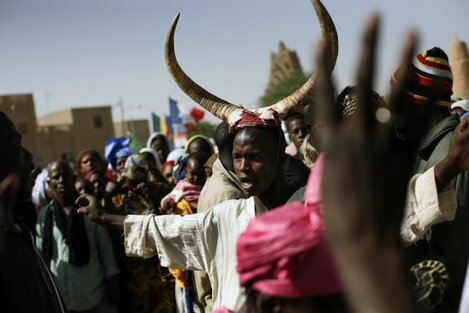 Mali's interim president Dioncounda Traore welcomed the President, taking his hand and raising their arms in a victory salute. He thanked his counterpart for the efficiency of his troops.
After Timbuktu, Hollande and Traore were due to fly to Bamako for a working lunch.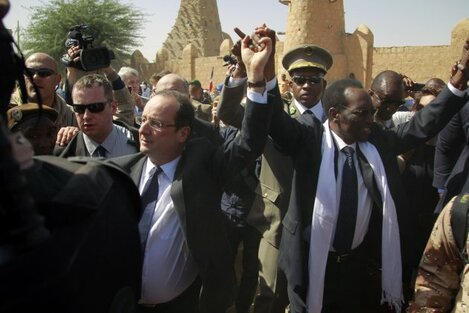 It is almost four weeks since France first intervened in the intense battle, trying to win back huge areas of the former colony held by the rebels since April 2012.
Although Mali gained its independent in 1960, it asked for France's help on 10 January when Islamists captured a key town and warned of plans to push further south towards the capital.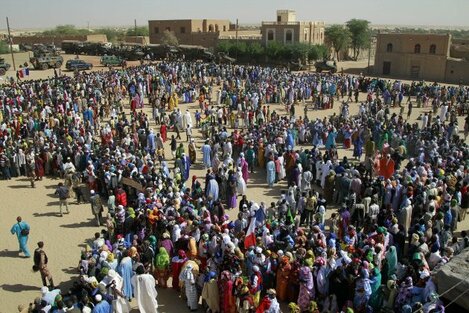 However, there was also a sense today that the situation is not solved.
Fifty-three-year-old Fanta Diarra Toure told AFP, "The women of Timbuktu will thank Francois Hollande forever. We must tell him that he has cut down the tree but still has to tear up its roots."
There have been signs that Islamists could wage a guerrilla campaign from the north.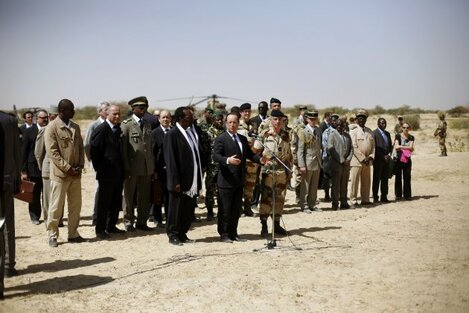 (All images: AP Photo/Jerome Delay)
Human rights groups have now called for investigations to open into possible war crimes, allegedly carried out by both sides.
Human Rights Watch said Friday that Islamists had killed at least seven Malian soldiers by slitting their throats or shooting them in the mouth, and that Malian troops had shot at least 13 suspected Islamist supporters in Sevare and dumped them into wells.
The Malian army has denied any crimes by its forces.
Amnesty International also called on the French army to launch an investigation into the deaths of five civilians killed in a helicopter attack on the town of Konna at the start of the campaign.
France said it had no helicopters active in the town at the time.
A record number of refugees — some 1,300 a day — have been fleeing to neighbouring Mauritania, officials there said.
In all, the crisis has caused some 377,000 people to flee their homes, including 150,000 who have sought refuge across Mali's borders, according to the UN.
-Additional reporting by AFP