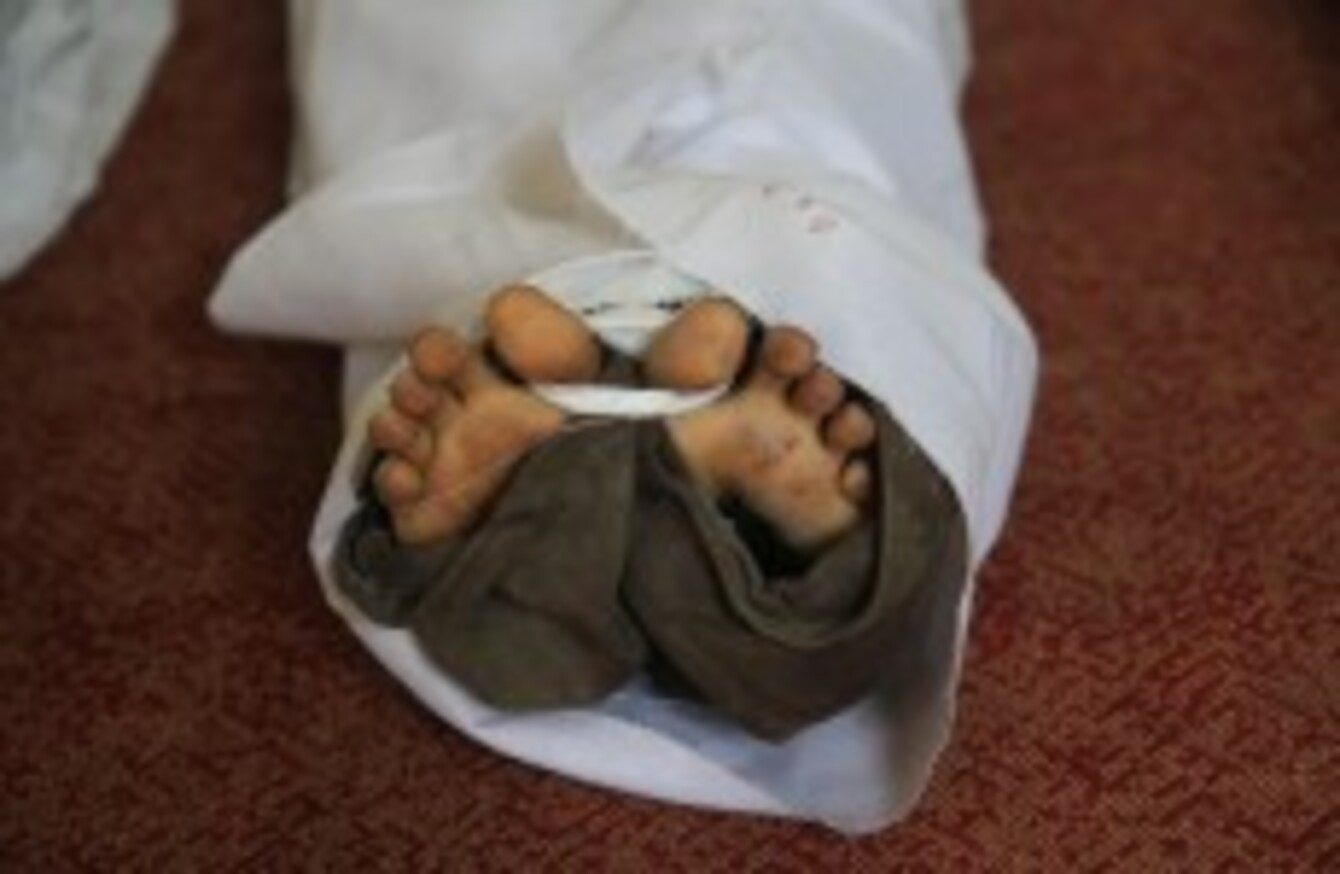 The body of an Egyptian lays in a mosque after the country's bloodiest day in its history
Image: AP Photo/Ahmed Gomaa/Press Association Images
The body of an Egyptian lays in a mosque after the country's bloodiest day in its history
Image: AP Photo/Ahmed Gomaa/Press Association Images
ALMOST 600 PEOPLE have died as a result of Wednesday's violence in Cairo, Egyptian officials have confirmed.
Following the bloodiest day in the country's difficult history, the United Nations has called on all parties to act with restraint and initiate talks. Commissioner for Human Rights Navi Pillay appealed for an end to the violence and hate speech.
"The number of people killed or injured, even according to the Government's figures, point to an excessive, even extreme, use of force against demonstrators," she said. "There must be an independent, impartial, effective and credible investigation of the conduct of the security forces. Anyone found guilty of wrongdoing should be held to account."
The Muslim Brotherhood says the death toll is much greater than 578, estimating it to be closer to 2,000.
Islamists have called for a 'Friday of anger' in response to the storming of sit-in camps on Wednesday.
"Anti-coup rallies… will depart from all mosques of Cairo and head towards Ramsis square after (traditional Friday) prayer in 'Friday of Anger'," Muslim Brotherhood spokesman Gehad al-Haddad wrote on Twitter.
With the country under a state of emergency and many provinces hit by night-time curfews, the interior ministry ordered police to use live fire if government buildings came under attack.
Fears over sectarian violence have also increased with Christians left terrified after a number of attacks on their churches, businesses and homes.
Ireland has changed the advice it gives to those travelling to Egypt, advising citizens to "avoid non-essential travel". To those already there, they urged "extreme caution" and asked for them to avoid all protests and demonstrations.
"If caught up in a demonstration, Irish citizens should not attempt to take photographs and should leave the area immediately. Irish citizens may wish to assess their need to remain in the affected areas at this time," the Department of Foreign Affairs added.
Warning: Some graphic images that may be upsetting for readers.
Egypt Violence

Egypt Violence

Egypt Violence

Egypt Violence

Egypt Violence

Egypt Violence

Egypt Violence

Egypt Violence

Egypt Violence

Egypt Violence

Egypt Violence

Egypt Violence

Egypt Violence

Egypt Violence

Egypt Violence

Egypt Violence

Egypt Violence

Egypt Violence

Egypt Violence
Additional reporting from AFP