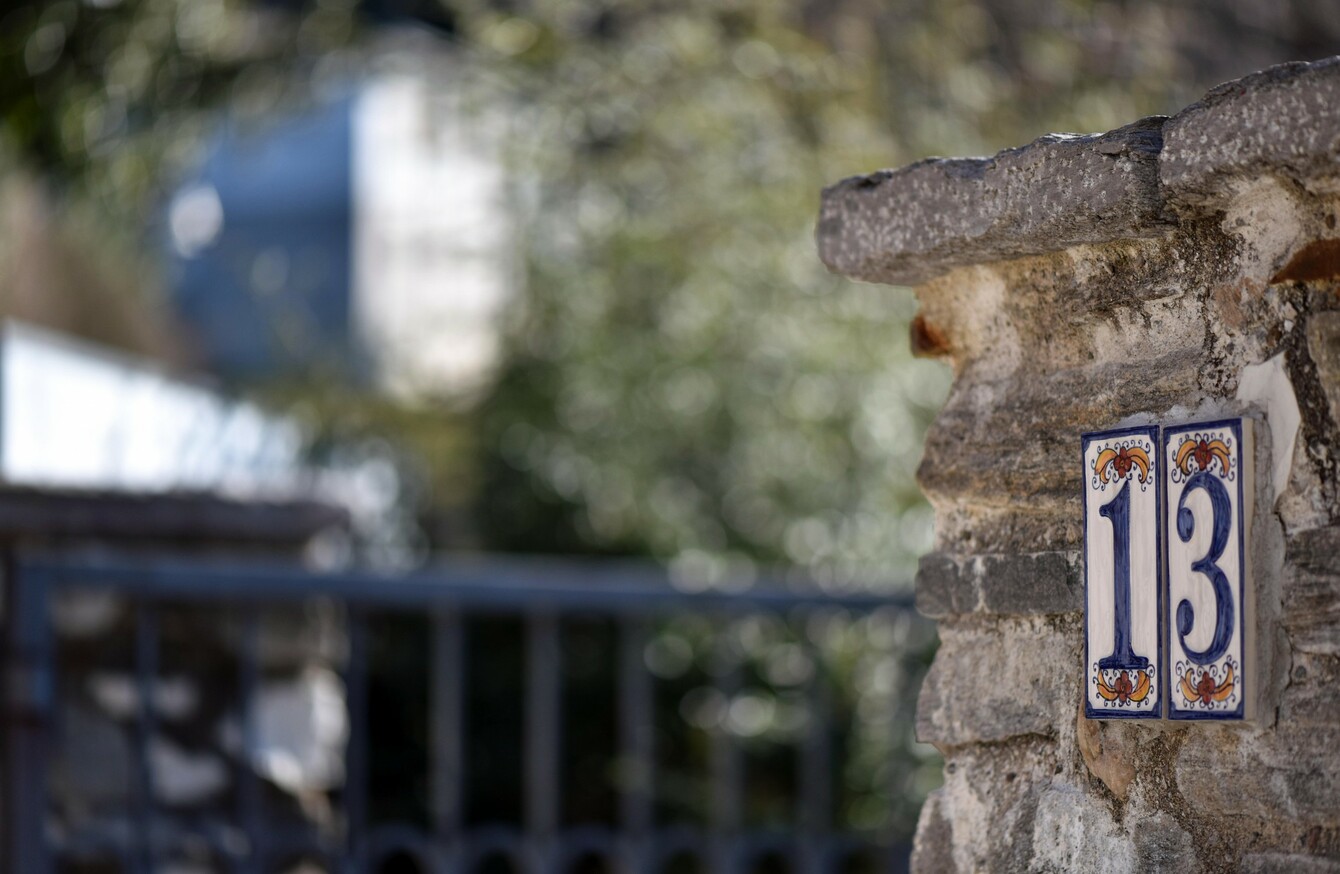 Image: Shutterstock/Alex Mazilu
Image: Shutterstock/Alex Mazilu
IT'S FRIDAY THE 13th today, an unlucky day of the year if you're feeling superstitious.
(Although actually, the weather forecast is looking quite nice).
Even if you're not someone who suffers from triskaidekaphobia - fear of the number 13 – it's possible we're still a bit more superstitious than we think we are.
According to the people at big data analytics company, Idiro Analytics, Irish people are reluctant to buy houses and apartments that are number 13.
"We analysed all of the house sales data from the Property Services Regulatory Authority between January 2010 and February 2016," CEO Aidan Connolly told TheJournal.ie. 
We found there are more number 12s and 14s sold across the whole country than number 13s. They just aren't selling as much.
When properties with the number 13 did go on the market, they sold for significantly less than similar properties on either side of them in many counties, the research found.
In Dublin, apartments with the number 13 sold for a value of 18% lower than their number 12 and 14 counterparts.
In Longford, number 13 houses had a drop in value of 24%, while in Kerry, apartments numbered 13 sold for 40% lower than their less numerically-challenged neighbours.
Other counties that shared in the fear of properties with the number 13 included Cork, Kildare, Meath, Westmeath, Monaghan and Cavan.
Those in the West were having nothing to do with superstition however, as they bought number 13 properties with impunity. In fact, Sligo properties with the number 13 sold for 20% more than their neighbours. (That's just being contrary)
It's not the first time Ireland has been a bit funny when it comes to triskaidekaphobia.
In 2012, some motor dealers called for a change to the car registration plate system out of fear that car sales would decrease in 2013 due to the presence of the number 13 on registration plates.
Registration plates were changed to 131 and 132 to help boost sales throughout the year and every year in the future – not because of superstition. But still…
Figures obtained from the General Register Office (also in 2013) found there were less marriages scheduled on Friday the 13th compared to other Fridays.
A British study back in 1993 (when scientists had nothing better to do) found the risk of hospital admissions from road accidents could be increased by as much as 52% on Friday the 13th.
"Staying at home is recommended," it concluded.
Sounds a bit extreme to us, especially if there's a chance of eating ice-cream on our lunch break. But maybe don't go eyeballing any black cats today, just to be on the safe side.