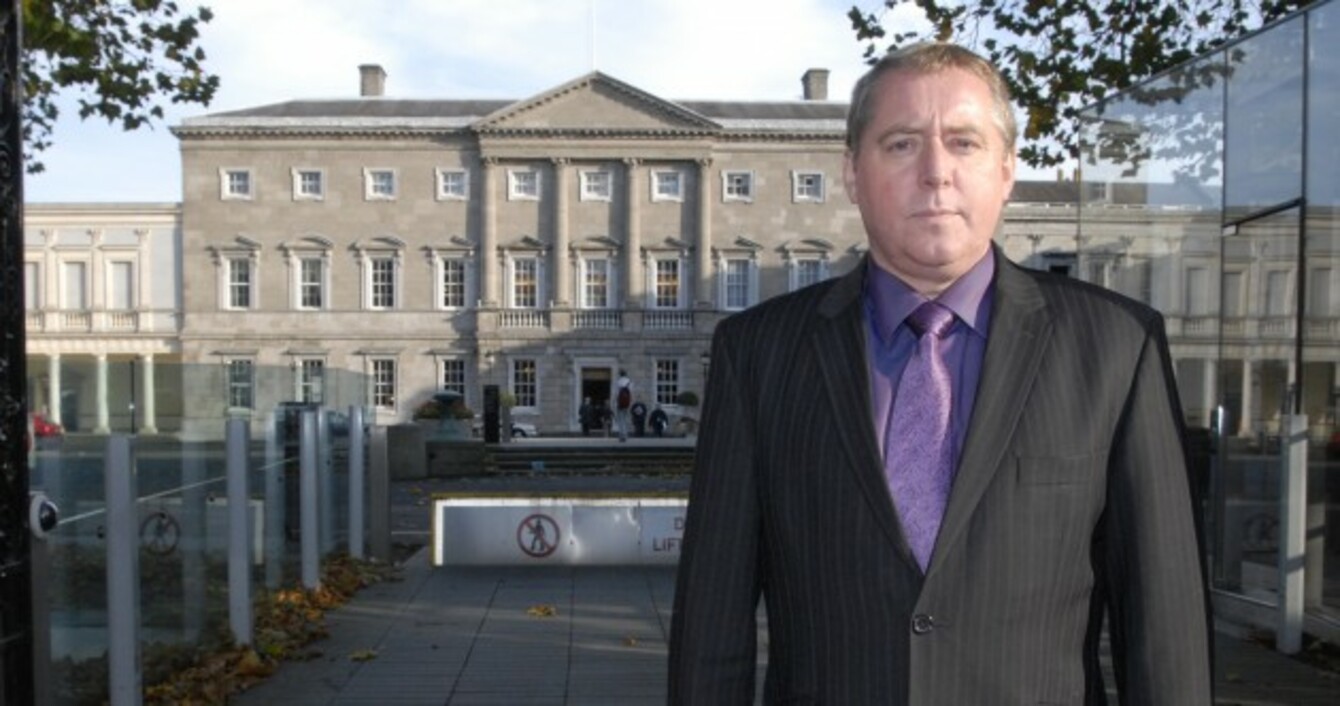 Joe Behan
Image: Photocall Ireland
Joe Behan
Image: Photocall Ireland
JOE BEHAN, A former Fianna Fáil TD for Wicklow resigned in 2008 in protest to the Budget.
However, in 2014, after a siesta from politics, he is throwing his hat back into the ring at the local elections as an independent candidate.
A teacher from Bray, he has long been involved in local politics, serving as a member of Bray Town Council and Wicklow County Council. But it was the day that he took his seat in Leinster House in 2007 that he described as the "happiest" time in his life.
However, Budget 2009 under the leadership of Taoiseach Brian Cowen, was something Behan could not stand with the party on.
Resignation
In his resignation letter to Cowen he said he was appalled at the Government's decision to end the principle of universality of medical card provision for people over 70 years of age and at the indications from Government Ministers that the principle of universality of provision of other payments, like Child Benefit were also under threat.
Speaking to TheJournal.ie about his return to politics, he said that when he resigned his seat, he always knew that he would try again – "it's just this time, I'm starting back at the beginning," he said.
"I never lost the hunger for it. I have always enjoyed being a public representative. I like serving the people and doing what I can to help people in whatever issues they may have," he said.
Speaking about his decision to resign from Fianna Fáil, he said it was "a very difficult decision to make," adding, "when you have been in a party as long as I had, for over 23 years, it is not an easy decision".
Medical cards for over 70s
Behan said that the Budget was "a step too far" stating that while many of his Wicklow colleagues might not have agreed with his resignation, he said it was the right decision for him, stating: " The issue was too important to me".
Behan said right up to when he gave in his resignation letter, members of the Fianna Fáil party were trying to change his mind.
He said:
I thought, there is no reason to entertain them on it, my mind was made up. I didn't agree with the ending of universality principle for medical cards, I just couldn't stand over that.

I said it would damage the party, and although it may not have been the whole reason, I think that it is one of the main reasons they took such a hit in the elections.

I think older people who were traditionally Fianna Fáil voters lost trust in the party.
He said what he had feared that allowing the principle of universality for medical card holders over 70 be eroded would start something in motion.
"Bit by bit with this government have messed with the guidelines for those eligible for a medical card. I thought that once that was breached we were on a rocky road," added Behan.
Independent
Following his resignation from Fianna Fáil he refused to join an independent technical group, which he said at the time was put forward so as to get speaking time in the chamber.
"Some people in the Dáil have had to do this recently, but I always maintained, and I said this to the Ceann Comhairle, that if you are voted in by the people and have a mandate, regardless of not being a member of a party, you should have a right to speak in the Dáil", said Behan.
He stood for re-election for Wicklow in the 2011 general election, but lost his seat.
When asked if he would be tempted to return to Fianna Fáil he said, it had been over five years since he was in the party and that he is happy to be running as an independent candidate.
"I always had a good working relationship with Michael Martin, I had a lot of time for him and speaking as a teacher, I always thought he made a good Minister for Education and I like that he seems to be prioritising education in government now – but Fianna Fáil have their own priorities now, and I have mine," he said.
"I have to win back the trust of the people. I want to serve again and start again, and I hope the people will trust in that and vote for me in May," he said.
#Open journalism No news is bad news Support The Journal

Your contributions will help us continue to deliver the stories that are important to you

Support us now
Thirty years in politics
Behan first ran for election in 1985 and has nearly 30 years in politics, from local councils right up to the Dáil. When asked if it was difficult to start at the beginning again he said:
I like being a public representative and I hope if I am elected to be able to work with my colleagues to bring about change.

It might look like a back step, but I do enjoy it. Sometimes when you lose something you realise how much you valued it.

I am starting over and who knows where it might lead.
Behan said he would not rule out running for the Dáil again, stating, "if I was successful in the local elections, then the Dáil would not be something I would rule out," he said, adding, "one step at a time though, right now I am focused on serving my constituency and the needs of the people, all I can hope for is that they vote for me this time round," he said.
Behan was critical of the newly reformed local government stating that he thought it was a "retrograde" step that eroded democracy.
"In one foul swoop, four local authorities in Wicklow were wiped out" he said, stating that it is bad news for local business.
"Planning, housing and rates are all going to be decided at Wicklow County Council level now. There was more debate about the Seanad abolition than that of local government and I really feel there should have been a plebiscite on the issue, as it has huge repercussions – but it is the system we have to work with now," he said.
Jobs
So what are the things he will push for if elected? Jobs, said Behan.
At one point in Bray, Dell, AO Smith and Pitman-Moore were all along just one stretch of road. On that road there were about 3,000 people in employment.

That's all been lost.

I don't think the jobs issue in Wicklow is being discussed on any sort of level at Wicklow County Council and I don't think enough is being done to target investment and to talk to people like the IDA – that is something I hope to work on.
In his resignation letter to Brian Cowen in 2011, Behan also cited the case of the death of the Bray firefighters, which has caused some controversy recently within Wicklow Council. He said in his letter that he had long called for an independent inquiry into the matter and a full-time fire service in Wicklow.
"I will continue to push for that in Wicklow if I am elected. I teach in the school across the road from Bray fire station, a building that was built in the 80s, with a view to have a full-time fire service, and I think it is high time we had one," he said, adding, "it may seem like a pie in the sky idea but it is something I will fight for."
For more Local Election 2014 coverage click here>>>>>