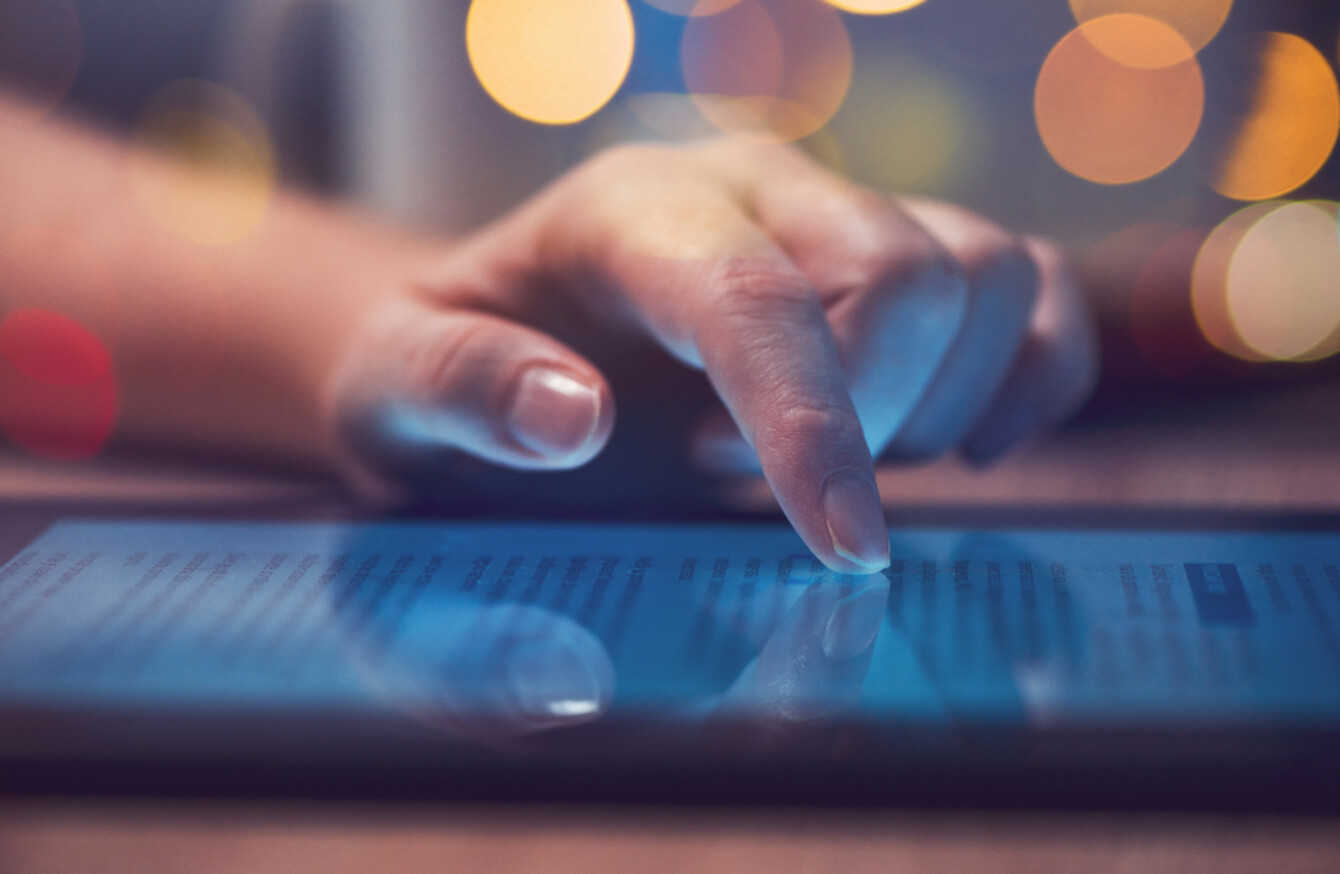 Image: Shutterstock/igorstevanovic
Image: Shutterstock/igorstevanovic
WHAT IF YOU could figure out how politically biased a news story about Trump was at the touch of a button? Or swipe through your morning's news on a Tinder-style app?
The way we consume news is changing. During late 2017 and early 2018, young reporters and developers from around Europe gathered in London for a series of hackathons, where they brainstormed tech ideas for the future of news – including the two ideas mentioned above.
"Tinder for news" may only be a speculative concept for now, but it's a marker of what audiences want: news that's customisable, easy to consume and 100% transparent.
If you take in most of your news via devices like your phone or iPad, you'll be pleased to know that your life is only going to get easier in years to come.
'Hey Google, read me the news…'
Yes, you can already give voice commands to virtual assistants like Google Assistant, Siri and Amazon's Alexa. And these will read you the news too – in products like TheJournal.ie's very own audio 9 At 9, supported by Volkswagen, which is available every weekday morning. (Find out how to get it here).
But what if you could hold a genuine conversation with your digital assistant, be it about the Irish presidential election or Meghan Markle's maternity wear? 
At Google, developers are working to create a new era of voice recognition technology, that'll "understand" users better, making it simple to find out more about topics you're not very well versed in.
"There's a language that people use when they know about an area and another when they don't," Google's head of search Ben Gomes told The Guardian last month.
Slow news, not breaking news
If the constant flow of must-read news headlines gets too much for you, however, you'll be able to slow things down with the help of Tortoise, a new ad-free journalism project publishing only longform, in-depth features on one topic at a time.
"We don't do breaking news, but what's driving the news," reads an introduction on Tortoise's Kickstarter page (the fund has raised €263,000 ahead of its 2019 launch).
Headed up by former BBC News Editor James Harding, Katie Vanneck-Smith of the Wall Street Journal and former US ambassador to the UK Matthew Barzun, Tortoise will also have an 'open newsroom' hosting nightly think-ins, open to all members.
Here come the bots
While the idea of robots taking our jobs sounds like something from a 1950s sci-fi film, advancements in artificial intelligence could change how reporters find stories – and could even lead to a new kind of journalism.
"We're not at the point where a bot can cover a city council meeting, but you can imagine it covering a structured agenda or a structured budget document," Joshua Benton of the Nieman Journalism Lab at Harvard noted on a May 2018 recording of the Canadaland podcast.
Benton says machine learning could conceivably be used to help reporters sift through thousands of pages of reports or transcripts at once, identifying interesting patterns like repeated uses of particular words.
For readers and listeners, bots could also help shape a more unbiased journalism landscape. At Knowhere News, a San Francisco based "unbiased news" platform, bots are already being used to write neutral articles about everything from Melania Trump to Brexit.
First, the story is crafted via an algorithm which scans the internet for coverage of the topic. Then, the resulting piece is given a go-over by a team of human editors before being published on site.
User-generated headlines
As well as reading or watching the news, in years to come we'll be able to shape the headlines more and more ourselves. Increasingly reporters are turning to social media and crowd-sourcing when investigating stories. At the Washington Post, for example, David Farenthold won a Pulitzer Prize for his coverage of the Trump campaign – which he frequently factchecked by contacting sources on Twitter.
At the New York Times, meanwhile, staff are already relying on user-generated video content and crowd-sourced testimony to build story timelines and gather evidence. In July 2018, for example, they created a "virtual crime scene" to investigate a chemical attack in Syria – and eventually confirmed that the attack has been carried out by the Syrian government.
"We found all sorts of patterns that weren't immediately evident in the video footage," the New York Times' senior story producer Malachy Browne told TheJournal.ie. "There was a lot of visual evidence."
While robot reporters and news bots won't be overtaking the news landscape just yet, the way news works is changing, both in the media and for viewers, readers and listeners. Your news sources in years to come won't just be easier to access, they'll be more relevant to your interests and most likely more accountable too.
To make your life even easier, TheJournal.ie's 9 at 9 News, supported by Volkswagen, is now available via audio on any device that supports Google Assistant. All of the morning's top stories, read to you on the go. If you've got an Android phone, a Google Home speaker, or a car with Android Auto integration, you can sign up. Here's how to set it up.