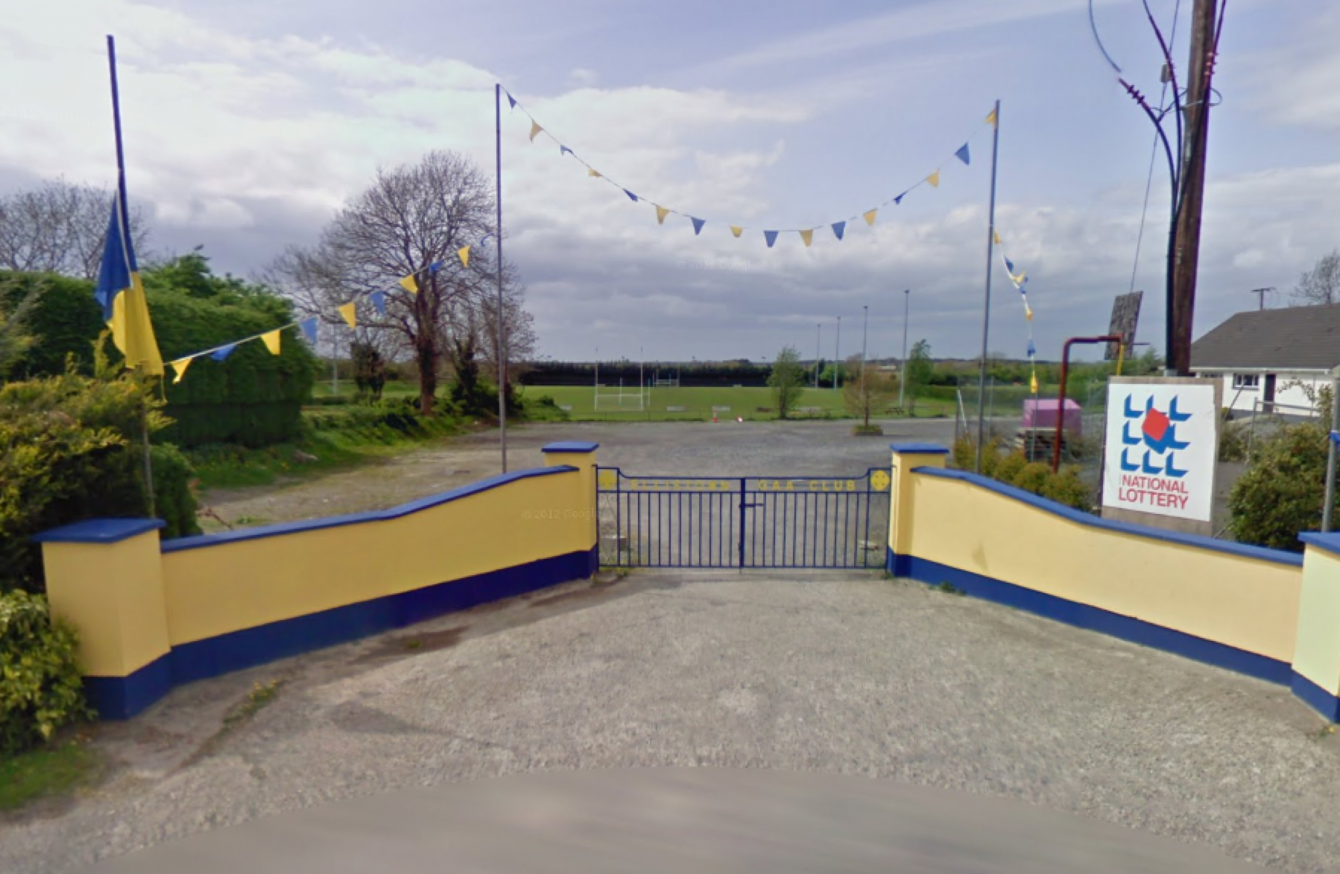 Ellistown GAA Club
Image: Google Maps
Ellistown GAA Club
Image: Google Maps
TWO BROTHERS AND another man were sentenced to almost two years in prison each after carrying out a months-long crime spree across Kildare and Laois.
A garda inspector told Naas District Court how the three men caused several thousand euro worth of damage in break-ins throughout the counties with the latest incident happening just days ago.
Brothers Jordan Wyse (20) and and Stuart Wyse (24), both of Derrymullen, Allenwood, along with 19 year-old Henry Cahill of no fixed abode, were charged with a spate of burglaries at GAA Clubs, businesses and schools around Co Kildare and Co Laois.
The latest break-ins took place on 17 January at Rheban GAA Club, Athy and on 19 January at Ballylinan GAA Club in Laois, Newbridge Rugby Club and the Travellers Rest Pub, Robertstown.
Cahill was charged with the latest offences, while the two brothers were charged with having implements intended for use in burglaries at a checkpoint in Milltown on 28 January 2017.
Cahill was also charged with being caught with similar tools at the Milltown checkpoint on 28 January 2017.
Defence solicitor for the Wyse brothers, Conal Boyce, outlined to the court how both of their parents had drink problems while their sons were growing up.
Judge Desmond Zaidan made several attempts to get the accused to co-operate and provide information. However, Jordan, who previously sustained leg injuries from gunshot wounds at a Newbridge New Year' Eve party in 2016, indicated that he feared for his own safety.
The court heard that Jordan Wyse has 22 previous convictions relating to theft, assault and drugs.
Yesterday, he said:
I know that I have been before the court loads of times. That is a decision that I have made and nothing to do with my parents. I would like to apologise to the court and for all the places that I broke into.
Crimes
Detective Séamus Doyle alleged that the two Co Kildare brothers carried out a spate of burglaries since 2015.
Jordan Wyse faced several charges involving Gemini Hair Studio, Prosperous; Genoa Cafe, Kildare; Holy Family Convent, Newbridge; St Conleth's College; Shades & Shapes, Newbridge; Ellistown GAA; Suncroft Community Centre; and Kildare Farm Foods.
He pleaded guilty to all charges.
Detective Doyle said that there was a gap in the brothers' illegal activities during 2016 but it restarted with January's crime wave.
Stuart Wyse, a father to a one-year-old, is charged with break-ins at Scoil Bhríde, Rathangan; DayBreak, Suncroft; Kildare Farm Foods; Nurney National School and St Brigid's Primary School.
He pleaded guilty to all the charges.
Detective Doyle outlined how Stuart, with 71 previous convictions, pleaded guilty to being found with a mobile phone at WhiteWater Shopping Centre on 14 January 2016 that had been listed as stolen from Kildare Farm Foods.
Both brothers are also charged with a number of road traffic offences, including having a defective vehicle and not having an insurance disc.
Detective Doyle told the court he believed the brothers were carrying out the break-ins as they are addicted to cannabis. In court, Stuart Wyse shouted out that he is also addicted to prescription tablets.
On 27 January, all three men were found to have bolt-crushing gear in a car with no insurance and a false tax disc.
29 previous convictions
Evidence was given by Detective Séamus Doyle how Cahill, who is not related to the Wyse brothers, has 29 previous convictions.
Cahill pleaded guilty to a break in at Millicent Golf Club, Clane on 6 November 2015, where he stole €30.
He is charged with stealing alcohol from the Curragh Golf Club on 9 November 2015, and between 17 and January 2017, he is charged with breaking into Rheban GAA Club, Athy, and Ballylinan GAA Club, Laois, where he stole €180 from petty cash.
Cahill is also charged with breaking into Kildangan GAA Club, Newbridge Rugby Club and the Travellers Rest Pub, where he stole €350.
Detective Doyle outlined how the accused, drove off at without paying for diesel at Toughers Filling Station on 26 January 2017.
Inspector Mel Smyth said:
The amount of damage they have done is thousands… properties, small businesses and schools, GAA clubs, during this crime sweep.
Defence Barrister Sarah Connelly, representing Cahill, said her client is refusing to engage with probation services. In court, he told Judge Desmond Zaidan that he has engaged before and it was of no benefit to him.
Judge Zaidan, addressing the three men, told them that they were lucky to be sentenced at the District Court and not the Circuit Court. He imposed a 22-month sentence on both of the brothers, as well as a four-year driving ban. All other charges were taken into consideration.
Cahill was also sentenced to 22 months in prison and disqualified from driving for four years.