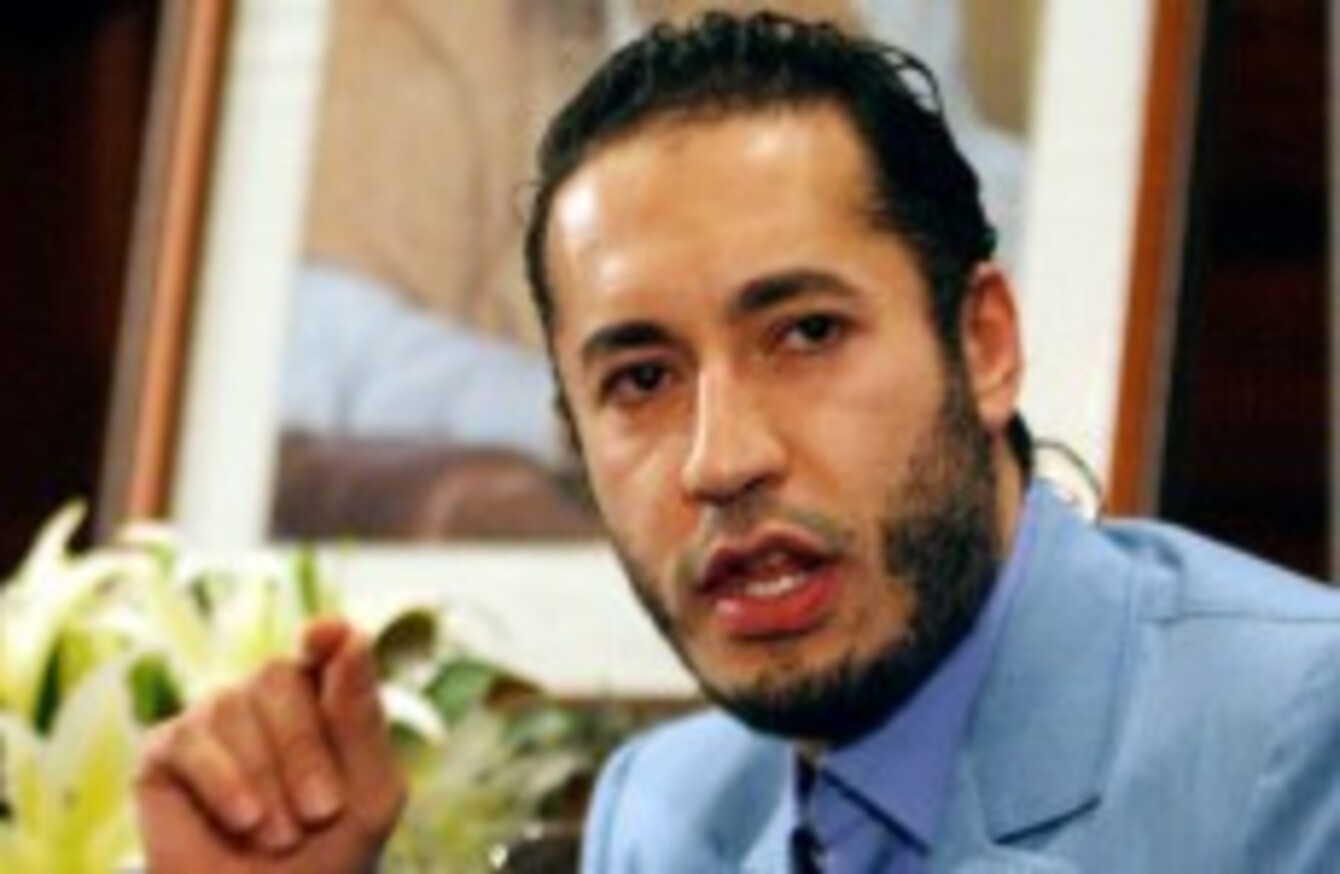 Saadi Gaddafi pictured here in 2005
Image: AP Photo/Dan Peled
Saadi Gaddafi pictured here in 2005
Image: AP Photo/Dan Peled
MEXICO HAS SAID that a son of the late Libyan dictator Muammar Gaddafi and three relatives had plotted to sneak into Mexico under false names and move to a safe house at a posh Pacific coast resort.
The elaborate plan to bring Saadi Gaddafi to Mexico allegedly involved two Mexicans, a Canadian and a Danish suspect, all of whom have been detained, Interior Secretary Alejandro Poire said.
He did not reveal which relatives had planned to accompany Saadi Gaddafi, who is known for his love of professional soccer and run-ins with police in Europe.
The plot was uncovered by Mexican intelligence agents in early September as al-Saadi was fleeing Libya shortly after his father's ouster. He never made it to Mexico, but did reach the Western African country of Niger, where he has been living.
The plotters allegedly jetted into Mexico, opened bank accounts and bought properties meant to be used as safe houses in several parts of the country, including one at a resort on Mexico's Pacific coast.
"The large economic resources which this criminal organization has, or had, allowed them to contract private flights," Poire told a news conference.
Falsified Mexican documents
Poire said the leader of the plot was a Canadian woman he identified as Cynthia Vanier. He said she had been detained on 10 November and is being held, along with three other suspects, under a form of house arrest on suspicion of using false documents, human smuggling and organised crime.
Poire said Vanier "was the direct contact with the Gaddafi family and the leader of the group, and presumably was the person in charge of the finances of the operation.
The plot also allegedly involved a Mexican woman who lived in the United States, who Poire said served as the liaison to obtain the falsified Mexican identity documents.
A Danish man alleged served as "the logistic liaison" for the plan, Poire said. He said the alleged conspirators also traveled to Kosovo "and several Middle Eastern countries."
"The activities of the criminal organisation in our country included the falsification of official documents, the opening of bank accounts with false documents (and) the purchase of real estate that was intended, among other things, to serve as a residence for the Gaddafi family at a house located in the zone of the Bahia de Banderas," just north of the resort of Puerto Vallarta, Poire said.
The Mexican officials made no mention of Muammar Gaddafi himself being involved in the plan, and Poire did not say which relatives might have planned to accompany the son to Mexico. The elder Gaddafi was ousted from power in late August and was captured and killed in Libya on 20 October.
Property interest
Gary Peters, the director of Ontario, Canada-based Can/Aust Security & Investigations International Inc., said in a telephone interview that he had worked as al-Saadi's North America security chief for several years and confirmed that Gaddafi had planned to travel to Mexico because "he was interested in buying property there in Punta Mita."
Al-Saadi had never been there before and "probably" read about it in a magazine, Peters said. "It's a pretty well-known place. It's a high-falutin place."
The resort features private villas, five-star hotels and a golf course.
Peters told The Associated Press he knew Vanier and confirmed that her role was to get travel documents for Gahdafi's son, but he said the arrangements were legitimate, as far as he knew.
"It wasn't smuggling. I don't understand how they're saying it was smuggling," he said.
The plan, Peters said, "was to help him get there on humanitarian rights." Asked if that meant he might have intended to file an asylum claim, Peters said "I can't really comment on it at the moment. Cindy's in jail now so I don't know what's going on down there."
"I don't know where these documents were coming from; that was all Cindy's area. I was just doing security," Peters said.
"As far as I knew, the contacts that she was talking to, they weren't going to be false, they were going to be legitimate documents." But he added he didn't know whether al-Saadi's name would appear on the passports. "I don't know whose name, I don't know, that wasn't my area."
Poire said the false travel documents were issued in the names of "Daniel Bejar Hanan, Amira Sayed Nader, Moah Bejar Sayed and Sofia Bejar Sayed." The Gaddafi name did not appear on any of the documents.
Peters said the plan for Saadi to travel to Mexico is now off, noting "that's not going to happen, obviously."