WHEN IT COMES to comedy, it seems there's very little you can't joke about.
A good comedian is able to take a monologue about race or sex beyond puerile or offensive thoughts, and into something thought-provoking; conversely, a bad comedian can turn a subject sour.
But when it comes to our own sets at the end of the stand-up course at the Gaiety School of Acting, how far are we willing to go?
Master of None
Source: Netflix/YouTube
This week, I started watching Aziz Ansari's much-talked about Netflix comedy series Master of None.
He plays a struggling actor in New York called Dev, who's trying to navigate life in his early 30s. Much of the content feels familiar: relationships, marriage, sex, career, babies.
But Ansari doesn't tread familiar ground when it comes to these ubiquitous topics. He's able to use his own experience as the US-born child of Indian parents, a feminist man and a formerly-single man to inform his work.
His footprints follow a different path to the people who've gone before him.
Diversity
Because Ansari is aware of the power of his unique experiences, he has gone into the process of making Master of None (which is co-written by Alan Yang, who is a first-generation Asian-American) with his eyes wide open.
He's brought a diverse cast into the show: men and women of colour, people of different sexual orientations – the types of people he meets in his own world. In one episode, he explores what it is to be a first-generation American, when your parents have made sacrifices to give you a better, more privileged, life than they had.
What Ansari does shouldn't be remarkable, but it is, because we are not used to seeing diversity in comedy. As an Irish woman, I get to learn through Ansari's story about another world, another type of life experience, and that in turn makes my world richer. It also, crucially, makes me laugh.
This week, the first Waking the Feminists event took place at the Abbey Theatre. (I covered it for TheJournal.ie, and you can read the news report on it here).
There is an invisible but strong thread that links Ansari and Waking the Feminists. It's one created by people who want to see diversity on our stages and our screens, who believe that everyone deserves their story to be told.
Using your voice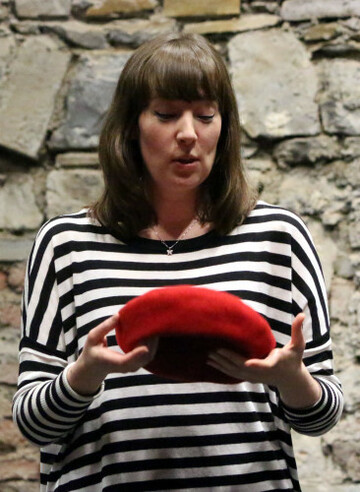 All this makes me think about what I want to talk about when I get on stage. Do I want to rely on the usual comedy tropes? Could I use my time in the spotlight to talk about things that move, anger, or impress me?
Could I bring subjects close to my heart, which are informed by my own unique experiences as an Irish woman, to the stage?
And could I do all of this and make people laugh?
Part of me fears opening my mouth about these things. I know that some people do not look kindly on feminism, do not want to hear about subjects that make my blood course with anger.
But then, I know there are people who hunger to hear different voices. I have a voice, and I am privileged enough to have a platform – like this temporary column – where I can use that voice.
The question is whether I'm brave enough to put myself 'out there' and try to craft comedy that tackles topics rather than settling into a familiar – and less challenging – groove.
Have you any tips? Got a favourite comedian whose work you'd like to share? Just want to take the p**** out of me? That's what the comments section is for…