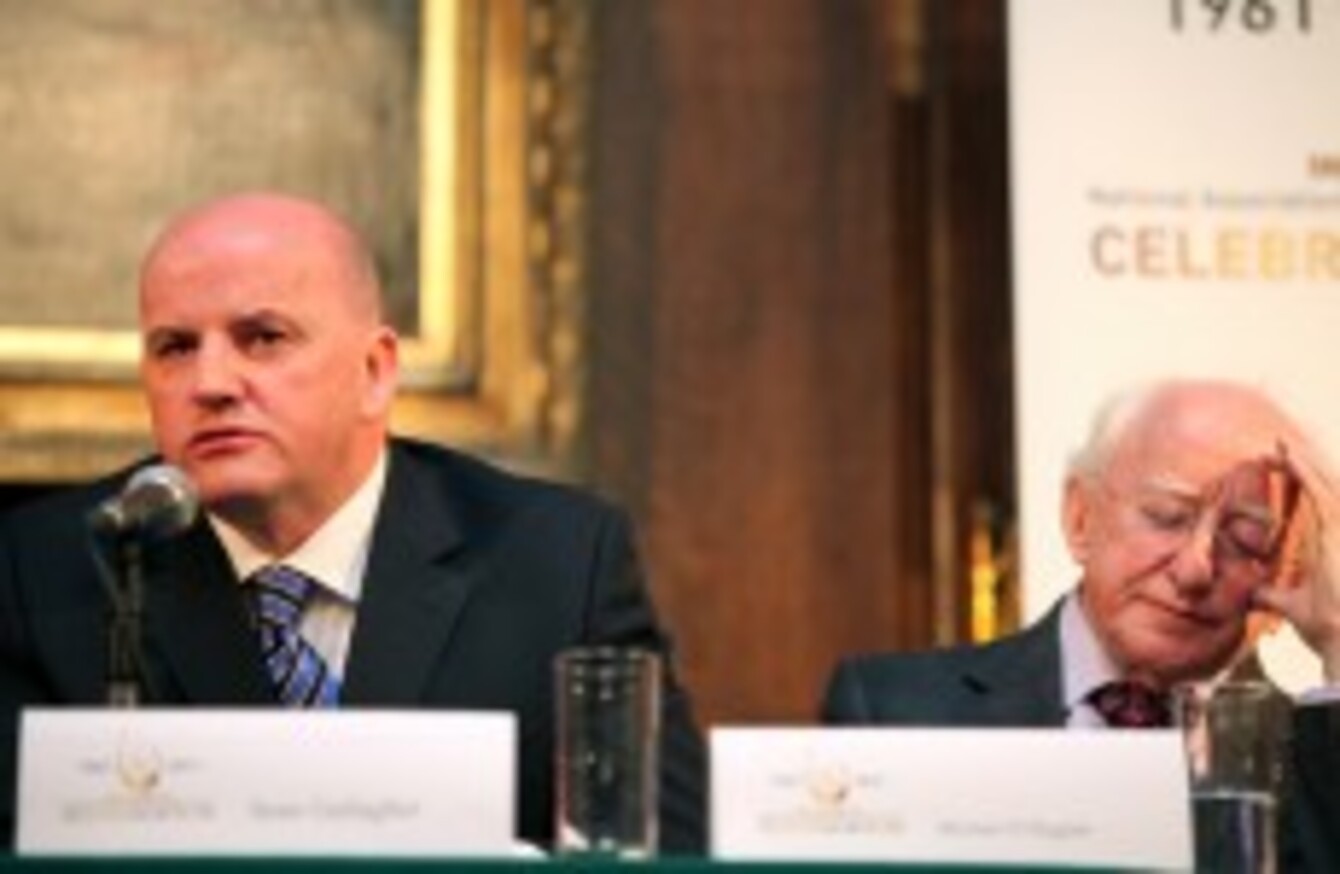 Seán Gallagher with Michael D Higgins at the Inclusion Ireland debate today.
Image: Stephen Kilkenny
Seán Gallagher with Michael D Higgins at the Inclusion Ireland debate today.
Image: Stephen Kilkenny
SEÁN GALLAGHER HAS played down talk of a possible one-on-one debate with fellow presidential favourite Michael D Higgins who has said he would be open to the idea.
Independent candidate Gallagher and Labour's Higgins are first and second respectively in a poll published at the weekend.
Gallagher tops a RedC/Sunday Business Post poll published yesterday on 39 per cent with Higgins, who had led many polls prior to this one, behind him on 27 per cent.
The next nearest candidate is Sinn Féin's Martin McGuinness on 13 per cent. This has led to comments from Higgins in today's Irish Times in which he said a debate between the two poll leaders would be "useful".
Speaking after the Inclusion Ireland debate at the Mansion House in Dublin this morning, Gallagher said he believed a debate involving only two of the seven presidential candidates would be "unfair".
However, a spokesperson for his  campaign has told TheJournal.ie that the Dragon's Den star would have "no problem debating anyone" and would not be "opposed in principle to debating anyone at anytime".
But the spokesperson did point out that there would be time constraints given the busy nature of the campaign.
Higgins's desire for a debate does not appear to have been dampened if his campaign Twitter account is anything to go by.
Campaign staff tweeted in response to queries from people that such a debate would be in breach of rules, saying that "there could be a separate debate for other candidates across other shows".
It also suggested that a debate would not have to be on TV or radio and could be held in front of 600 students, for example.
A spokesperson for Higgins told TheJournal.ie: "We would examine all options," in relation to a possible debate and added that Higgins would have "no problem with it."
Poll: What do you think? Should Higgins and Gallagher go head-to-head in a two-way debate?

Poll Results:
No, it's not inclusive (264)
Yes, I'd like to see that (235)
Yes, so should other candidates (40)