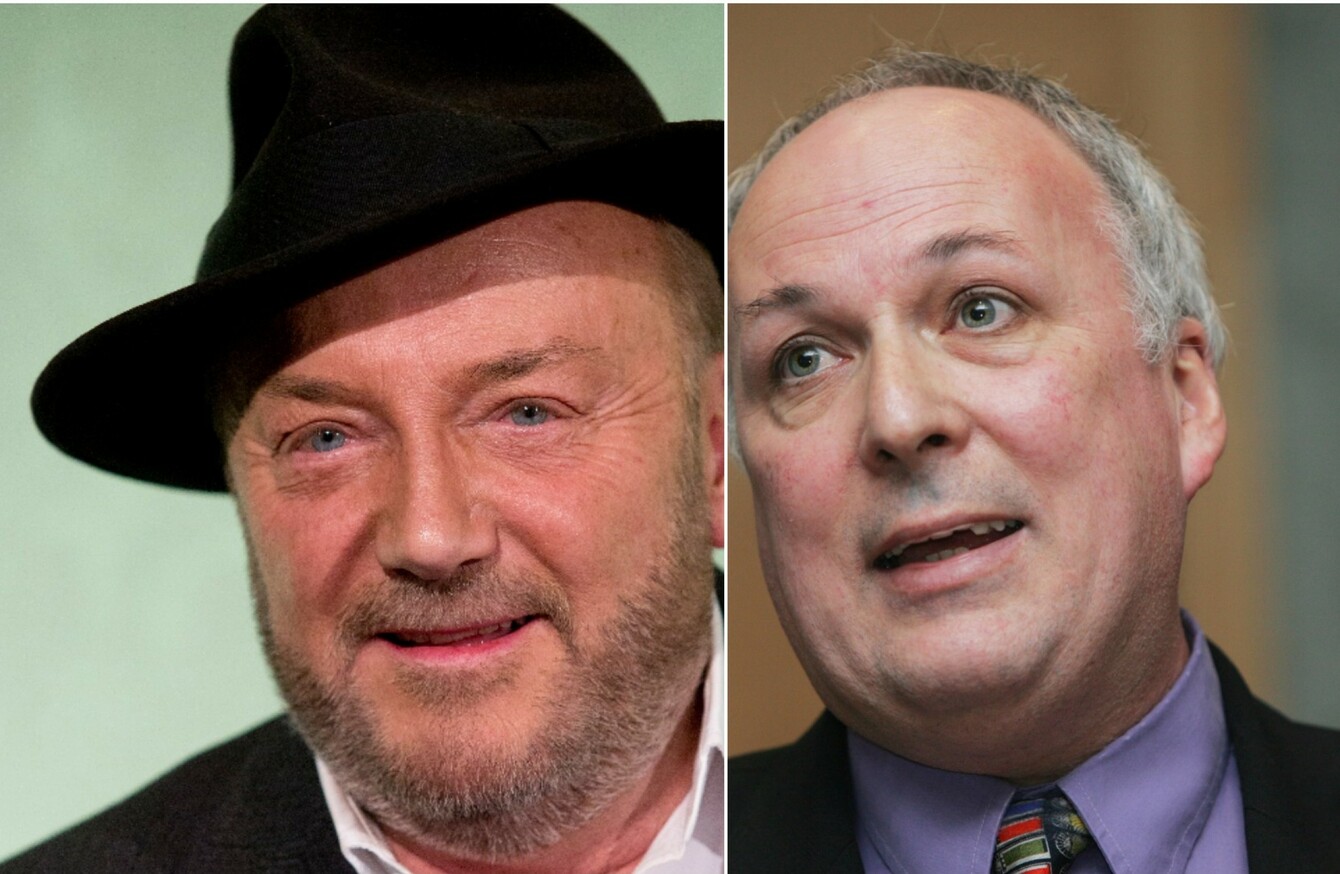 Image: Isabel Infantes EMPICS Entertainment/Leon Farrell/Rollingnews.ie/
Image: Isabel Infantes EMPICS Entertainment/Leon Farrell/Rollingnews.ie/
A BIZARRE SERIES of exchanges took place last night on Twitter between Dublin Labour councillor Dermot Lacey and British politician George Galloway, with the latter calling Lacey "a pig at the trough" and "a prick".
The British politician, who has served as an MP, ran a recent unsuccessful campaign to be the Mayor of London and appeared on Big Brother in the past, took exception to Lacey's high salary and the conduct of his party.
The exchange persisted into the early hours of the morning.
The row started off in a fairly innocuous way when one Twitter user criticised the Labour councillor Lacey for having too high a salary.
That's when Galloway got involved. He said that the "party of Connolly should be in disgrace in 2016 is a morality tale all right" and asked if he could get "all Ireland laughing" at Lacey.
When Galloway accused the government of being a "shame on the people" and of "a betrayal of the sacrifice of the martyrs", Lacey said: "that's all we need… that buffoon lecturing us".
Galloway then said: "Ahhh… a pig at the trough while the poor queue. When is this prick up for re-election?"
Lacey responded by saying: "happy 2 to face electorate again George Y don't U come over… your ignorance would be nice to test."
It went downhill from there.
Galloway: "It's a date. Count on it. Should've stuck to stuffing your face Mr."
Lacey: "Try a mirror… might cracking mind you."
Galloway: "Have you been drinking? And was it at the public's expense?"
#Open journalism No news is bad news Support The Journal

Your contributions will help us continue to deliver the stories that are important to you

Support us now
Lacey: "Coming from someone who has leeched on the public for years… you should know."
Galloway: "I'm teetotal Dermo; public never bought me a drink in my life. My personal expenses were 0. You?"
Lacey: "Maybe that's why you are such an idiot. Go calm yourself down with a coffee."
The Dublin councillor added that he wouldn't "take any lectures from such wasters".
Lacey has been a member of the City Council since 1993, and a Labour party member since 1977. He served as Lord Mayor of Dublin between July 2002 and July 2003, and is presently a member of the City of Dublin Youth Service Board.
Speaking to TheJournal.ie, Lacey said that this was the first time he'd ever had any form of contact with Galloway ("thank god") and added that he was an "extraordinary, ignorant man".
You can view the exchanges here and here.