THIS WEEK WE are checking out a gadget that makes parking in your garage a whole lot easier.
What is it?
The Park Zone Precision Parking Aid  (around €60) is a set of two linked boxes that you fit to the wall of your garage – one with a proximity sensor, one with a set of miniature traffic lights.
What does it do?
It aims to help you park in the perfect position each and every time. Essentially, it is like the parking assist systems that a lot of new cars are fitted with nowadays.
You screw the light box and sensor into the wall of your garage. The light box is fitted at driving eye level and the sensor is at car bumper level. You then follow the instructions to calibrate your desired stopping distance from the wall, from 40cm - 4.8 metres (15.5in – 16ft).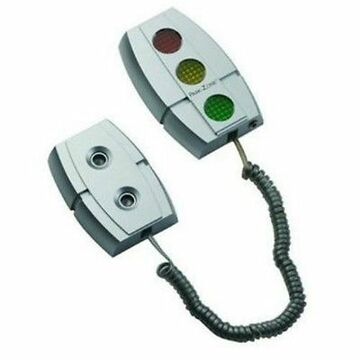 Source: http://www.terapeak.com
It uses a very simple to understand traffic light system that guides you as you park. The green light indicates that you should drive straight ahead, the yellow light means you are about 2.4 metres (eight feet) away from the wall and the red light means you are the perfect distance from the wall.
Why would I want it?
If you find it difficult parking in your home garage, maybe your garage is narrow or dark or if you have problems with depth perception, then this gadget could come in quite useful. Perhaps the visibility from the rear view window isn't great and you don't have any reversing sensors or cameras, well, you can set this up to help you with reverse parking.
Watch it in action here:
Source: wickedkatevideo/YouTube
What do users say?
Reviews on Amazon are pretty positive with an average rating of 4.3 stars out of five. User PBJ was impressed, writing:
This is the best parking assist device I have ever used. It is very easy to use and can be powered by batteries or an adaptor. Setup couldn't be simpler, and I park at the same spot every time.
And reviewer Robert mostly agreed:
A bit finicky, but seems to work. Seems I need to reset it about once a month, but could be my kids' fault.
You can buy the Park Zone Precision Parking Aid online on
Amazon
and Ebay.