THE TAOISEACH HAS said that the Garda training college in Templemore will not close again.
Enda Kenny made the comments while speaking at a ceremony for 100 new recruits at the facility today.
Frances Fitzgerald, Enda Kenny and Joan Burton pictured at Templemore today. Source: Mark Stedman/Photocall Ireland
He said the Government has placed "firm emphasis on strong and efficient policing" despite "the economic crisis we inherited".
"That's why we have set-up a high-level group to plan for investment in upgrading Garda technology to meet 21st Century realities and demands. That's why we opened up this College. It won't close again."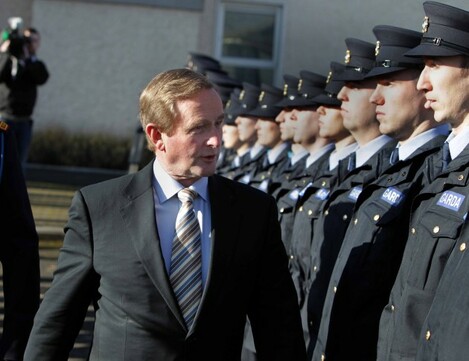 Kenny meeting the new recruits today. Source: Mark Stedman/Photocall Ireland
200 new recruits began training at Templemore in Tipperary last year and An Garda Síochána is currently seeking more candidates.
It follows a four-year recruitment freeze, with the last batch of gardaí graduating from Templemore in 2011.
Tackling crime
Kenny told the latest recruits they will help provide "a hugely important public service, policing our cities, towns and villages, preventing and detecting crime, bringing criminals to justice and protecting the Irish public".
The demanding nature of modern policing means that An Garda Síochána, like any police force, needs the energy and vitality of young recruits.
The Taoiseach said that the new training programme at Templemore is "designed to be more relevant to the real-life challenges recruits will face when they leave the college".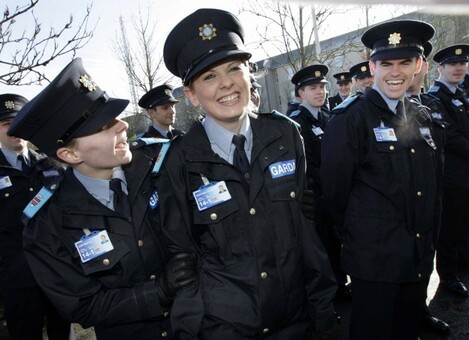 New Garda recruits Fionnuala Lawlor (centre) from Thornton, Dublin, and Aoife McEvoy from Navan, Meath (left) share a laugh. Source: Mark Stedman/Photocall Ireland
Kenny added that €10 million will be spent on 400 new Garda vehicles this year, while Justice Minister Frances Fitzgerals is set to introduce a DNA database that "will help transform serious crime investigations and deter criminals".