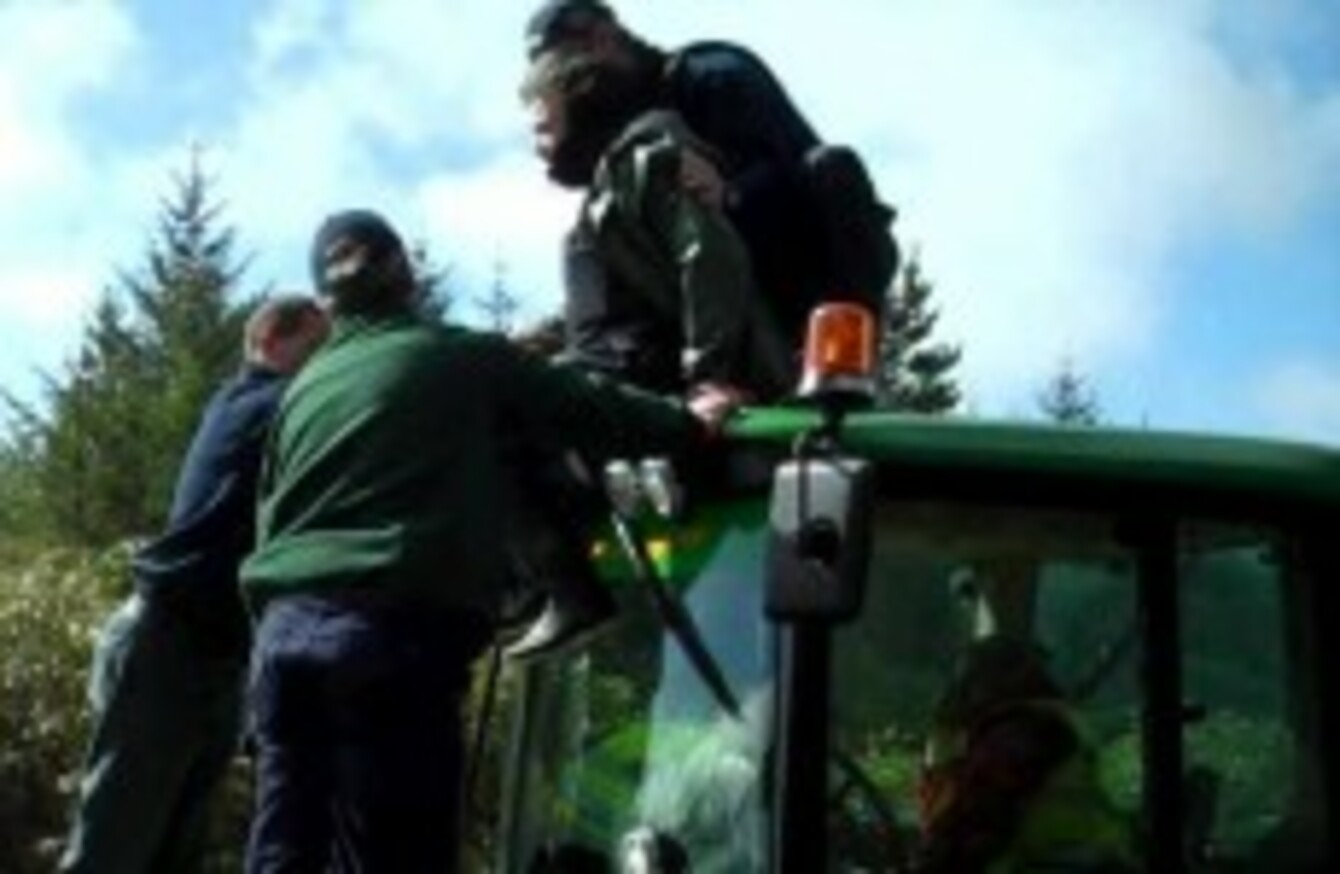 A picture of the incident last Thursday
Image: Rossport Solidarity Camp
A picture of the incident last Thursday
Image: Rossport Solidarity Camp
GARDAÍ HAVE OPENED an investigation into the conduct of officers who arrested two women during protests over the Corrib gas project last week.
Several members of the force were accidently recorded on a video camera they had earlier confiscated, apparently joking about threatening to rape and deport one of the women who had refused to give her name.
The camera was not properly switched off, and allegedly recorded several gardaí making the remarks whilst travelling in a convoy in north Mayo last Thursday, 31 March.
The women had been arrested last Thursday after one of them was taken down from a tractor hired for Shell's preparatory work on the controversial Corrib gas pipeline in Aughoose, in Erris, Co Mayo. The two women were later released without charge from Belmullet station and had their camera returned to them.
A Garda superintendent from outside the area has now been called into establish the full facts of the matter and the Garda Ombudsman has been made aware of the incident, Gardaí told TheJournal.ie this morning.
A few hours later they discovered the recording. In a transcript that has been seen by TheJournal.ie, gardaí can be heard trying to identify one of the women.
One garda can be heard on the tape saying that one of them "sounds like a Yank or Canadian".
Another garda then says: "Well, whoever, we'll get immigration f*****g on her."
Another picks up the conversation saying: "She refused to give her name and address and told she would be arrested".
"And deported," his colleague continued. "And raped," the first officer said.
This was followed by laughter after which one of the garda says: "I wouldn't go quite that far now yet ***. She was living down in that crusty camp, f***'s sake, you never know what you might get."
There is more laughter and the conversation continues, with another member of the force adding: "Give me your name and address or I'll rape you."
Amid some laughter, another garda said: "Hold it there, give me your name and address there, I'll rape you."
"Or I'll definitely rape you," one of the others responded.
There then follows conversation about use of Facebook in the garda station.
The 37 minute recording also features conversations about dealing with protesters, with one garda expressing concern about responsibility in court proceedings if a protester is injured and it transpires that the garda had not received enough training.
Another voice says it is a matter of "common sense", potentially advocating that rules learned in training should not always necessarily be adhered to.
A spokesperson for Dublin Shell to Sea said: "This is shocking and extremely serious.
"It is very frightening for those of us involved in the campaign. Gardaí are the people that women are supposed to trust when they need to report a rape.
"Gardaí are supposed to be responsible for bringing rapists to justice."