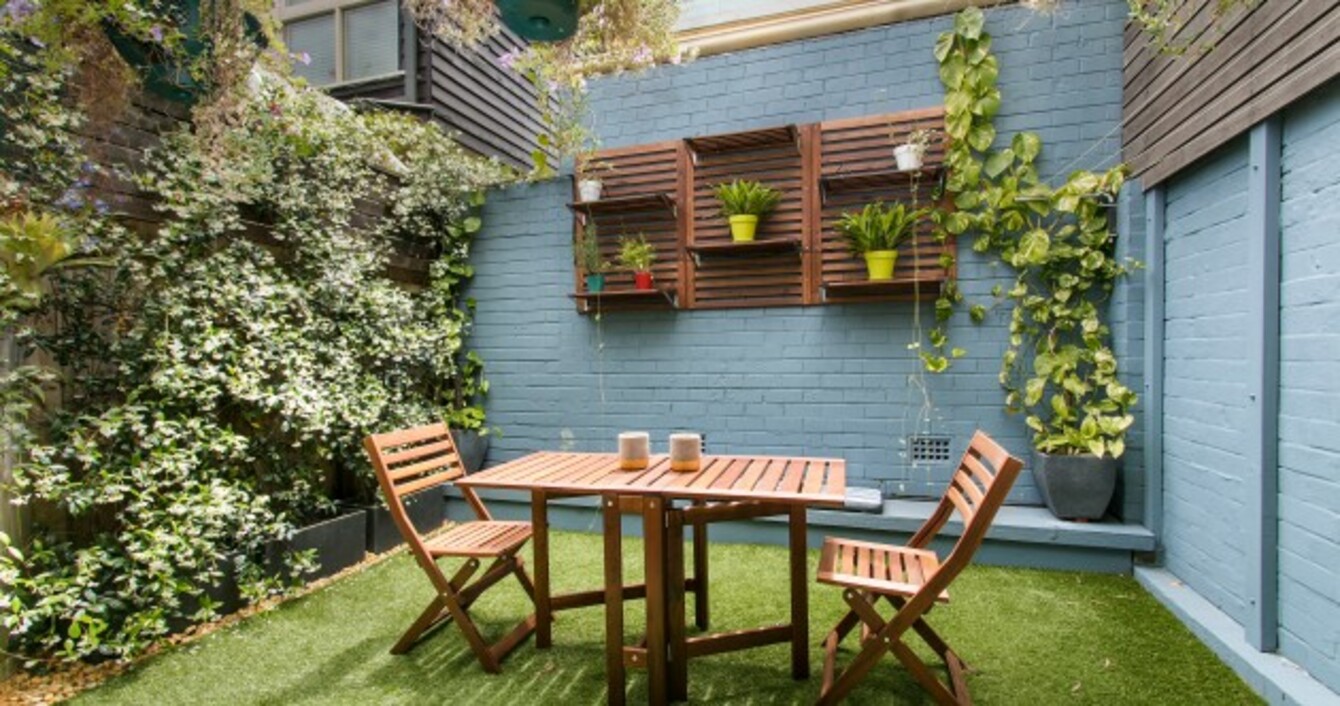 Image: Shutterstock/Dimasik_sh
Image: Shutterstock/Dimasik_sh
THE FINE WEATHER, coupled with the fact that we are still very much advised to stay home, has made back and front gardens more valuable than ever. If you're lucky enough to have a patch of green outside, you'll certainly get a lot of use out of it in the coming weeks.
Not every garden is ready and waiting for a summer BBQ or a day of sunbathing, though. After a windy winter and spring, your outdoor area may be in need of some sprucing up before it is ready to greet its public.
How can you make the most of an outdoor space without spending a fortune? How can you make it more attractive – the kind of garden you'll want to spend time in – without the back-breaking work of digging up half of the earth?
And what can you do that requires the least amount of time, so that you can get out there to enjoy it before your warm weather hopes are dashed? Consider the following step by step guide to prep your garden as quickly as possible.
Most of the below can be done in under a day, provided you have the supplies to hand and have a garden that doesn't require major clearing or cutting back of branches. Here goes…
Step 1: Get rid of the weeds
Whether you have grass or patio or both, weeds always find a way of making an appearance. Lash on a thick protective glove and take out your pandemic frustration by pulling them out. If they're out of control, you might want to have a professional de-weeding treatment done to prevent them from coming back, but you'll get a few weed-free weeks by doing the pulling up – and if you were to do nothing else this would already make for a cleaner, neater space. When you're done, sprinkle baking soda or salt between the pavement cracks or onto the grass; the weeds don't like the sodium and it'll keep them at bay for longer.
Step 2: Scrub down patio areas
You can go down the route of power hoses and, again, professional treatments to bring your patio back to sparkling condition but you can also achieve a lot by yourself without these fancy tools. First, clear away any clutter and sweep all debris up so you're left with just the patio stones. Then, mix a solution of either half hot water and half vinegar, or  hot water and kitchen soap, and scrub the more stubbornly stained areas.
If you go the vinegar route, pour the solution over the concrete and let it sit for about 15 minutes before scrubbing. If using soap you can work away without the wait. Hose it off and you should see a noticeable improvement. The same gentle soap and warm water combination will also reinvigorate your decking area without damaging the wood.
Step 3: Add some pre-arranged plants or hanging baskets
If you have a garden centre within your 5km radius, summer is a great time to pay it a visit, because most of what you want will already be in bloom. When you bring your plants home, you'll have instant results, as opposed to planting in November and waiting months to see the fruits of your labour.
For gardens where planting into the ground isn't doable, take the simple route and buy some pre-made hanging baskets, like the kind you find in garden centres and in some larger supermarkets. These are great for small spaces as they make use of the fences/walls and add instant colour.
If you have less pretty areas you want to hide, bring in some large potted shrubs and dot them around the garden. You can get these pre-potted or you can move them into containers of your choosing; pick up a bag or two of soil if you do plan to do some repotting so you can make up the difference to anything that gets lost in the process.
Step 4: Consider the furniture you already have
If you have a big enough garden, you may already have some garden furniture from previous years – so now's the time to unearth it and give it a good clean down. If you don't have garden furniture, consider what you have inside your house that could work outside right now: folding camping chairs, crates for sitting or setting drinks on, and so on. 
#Open journalism No news is bad news Support The Journal

Your contributions will help us continue to deliver the stories that are important to you

Support us now
If you do decide to buy extra or order online, only pick up what you really need, and be sure to think about function first. Do you want to sit at a table for a BBQ or do you want more of a lounge-y vibe where you can read and relax in the sunshine? Where gets the most sun and what would make the most sense in that space? 
Step 5: Raid your home for cushions and accessories
Again, look at what you have inside that would work to tie the look of your furniture together: cushions, throws, metal lanterns to hold candles, bean bags, the kids' teepee for some shade. Whether you go dining or lounging, a great and inexpensive investment is an indoor-outdoor rug that will help to zone the space in an instant, provide some decor and colour and generally make it a lot more inviting. It will also cover over any ugly bits if you didn't get around to the initial cleaning steps (no judgement here). 
Step 6: Don't forget lighting
If you have access to power outside, nothing transforms a garden quite like a string of bulbs to line the perimeter of the space. White outdoor Christmas lights will work a treat here, or if you're buying new, nothing transforms a space like a string of festoon bulbs (see image above). When ordering string lights for outside, make sure to check if you have to also buy an additional transformer. 
If you don't have an outdoor plug socket, go for solar powered lights that will absorb the sun's heat by day and give off a warm glow in the evening. These can be free standing, or stuck into flower beds, or attached to fences – there are plenty of easy and affordable options online or at garden centres.