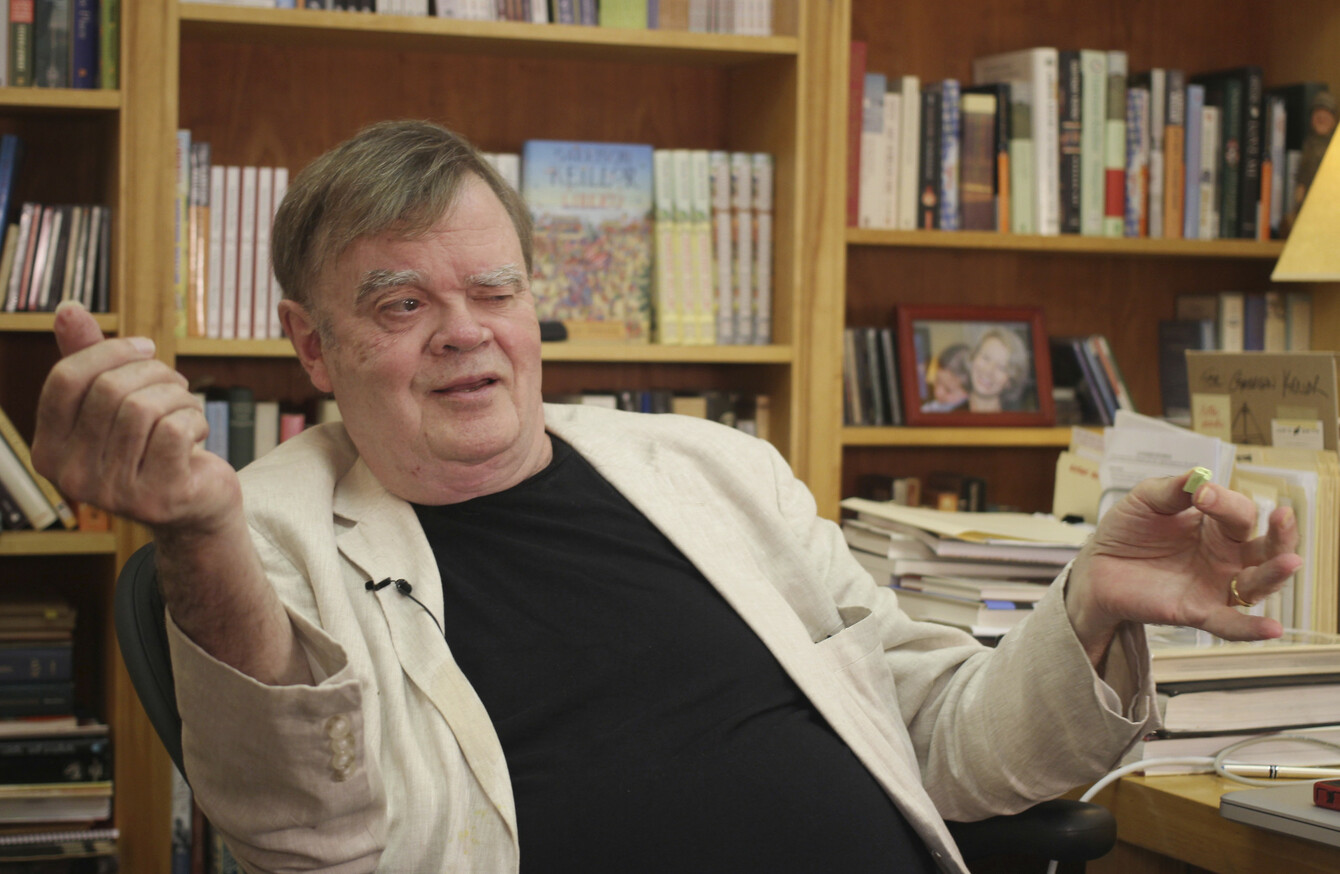 Garrison Keillor, creator and former host of A Prairie Home Companion, talks at his St. Paul, Minnesota office.
Image: PA Images
Garrison Keillor, creator and former host of A Prairie Home Companion, talks at his St. Paul, Minnesota office.
Image: PA Images
Updated at 10pm
GARRISON KEILLOR, THE former host of A Prairie Home Companion, said he has been fired by Minnesota Public Radio (MPR) over allegations of what the network called improper behaviour.
Keillor told The Associated Press he was fired over "a story that I think is more interesting and more complicated than the version MPR heard".
Keillor didn't detail the allegation to AP, but he told the Minneapolis Star Tribune he had put his hand on a woman's bare back when trying to console her.
"I meant to pat her back after she told me about her unhappiness, and her shirt was open and my hand went up it about six inches. She recoiled. I apologised," Keillor told the newspaper in an email.
I sent her an email of apology later, and she replied that she had forgiven me and not to think about it. We were friends. We continued to be friendly right up until her lawyer called.
Minnesota Public Radio confirmed it had terminated contracts with Keillor after receiving a single allegation against him last month of "inappropriate behaviour". MPR said the allegation stemmed from Keillor's conduct when he was producing and hosting A Prairie Home Companion.
MPR said it knew of no other allegations but had retained an outside law firm that continues to investigate. Keillor didn't say when the alleged incident occurred.
In his statement to AP, Keillor said it was "poetic irony to be knocked off the air by a story, having told so many of them myself".
But I'm 75 and don't have any interest in arguing about this. And I cannot in conscience bring danger to a great organisation I've worked hard for since 1969.
Keillor retired as host of the long-running public radio variety show in 2016. He hand-picked his successor, mandolinist and frequent musical guest Chris Thile, who is now in his second season as the Prairie Home host.
After he retired, Keillor continued to work with MPR on other projects.
Thile tweeted Wednesday that he was "in shock" by the firing. He said he knew nothing about the allegation, adding: "I trust that the proper steps are being taken."
Sue Scott, a longtime voice actor on the radio show until Keillor stepped down, told the AP she was stunned. She said she saw no evidence of inappropriate behaviour by him when she was on the show.
Fans also were shocked by the news. Cindy Dina, of the Minneapolis suburb of Forest Lake, said she frequently listened when Keillor hosted the show and admired Keillor, calling him "iconic".
"It's just one more, wow," she said, adding that she hoped the continuous allegations against high-profile men would send a strong message to all men.
Previous comments
In the wake of criticism of Senator Al Franken for pretending to grope his colleague A Prairie Home Companion is a live weekly radio variety show Leeann Tweeden, Keillor wrote in the Washington Post that it was done "in a spirit of low comedy".
"On the flight home, in a spirit of low comedy, Al ogled Miss Tweeden and pretended to grab her and a picture was taken," he wrote.
"Eleven years later, a talk show host in LA, she goes public, and there is talk of resignation," he wrote.
This is pure absurdity, and the atrocity it leads to is a code of public deadliness. No kidding.
Changes at the station
MPR said the name of the show, produced and distributed nationwide by American Public Media, would be changed. The show has been named A Prairie Home Companion for more than 40 years.
MPR also said it would end distribution of The Writer's Almanac, Keillor's daily reading of a poem and telling of literary events, and end rebroadcasts of The Best of A Prairie Home Companion hosted by Keillor.
Keillor started "A Prairie Home Companion" as a Saturday evening show in 1974, featuring tales of his fictional Minnesota hometown of Lake Wobegon "where all the women are strong, all the men are good-looking, and all the children are above average."
The show featured musical acts, folksy humor, parody ads for fake products such as Powdermilk Biscuits and the centerpiece, Keillor delivering a seemingly off-the-cuff monologue, The News From Lake Wobegon, in his rich baritone voice.
"A person could not hope for more than what I was given," Keillor said in his statement to AP.
Keillor bowed out with a final show at the Hollywood Bowl in July 2016, and turned the show over to Thile, a frequent Prairie Home guest musician. Keillor has been working on a Lake Wobegon screenplay and a memoir about growing up in Minnesota.
A Prairie Home Companion began in 1974 as an old-style variety show which featured guest musicians, musical numbers and comic skits with elaborate live sound effects.
- With reporting from Gráinne Ní Aodha