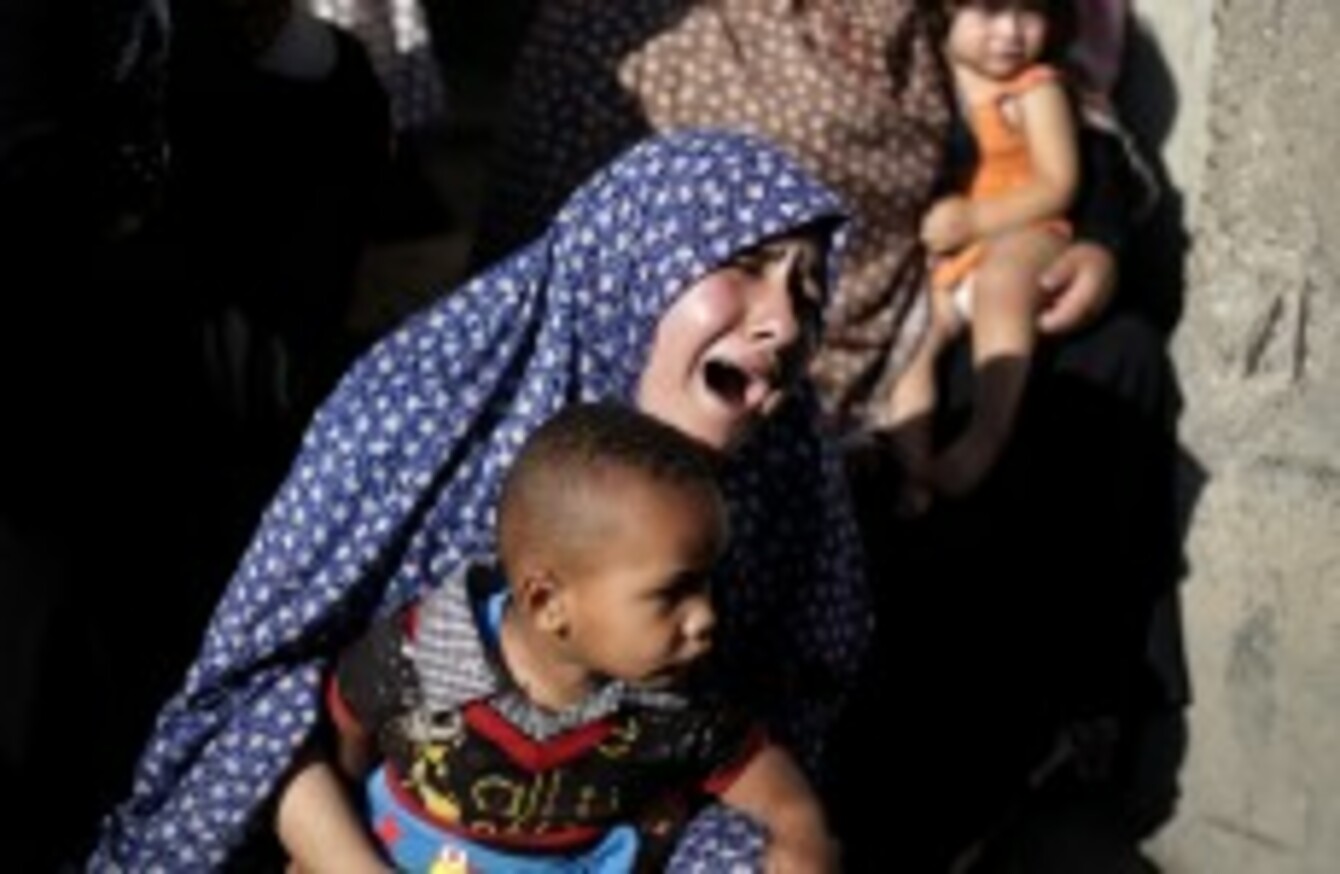 A Palestinian relative of four boys grieves in the family house.
Image: AP/Press Association Images
A Palestinian relative of four boys grieves in the family house.
Image: AP/Press Association Images
RTÉ HAS ACCEPTED that the term "murder" was incorrectly used to describe the killing of four young boys on a Gaza beach by fire from an off-shore Israeli gunboat.
It followed a complaint that Morning Ireland presenter Fran McNulty referred, several times, to the tragedy as murder in the course of an interview with a Hamas spokesperson, in a broadcast the day after the killing.
The four children — who were all from the same family — were playing on the the seafront outside a hotel used by foreign journalists when the attack happened.
In total, more than 2,100 Palestinians were killed in the Gaza Strip during the 8 July – 27 August conflict. 66 Israeli soldiers were killed, as well as seven civilians in Israel.
According to the Broadcasting Authority of Ireland, the complainant contended that it was wrong and/or biased to describe what happened as "murder" until a lawful authority established the facts of the case. It was also claimed that use of such a loaded term could "lead to incitement to hatred (against the world's only Jewish state and its citizens)".
In its initial response to the complainant, RTE said it regretted use of "this inappropriate and inaccurate term".
The broadcaster added:
The members of the Morning Ireland team have been reminded of their obligation to use precise language, especially on as uniquely fraught and controversial an issue as Gaza.
In further response to the BAI, it said in a statement:
"RTÉ acknowledges the term 'murder' was incorrectly used; it had not been established that the killing of the four non-combatant children had been a deliberate or criminal act on the part of the Israeli Defence Forces.
The fact that the children, whom no one had claimed to be combatants, were killed while playing on a beach did not in itself validate use of the term.
The complaint about use of the term was yesterday rejected by the broadcasting authority.
RTÉ also stated, the BAI said, that the inaccurate use of the word was addressed within the same programme — and that it wasn't used in a later interview on the same subject.
Rejecting the complaint, the BAI said that the programme, as a whole "did not, on balance, infringe the requirements for fairness, objectivity and impartiality set out in the Broadcasting Act 2009 or the BAI's code covering news and current affairs content".