OVER 100,000 PEOPLE in Gaza remain without homes following last summer's violence with Israel – and charities say it is doing little to stop young men taking up arms against Israel.
Irish charity Trocaire says that the Israeli blockade of the region is creating more and more militants.
Trocaire says that five months after the most recent conflict in Gaza ended, virtually no reconstruction has taken place and 100,000 people remain without homes.
Following a visit to Gaza, Caoimhe de Barra, Director of Trócaire's International Division, warned that the continuing blockade is sustaining a humanitarian crisis that is set to intensify as temperatures drop over the coming weeks.
"Entire neighbourhoods have been wiped out. I met people who are living in the shells of destroyed buildings. They have no access to clean water, electricity or sanitation and it is freezing cold. Last weekend three babies died as a result of exposure to the freezing conditions.
There are 100,000 people without homes following the conflict and reconstruction has barely begun. The main reason for the lack of reconstruction is the Israeli blockade on Gaza. Israel has legitimate concerns for the security of its citizens so they restrict the importation of concrete and other materials into Gaza. The effect that this has, however, is to leave 100,000 people without homes.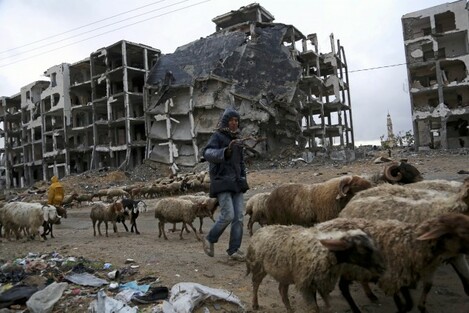 Source: AP/Press Association Images
De Barra says that the short-term measures may make Israel feel more secure, but they are feeding in to a more long-term problem.
In the short-term Israel may feel more secure but they are creating larger security problems in the longer term by creating an environment in which young people in Gaza are being radicalised. The boiling tensions make future conflicts inevitable.
"Egypt has also imposed severe restrictions on its border with Gaza. People used to be able to access good through Egypt but now that too has been closed off.
"Ultimately, it is the ordinary people of Gaza who are suffering as a result of a political stalemate that is sustaining a humanitarian crisis."