GEORGIAN CELLARS ARE to be filled in as part of the first phase of Luas Cross City construction line work, which kicks off today.
It was announced last month that the cellars will be filled in as part of the work on creating the new line, which will join the existing red and green lines and bring people as far as Grangegorman, where the new DIT campus will be based.
Donough Cahill, executive director of the Irish Georgian Society, had told TheJournal.ie that the move was a "further erosion" of Dublin's Georgian heritage.
The Georgian era spanned 1714 – 1830 and many of the city centre's iconic buildings date from that time.
Cellar works
During the cellar works, cellar extensions will be filled in to create space for the diversion of utilities. Twenty five cellars have been identified along the route, but it is believed a large number of unknown cellars will be located and treated during the works.
The streets that will be affected during the works are:
St Stephen's Green north
Westmoreland St
Parnell St
Dawson St
Marlborough St
Dominick St
Grafton St Lower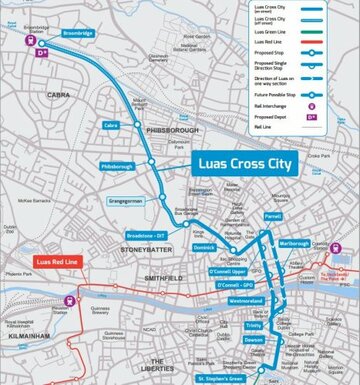 A new map of the Luas line. Pic: Luascrosscity.ie
A new map of the Luas Cross City line has been released, as well as a brochure now available on the official website. The brochure outlines how the work on the line will progress,
The cost of the project is €368 million, and up to 800 jobs will be created during the construction phase. The first passengers will be on board by  the end of 2017. The project will link the two existing Luas lines in the City Centre and will connect Cabra – at Broombridge rail station – to St Stephen's Green.
There will be 13 stops along the route, including one at the new Dublin Institute of Technology campus at Grangegorman.
As well as the cellar works, there will be heritage works, during which monuments and statues are moved and put into storage; utilities diversion works to divert utilities out of the path of the Luas tracks; main instrastructure works; and electrical and mechanical systems works.