A GERMAN STATE minister sparked a social media storm today after calling a beloved German pop singer a "wonderful Negro" during a TV debate on Europe's refugee crisis.
The Twitter hashtag #Neger (Negro) topped trending topics in Germany this morning after Bavarian Interior Minister Joachim Herrmann used the term for Roberto Blanco, who is of Afro-Cuban origin.
"Roberto Blanco was always a wonderful Negro, who most Germans thought was wonderful," Herrmann had said on a TV talk show yesterday evening on public broadcaster ZDF.
Continuing on the topic of immigrant "success stories" in Germany, he added that football powerhouse Bayern Munich also has many star players "with black skin".
The debate centred on Blanco — a household name whose career as a singer peaked in the late 1960s and 70s — comes as Europe faces its biggest refugee influx since World War II, with Germany the top destination.
On social media, people poured outrage and scorn on the comment from the minister of the conservative southern state of Bavaria.
Twitter user @Herzistvoll wrote: "A 'Negro' is only wonderful when he amuses white people with singing, dancing and football".
User @TheGoodOldGamer commented that Herrmann "also has nothing against #Negroes who do the housework and work in the fields".
Another Twitter user wrote that "whether Joachim Herrmann also finds #Obama wonderful remains unclear".
An online comment from Berlin daily Tagesspiegel sneered that "little Joachim would like to be picked up from the 1950s".
Herrmann on Monday morning was back on the airwaves to justify his comment, saying he had replied to a caller who had first used the term by saying he "did not want to have Negroes at all".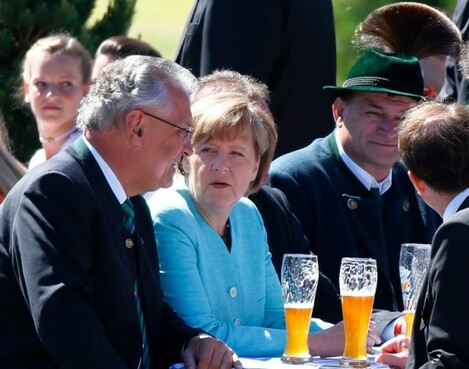 Joachim Herrmann and Angela Merkel
The minister said this comment was "completely unacceptable", adding that "I usually don't use the word Negro at all".
Blanco (78) reacted magnanimously to the controversy, saying he wasn't offended, but suggested the minister should have used a different term.
"I can't imagine that he spoke with hostile intent," Blanco told news portal Focus Online.
"It would have been smarter however if he hadn't used the word 'Negro' but 'coloured person'."