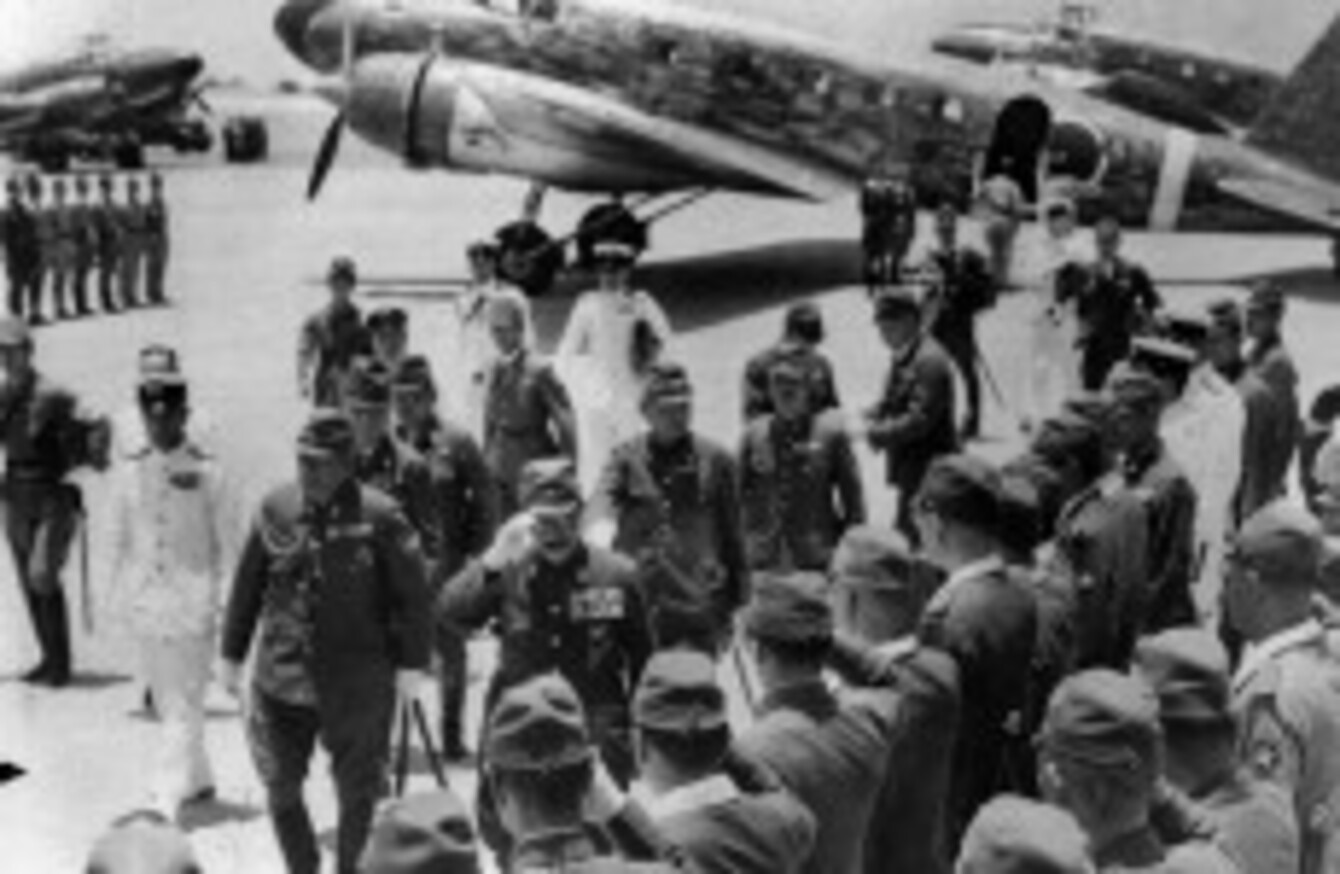 Japan's then-PM Hideki Tojo salutes Japanese troops in Manila on 5 May 1943
Image: AP Photo
Japan's then-PM Hideki Tojo salutes Japanese troops in Manila on 5 May 1943
Image: AP Photo
GERMANY HAS URGED Japan to deal 'honestly' with its World War II past after Prime Minister Shinzo Abe's visit to a controversial war shrine.
A spokesperson said Germany has tried to deal honestly with its own actions during the war and encouraged Japan to do likewise.
"I do not wish to comment on questions related to Japanese domestic politics," Chancellor Angela Merkel's spokesman Steffen Seibert told reporters when asked about the surprise Yasukuni shrine visit which enraged China and South Korea.
But in general all nations must honestly live up to their role in the horrible events of the 20th century. Only on the basis of this honest accounting is it possible to build a future with former foes. This is a conviction Germany takes to heart and which in my opinion applies to all states.
Abe sparked anger in China and South Korea last week by visiting the Tokyo shrine, which honours Japan's war dead, including several high-level officials executed for war crimes after World War II, and serves as a reminder of Japan's wartime aggression.
Shinzo Abe, third from right, at the Yasukuni Shrine in Tokyo on 26 December (AP Photo/Shizuo Kambayashi)
The visit came at a time when Japan's ties with China have turned particularly sour over a territorial dispute regarding islands in the East China Sea.
Foreign ministry spokesman Martin Schaefer added that Berlin was following the "tensions in the East China Sea with some concern and very closely".
"In our view it would be helpful if all sides strived for restraint and moderation and jointly sought a diplomatic solution for running conflicts and, in particular, avoided unilateral steps that could heighten the tensions in the region."
Germany takes pride in what it sees as its own earnest effort to atone for its militaristic past and the murder of six million European Jews in the Holocaust, although critics say it still has more to do.