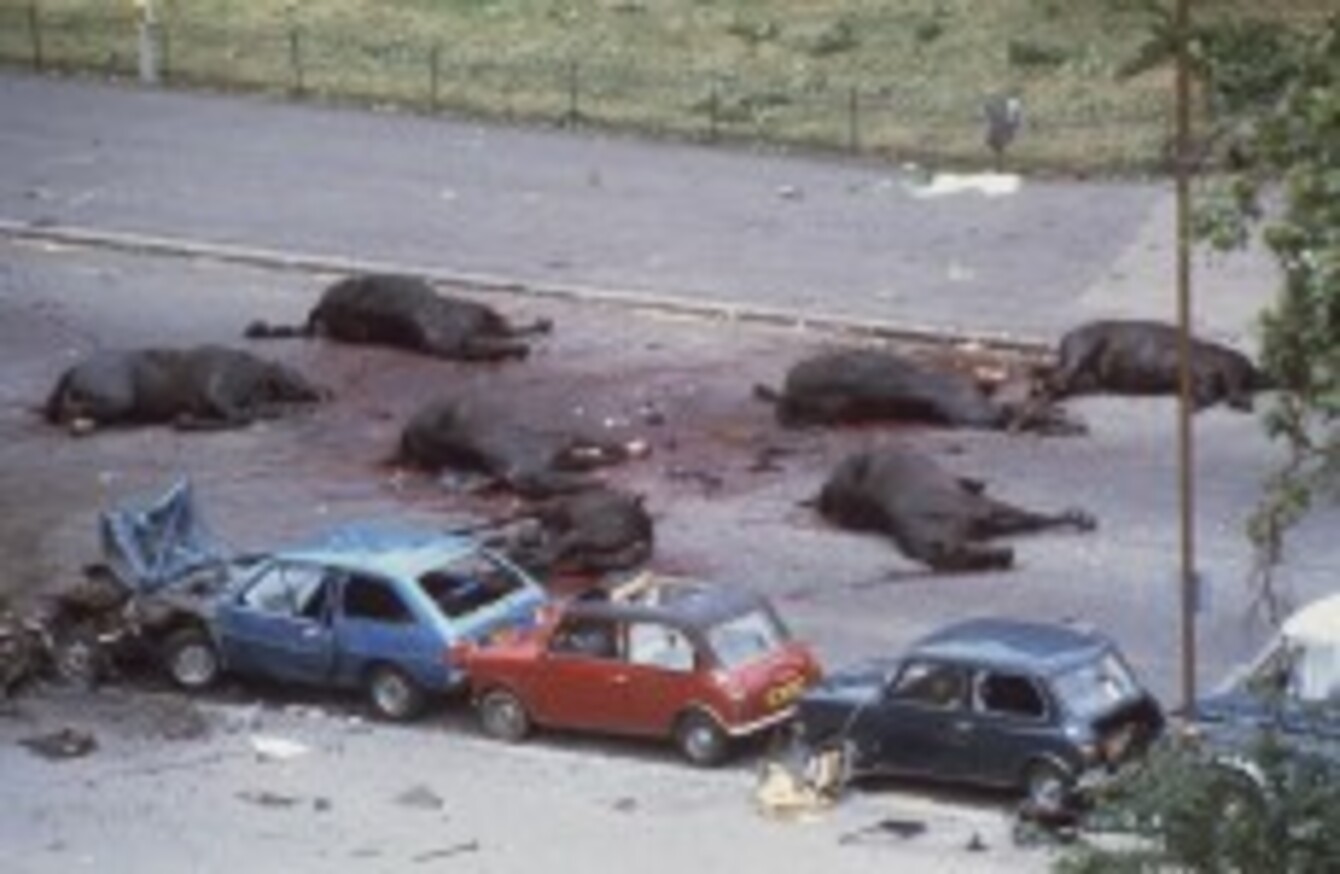 Horses lie dead after the bomb in Hyde Park.
Image: AP Photo/Peter Kemp
Horses lie dead after the bomb in Hyde Park.
Image: AP Photo/Peter Kemp
SINN FÉIN LEADER Gerry Adams has welcomed the decision by a London court to release the man accused of carrying out the Hyde Park bomb attack more than 30 years ago.
John Downey walked free from court in London after a judge ruled that the trial should not go ahead because of a covert agreement between the British and Irish governments after the Good Friday Agreement.
Downey, 62,  had pleaded not guilty to the murder of four soldiers in the blast in the park in central London in July 1982 after a bomb detonated as the soldiers rode past on their horses on ceremonial duties.
Gerry Adams said John Downey's arrest had been a "clear breach" of an assurance from the British government that IRA suspects who were on the run were no longer wanted by police.
"John Downey should never have been arrested and this has been vindicated by the court decision," Adams said.
The Sinn Féin leader said it had been "publicly accepted by the British and Irish governments that an anomaly existed in respect of those who are described as On The Runs".
"Both governments gave firm commitments to deal with this matter. A process was put in place to deal with outstanding cases including that of John Downey".
Adams said that Downey's arrest by police in London "was in clear breach of this and of the commitments given by the British government in 2004 during the peace process negotiations at Weston Park and in subsequent negotiations".
The Metropolitan Police had Downey on its wanted list for more than three decades, unaware of the deal which guaranteed that he and other suspects would not face prosecution.
A judge ruled that the official assurance – even though it was given in error – meant that Downey could not face trial.
The PSNI is to refer the matter to the Police Ombudsman for Northern Ireland.
In a statement, Chief Constable Matt Baggott said the police service accepted full responsibility for the failures which led to the outcome and apologised to the families of victims.
Families of the four men killed in the bombing said the judgement left them "devastatingly left down".