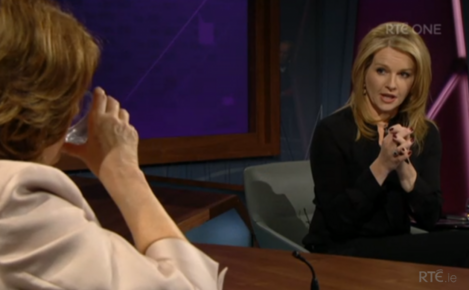 Source: RTÉ Player
IT WAS UNDOUBTEDLY a foretaste of what's to come when the election is called and if last night's Labour versus Sinn Féin affair was anything to go by the TV debates will be entertaining at least.
Let's be clear from the outset that we learned nothing new from Joan Burton's half hour head-to-head with Gerry Adams on Claire Byrne Live last night.
But we did see two of the most prominent and fascinating politicians in the country battle it out for the centre-left vote.
Beforehand some wondered if Mary Lou McDonald would have been a better opponent for Burton, but Gerry Adams put in a terrific performance with Joan Burton, who was undoubtedly the more economically competent of the pair, no match for his rhetoric.
Of course the advantage Adams had was that it's much easier when you're in opposition to identify the country's problems, talk about them repeatedly, say why they should be solved and talk about how bad a job the government is doing of solving them. But Adams did this well and the audience responded.
So much so you'd almost forget he made a serious economic gaffe at the start of the debate:
Burton spent a lot of last night explaining why things aren't so bad and "the recovery is real". She did a decent job but Adams was stronger on his core messages.
He repeatedly pivoted back to the recovery being unfair on the hard-pressed and on Sinn Féin's belief that the economy has to be about more than just the macro, it has to be about citizens and society. It's a lofty and vague idea, but it got plenty of applause.
Adams had plenty of stinging barbs, accusing the government of having rolled over to Fine Gael. This prompted Burton to say the only rolling she'd since getting into government was rolling up her sleeves.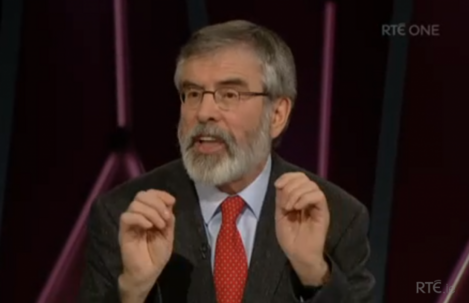 Source: RTÉ Player
The Sinn Féin leader also got a few laughs at the beginning, denying – despite the beard – that he was Santa Claus. He also later denied he was Pat Rabbitte. There were no other denials from Adams on the night…
The Labour leader was stronger when the Stormont talks came up, suggesting that Adams had gone there for a sleepover and had been "the big man", but then who in last night's audience cares about the Stormont talks?
On Northern issues in general – they came up more than you would have thought – Burton dished out her pre-prepared talking points. But Adams got the better of her because he had the detail in much the same way as the Tánaiste had the detail when it came to the economy.
It got rowdy at certain points. Both leaders were pleading for time to speak and it jarred a little when Adams asked if he could finish his point to which Burton pointedly said: 'No'.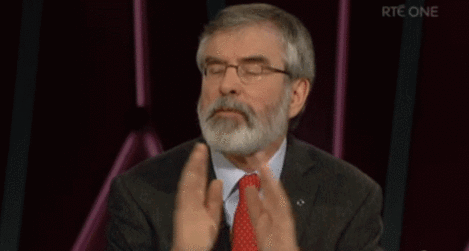 Source: RTÉ Player
There was some good contributions from the audience throughout. The programme's research and production team is clearly putting a lot of effort into securing participants from a variety of backgrounds with different experiences to tell.
Claire Byrne was excellent again, ensuring both leaders had their fair share of airtime – though they'd both probably disagree. The presenter went back to the audience as much as possible for their input.
This wasn't a game-changing debate by any means but it was a useful indicator of what's to come. It was also reminder that although the government says the election is over a year away, all parties are firmly on an election footing.