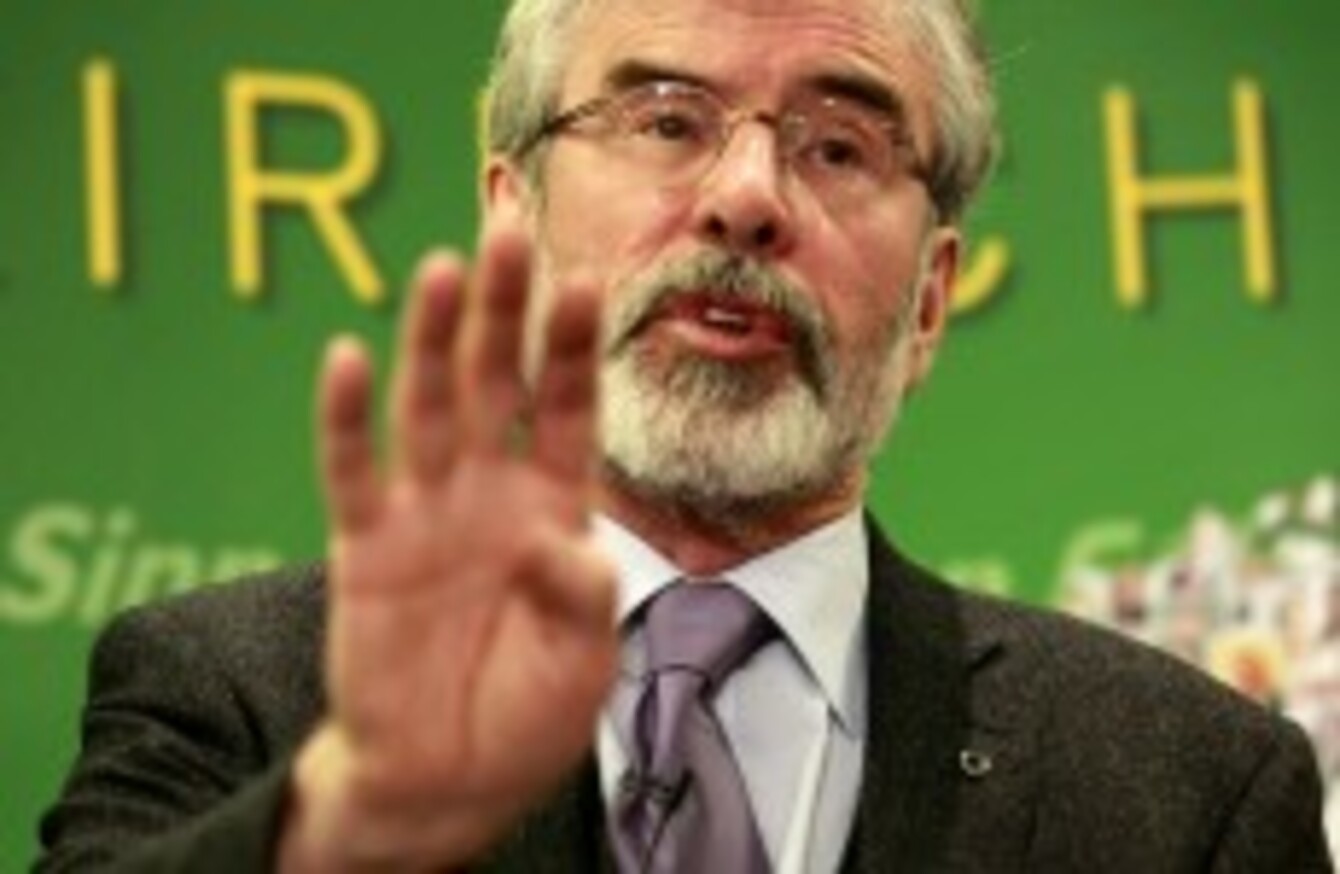 Image: Peter Morrison/AP/Press Association Images
Image: Peter Morrison/AP/Press Association Images
Updated: 2pm
45 PER CENT of voters think Gerry Adams was involved in the abduction and killing of Jean McConville, who was murdered by the IRA in 1972.
The Sinn Féin leader was arrested and questioned for four days in connection with the case at the start of the month.
Upon his release he repeated his assertion that he was "innocent of any involvement" in the conspiracy to abduct and kill the mother-of-ten.
According to a Millward Brown poll in this morning's Irish Independent, 45 per cent of voters believed he was involved in the murder — 32 per cent said they didn't know, and just 23 per cent said they didn't believe he was involved.
One in five people said they would be more likely to vote for Sinn Féin if Adams stepped down as leader, while one in three party supporters said they would like him to resign.
Adams has called the newspaper's poll as an "extremely serious departure" and contends it represents "another example of the Irish Independent's campaign against me and against Sinn Féin and their efforts to influence the election results".
The Sinn Féin President said on Thursday he would be taking action against the paper over what he said were false claims about him, made in connection with the sexual abuse case against his brother Liam Adams.
He said: "I want to make it clear that we will not allow this to deflect from our mission to secure the biggest mandate possible for change across this island, through endorsement of the peace process and the need for a new citizens centred, rights based society which protects the people instead of the privileges of the elites.

"I appeal to voters to Make the Change. Elect all four of Sinn Féin's EU candidates to Brussels and send the strongest all Ireland Sinn Féin team into local councils."
Euro elections
Despite the Adams controversy, Sinn Féin still looks on course to boost its representation in Brussels — according to poll findings for two of the Irish constituencies also published by the paper this morning.
Matt Carthy's in the lead in the massive Midlands-North West constituency, on 19 per cent — five points up on a SBP/Red C poll published two weeks ago.
Liadh Ní Riada, on 16 per cent (up two on the Red C survey) looks set to take the second seat in Ireland South.
Elsewhere in this morning's polls, Luke 'Ming' Flanagan's at 15 per cent (up 1) in Midlands-North West, with FG's Mairead McGuinness at 13 per cent (up 2) and independent Marian Harkin on 12 (down 4).
Further down the list, it looks like Fianna Fáil's decision to run two candidates could leave them without a seat in the area — sitting MEP Pat 'The Cope' Gallagher's on 10 per cent in today's poll, with Senator Thomas Byrne on 9 per cent.
Fine Gael MEP Jim Higgins is languishing behind his party colleague McGuinness on 6 per cent, while Labour's Lorraine Higgins is on 5 points. Independent Senator Ronan Mullen is polling at 5 per cent in today's survey.
There are four seats up for grabs.
Ireland South
In the ten-county Ireland South, veteran Fianna Fáil MEP Brian Crowley looks set to top the poll again, with 32 per cent support.
Fine Gael's Sean Kelly is on course to take the third seat, behind Sinn Féin's Ní Riada — the former GAA President's on 15 per cent.
Two more Fine Gael candidates are battling it out for the final seat, according to this morning's findings — with Cork-based senator Deirdre Clune on 10 per cent and Wicklow TD Simon Harris on 9 points.
Phil Prendergast, the Labour MEP who caused consternation amongst her party leadership earlier this month by calling for Eamon Gilmore to quit, is on 6 per cent — down three points from the Red C poll of a fortnight ago.
Further down, Independent Diarmuid O'Flynn's on 4 per cent, with the Greens' Grace O'Sullivan also on 4 points.
First posted at 10.24am.