THE NEW US President Donald Trump has done a lot of things this week – signed memos, vowed to building a wall in Mexico, and signed executive orders.
You might have seen mention of a 'global gag rule' in reference to one of the memos that he signed.
But what is this rule, and why were some people so upset by the decision?
What is this 'global gag rule'?
That's not the official name – the memo that Trump signed is actually about the Mexico City Policy.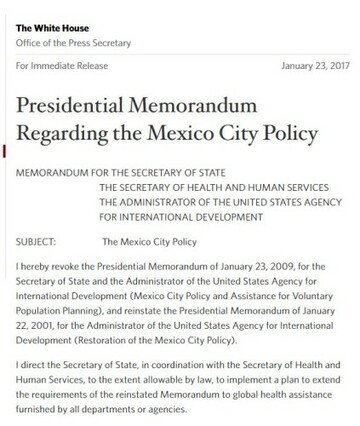 Source: White House
Right. So what exactly is the Mexico City Policy?
The policy was developed in 1984, under the then-President Ronald Reagan (who was, like Trump, a Republican).
It was drawn up in preparation for the UN's international conference on population in Mexico City (hence its name).
Why is it called the 'global gag rule'?
Mainly because it means foreign NGOs would not be allowed to use US funds to give information about abortion or to lobby governments to legalise abortion.
But what does the policy do?
In a nutshell, it means that non-US NGOs (non-governmental organisations) who want to receive federal funding must not promote abortion or provide abortion services.
As George W Bush's memo on the issue put it:
The Mexico City Policy announced by President Reagan in 1984 required nongovernmental organisations to agree as a condition of their receipt of Federal funds that such organisations would neither perform nor actively promote abortion as a method of family planning in other nations.
What US funding?
Like most wealthy countries, the US government provides assistance to NGOs who work in developing countries. It provides assistance to 100 countries altogether, according to its own site ForeignAssistance.gov.
Organisations can apply for funding which they can use for various programmes, like ones which fight HIV/Aids, for example.
With regard to health aid specifically, $9.3 billion in aid was planned for 2017.
That's about the same as in 2016. Of this, just over $600 million was earmarked for family planning and reproductive health. The bulk of this health funding tends to go to HIV/AIDs – $6 billion.
USAID is one of the ways US funding is provided. Of its family planning guiding principles, USAID said:
Since the enactment of legislation in 1973, recipients of US family planning assistance have been legally prohibited from supporting abortion as a method of family planning using US funds. USAID is committed to expanding access to voluntary family planning and reducing unintended pregnancies which saves lives and reduces reliance on abortion. USAID continues to support post-abortion care, which includes emergency treatment, counseling on and provision of family planning options, and community mobilization.
Source: Pablo Martinez Monsivais
How does the Mexico City Policy affect NGOs?
Well, it means that organisations that already get funding that they then use to provide information about abortion, or abortion services, are no longer allowed to apply for US funding.
This is to make sure that taxpayer dollars don't go towards financing abortion programmes abroad.
As the Henry J Kaiser Family Foundation puts it:
The policy requires foreign non-governmental organisations (NGOs) to certify that they will not "perform or actively promote abortion as a method of family planning," using funds from any source (including non-US funds), as a condition for receiving US government global family planning assistance and, as of January 23, 2017, any other US global health assistance.
The key here is 'any source'. This policy doesn't just apply to how the NGOs use US funding – if they want to use any funding from any source to perform or actively promote abortion, then they will not be eligible for US funding.
The second thing to note: this is a condition for receiving not just global family planning assistance , but "any other US global health assistance". So the policy has broadened out the sort of funding that this policy affects.
Trump's version of the policy extends to global aid from all US government departments and agencies – not just USAID and the US State Department (which were the only two previously covered by the policy).
What do NGOs make of it?
A number of NGOs have been critical of the move – most notably, those who provide family planning services.
The PAI, a global organisation that works with groups in developing countries on the issues of family planning and women's health, said that it believes the rule would force organisations to choose between receiving funding and "providing high-quality reproductive health services and counselling to women".
Health care providers will be forced to cut services, increase fees, and even close clinics altogether as a result of severe funding cuts. There are 225 million women in developing countries who want to avoid pregnancy but are not using modern contraception, but this policy will put birth control even farther from their reach.
"Trump's Global Gag Rule will obstruct and destroy the work of health care providers who are often women's main—and sometimes only—source for reproductive health care, and their entry point for receiving a wide range of primary health care services," said Suzanne Ehlers, President and CEO of PAI.
She said they believe it will lead to an increase in unintended pregnancies and unsafe abortions as a result.
But there is also some confusion around what the policy might mean.
The New Yorker spoke to experts about the issue, one of whom told them about this confusion:
"The government agencies are still scrambling to figure out what this means," Sneha Barot, a policy analyst with the Guttmacher Institute, told me. "There have been no official guidelines issued. But this is not the global gag rule we know. This is a whole new policy."
One family planning association in India told The Guardian that they believe the policy means that "programmes that address HIV, Aids, maternal and child health, cervical cancer screening [and] gender-based violence" would be affected.
Several prominent family planning organisations, including the International Planned Parenthood Federation and Marie Stopes International, have chosen not to apply for United States federal funding under the policy.
Was Trump's reinstatement of the policy a surprise?
No.
This is not just because of his pledges on abortion (which we will explain below), but the fact that typically (since 1984) every Democrat government has repealed and every Republican government has reinstated the policy.
Yes, that means it has been batted back and forth between being in place and not in place, depending on who is in government.
One of President Barack Obama's first acts when he became President in 2009 was to sign the executive order cancelling the Mexico City Policy.
At the time, Obama said in a statement that the policy had "undermined efforts to promote safe and effective voluntary family planning in developing countries.
For these reasons, it is right for us to rescind this policy and restore critical efforts to protect and empower women and promote global economic development.
Obama said that the ban had "been used as a political wedge issue", and he had "no desire to continue this stale and fruitless debate".
Senior Vatican officials criticised Obama over his decision at the time, saying that the decree opened the door to abortion.
What is Trump's abortion stance?
Trump has made some pro-life promises, and the fact he signed the Mexico City Policy memo on his first official day made a statement.
The pro-life Susan B Anthony List organisation outlines four commitments that Trump made in a letter which was sent by the Trump/Pence campaign last year.
The letter says that Trump commits to:
Nominating pro-life justices to the US Supreme Court
Signing into law the Pain-Capable Unborn Child Protection Act, "which would end painful late abortions nationwide"
Defunding Planned Parenthood as long as they continue to perform abortions, and re-allocating their funding to community health centres that provide comprehensive heath care for women.
Making the Hyde Agreement permanent law to protect taxpayers from having to pay for abortions.
The Hyde Amendment, which was passed in 1976, bans federal funding for abortions (except in the case of rape, incest, or if the life of the mother is in danger).
It is not a permanent law, and must be renewed every year. Like the Mexico City Policy, it has found itself going back-and-forth between being in place, depending on who was in power.
This week, the House of Representatives passed a bill called HR 7, which as Vox explains would "codify the language of the Hyde Amendment into permanent law".
When the Mexico City rule is in place, does it have any impact on abortion?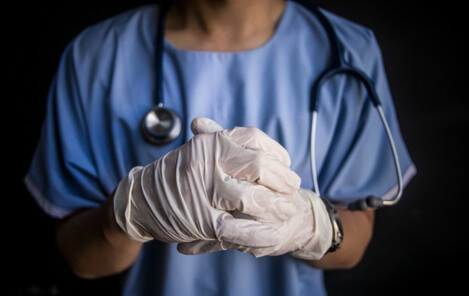 Source: Shutterstock/Abd. Halim Hadi
Because of the fact that it has been both in place and not in place over the last 30-odd years, it is possible to look at what its impact could be.
The World Health Organisation says that the "net impact of such a policy on abortion rates is likely to be complex and potentially fraught with unintended consequences".
It says that if the policy "leads to reductions in support for family planning organisations, and family planning services and abortion are substitute approaches for preventing unwanted births (moral considerations notwithstanding), then the policy could in principle increase the abortion rate".
It says that when the policy is in force, family planning organisations that usually provide (or promote) abortion "face a stark choice between receiving United States government funding and conducting abortion-related activities".
In one study, the World Health Organisation looked at "whether a relationship exists between the reinstatement of the Mexico City Policy and the probability that a sub-Saharan African woman will have an induced abortion".
It found:
Overall, the induced abortion rate increased significantly from 10.4 per 10 000 woman–years for the period from 1994 to 2001 to 14.5 per 10 000 woman–years for the period from 2001 to 2008 (P = 0.01). Although the trend changed gradually, the timing of the rise is consistent with the reinstatement of the Mexico City Policy in early 2001.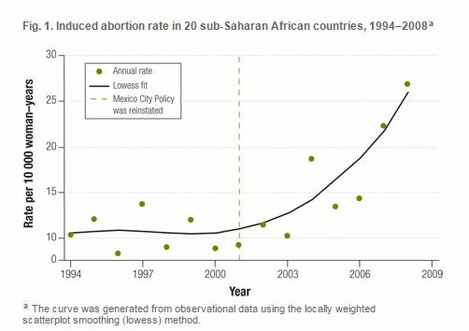 Source: World Health Organisation
It said that this is the first quantitative study of the issue, which means that:
"Regardless of one's views on abortion, this lack of evidence is a critical impediment to the design of effective foreign policy and has implications for maternal mortality in places where abortion is unsafe."
The WHO also notes that 47,000 women die from complications of unsafe abortion each year.
In a study published in Reviews in Obstetrics and Gynecology in 2009, the authors said that in Western nations, only 3% of abortions are unsafe, whereas in developing nations 55% are unsafe.
The highest incidences of abortions that are unsafe occur in Latin America, Africa, and South East Asia.
Engender Health has also documented the policy's impact in Nepal, Kenya and Zambia. The organisation works in the areas of family planning, maternal health, HIV, AIDS and sexually-transmitted infections.
It found that:
In each of these places, the Global Gag Rule affected family planning, HIV services, maternal and child health, and even malaria services. And in no place did the policy reduce abortions. In fact, the irony is that this policy led to more unwanted pregnancies.
So, what was the reaction to the news?
Depending on whether they are pro-life or pro-choice, groups have a different opinion on what the reinstatement of the policy means.
The pro-life Susan B Anthony List – which is a family of organisations that campaigns for laws that protect unborn children and their mothers from abortion – said that:
The Mexico City Policy does not reduce foreign assistance, rather it ensures that US international aid partners act consistently to save lives, rather than promoting and performing abortion.
Cardinal Timothy M Dolan of New York, chairman of the US bishops' Committee for Pro-Life Activities, "applauded the news", according to the Catholic news Service.
He described this as a "welcome step toward restoring and enforcing important federal policies that respect the most fundamental human right — the right to life — as well as the long-standing, bipartisan consensus against forcing Americans to participate in the violent act of abortion".
The Susan B Anthony List thanked President Trump for his 'pro-life leadership'.
In a statement, the Susan B Anthony List President Marjorie Dannenfelser said that Trump is continuing Ronald Reagan's legacy.
"President Trump's immediate action to promote respect for all human life, including vulnerable unborn children abroad, as well as conscience rights, sends a strong signal about his Administration's pro-life priorities," she said.
Pro-choice groups have criticised the policy.
NARAL Pro-Choice America in particular highlighted that it was an entirely male group that watched as Trump signed the memo.
Planned Parenthood said:
By reinstating the global gag rule as one of his first actions in office, Donald Trump has put politics over women's lives — as a result, some of the world's most vulnerable women will suffer.
Many of the groups protesting the change pointed out that the work by NGOs in giving abortion information and family planning information is often done in rural and poor areas where women's health is at risk.
Marie Stopes International said that women in developing countries "will pay the price" for the policy, warning that there could be "thousands more maternal deaths every year".
MSI does not use USAID funding in Northern Ireland or the UK – it uses it for its international programmes in Asia and Africa.
It pointed out that USAID is the world's largest bilateral donor in family planning, saying that in 2017, USAID funding would have helped MSI reach 1.5 million women "in some of the poorest, most underserved countries in the world".
It estimated that without alternative funding, the loss of MSI's services during Trump's first term, between 2017 and 2020, could result in:
6.5 million unintended pregnancies
2.2 million abortions
2.1 million unsafe abortions
Marjorie Newman-Williams, Vice-President and Director of Marie Stopes International's international operations said: "All the medical evidence, as well as everything we know from our daily interactions with women, is unequivocal: if you take safe abortion services out of the reproductive healthcare package, it exposes women to risk.
Every year, 21.6 million women are so desperate to end their pregnancy they put their lives on the line by risking an unsafe abortion. Thousands of them die and millions more are left with life altering injuries. Agreeing to the Mexico City Policy would mean accepting their fate and turning our backs on the very women who need us most.
She said that attempts to stop abortion through restrictive laws "will never work, because they do not eliminate women's need for abortion".
What's next?
The policy won't be repealed by Trump – though if he is succeeded by a Democrat President, it probably will be.
NGOs say they will have to make a decision on whether to change the services and information they offer in order to apply for funding. This could affect the other family planning or health services they offer.
Others, like Marie Stopes International, will just not apply for funding.
- Additional reporting AFP