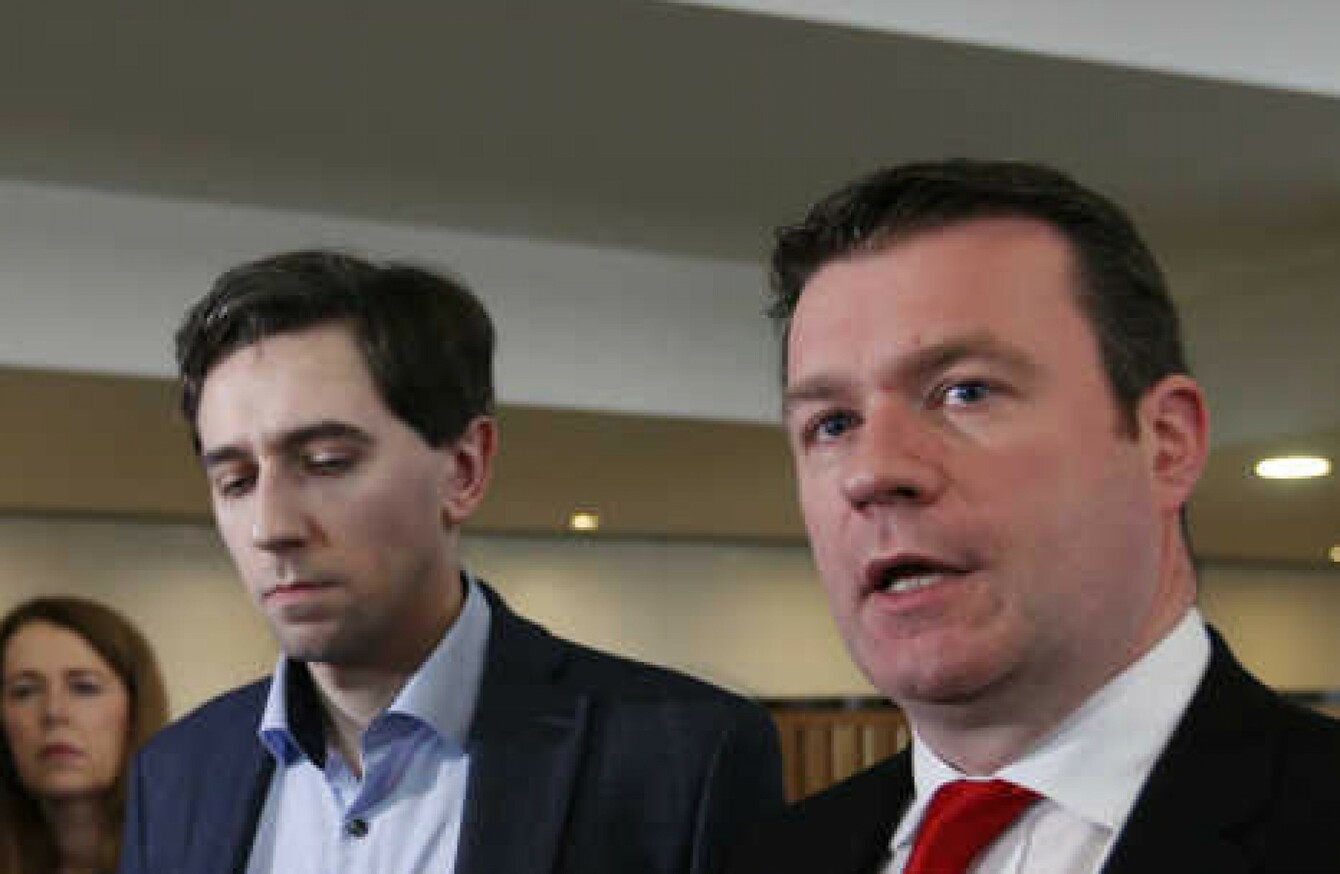 Minister of State Simon Harris and Environment Minister Alan Kelly
Image: Sam Boal/Rolling News
Minister of State Simon Harris and Environment Minister Alan Kelly
Image: Sam Boal/Rolling News
GOVERNMENT MINISTERS HAVE defended Taoiseach Enda Kenny against opposition claims that he hasn't been present enough in affected areas during the recent floods.
Meanwhile, opposition leaders, TDs and MEPs have all come out with strong criticism of the government, saying that they have been too slow in responding to the flooding and that those affected by the storm need to be offered more support.
Fianna Fáil leader Micheál Martin said: "Where is the Taoiseach and why has he failed to coordinate a countrywide response to the latest flooding?"
But government ministers have sprung to Kenny's defence, saying that he had visited affected areas and would continue to do so.
Simon Harris, the Fine Gael Minister of State with special responsibility for the Office of Public Works, said Kenny would not do the "Bertie Ahern" kind of photocall where he is there to be seen.
"The Taoiseach isn't just putting on the wellies and doing the Bertie Ahern standing in a puddle of water saying 'look at me taking action'. The Taoiseach is taking action."
Environment Minister Alan Kelly also defended the Taoiseach, saying that he was in constant contact with Kenny and had had a long conference call with him this morning.
"I'm sure the Taoiseach has shown his face on the ground already, he's visited areas up around the west and I'm sure he will be out and about," said Minister Kelly.
In terms of dealing with the damage, Minister Harris said that there was €430 million set aside for capital flood relief plans over the next five years.
We've spent €10 million as a country from 1995-2015, so we're spending more in the next five years than we have in the last 20.
"No sense of urgency from the government."
However, the government have been strongly criticised by opposition party members for how they have dealt with the floods.
Fianna Fáil leader Michéal Martin said that the government needed to do more to help those affected, and that they had been too slow to respond to the weather warnings.
"Met Éireann have been warning of the flooding threat posed by Storm Frank since early in the week," said Martin.
However despite this there is no sense of urgency from the Government in responding to the needs of flooded communities.
Martin has called on the government to mobilise the Defence Forces on a larger scale than they have been and to apply to access the EU Solidarity Fund, which provides financial assistance to EU member states when large-scale disasters occur.
"This is a national emergency that requires an appropriate response from government. It cannot be business as usual for the Taoiseach and his ministers," said Martin.
Sinn Féin MEP for Ireland South, Liadh Ní Riada, echoed Martin's statement, calling for the building of flood defences in order to stop the widespread damage.
 The risk of flooding is increasing and will continue to increase.  People across this island need to know that our political leaders have a plan to prevent this happening in the future.
Meanwhile, Green Party leader Eamon Ryan said that in the short-term a new national agency to coordinate the response to emergencies like the floods needed to be founded.
In the long-term, Ryan said that any new government needed to "devise a long term plan which prepares us for rising sea levels and increasing weather extremes."