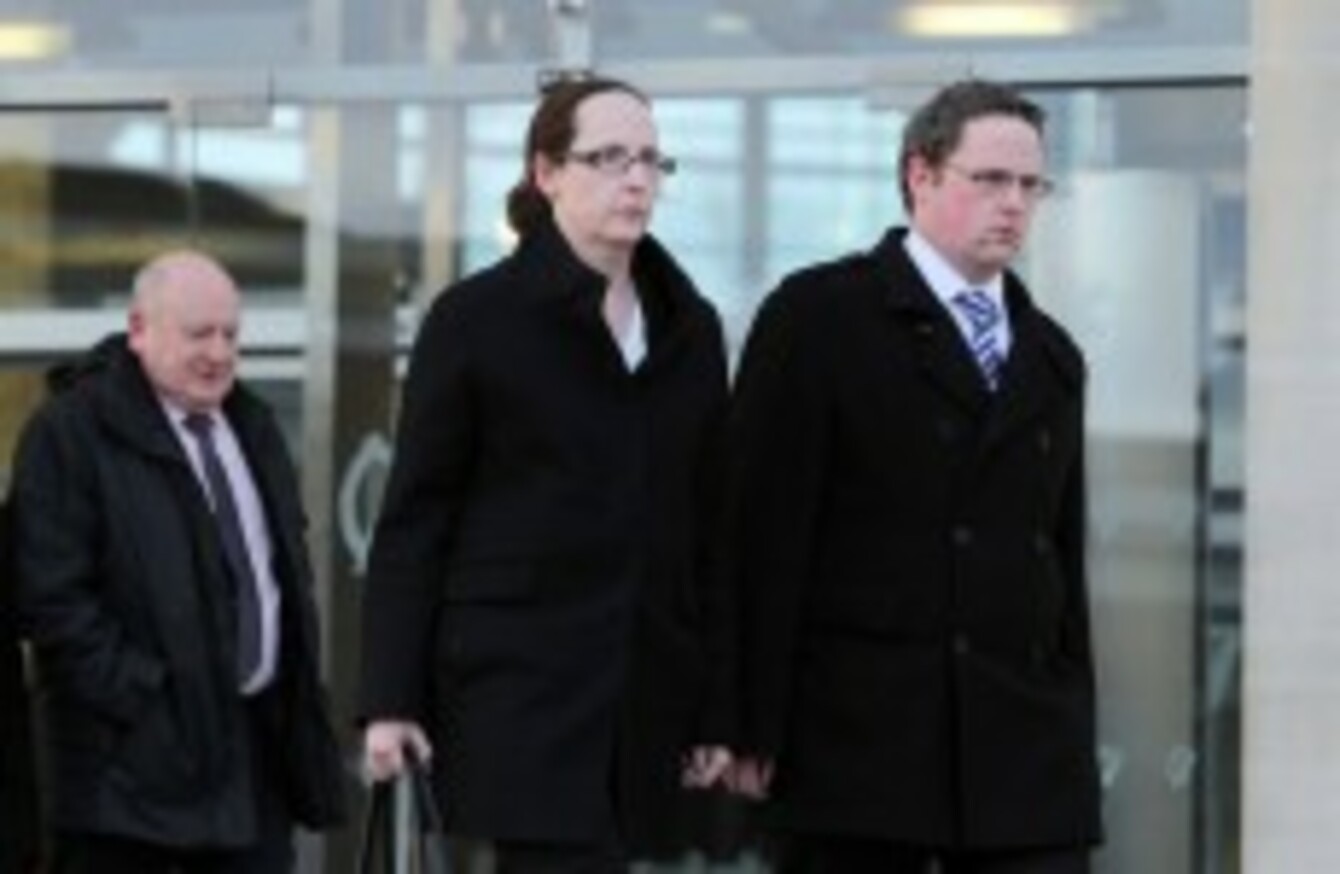 Elaine O'Hara's sister Anne Charles and her brother John O'Hara
Image: Mark Stedman/Photocall Ireland
Elaine O'Hara's sister Anne Charles and her brother John O'Hara
Image: Mark Stedman/Photocall Ireland
ELAINE O'HARA'S BROTHER has testified that he found the name of a fetish lifestyle website in her apartment when the family searched it two days after she disappeared.
John O'Hara was giving evidence today in the Central Criminal Court trial of the 42-year-old architect accused of murdering the childcare worker.
Graham Dwyer is charged with the 36-year-old's murder in the Dublin Mountains on 22 August 2013 hours after she was discharged from hospital, where she had been a psychiatric patient.
The Cork-born father of two of Kerrymout Close, Foxrock, Dublin has pleaded not guilty to murdering the Dubliner on that date at Killakee, Rathfarnham.
John O'Hara testified that he and other family members joined gardaí at his missing sister's home at Belarmine Plaza, Stepaside on the night of 24 August 2012.
They had spent the evening searching the area where her car had been found at Shanganagh Cemetery, the graveyard where her mother was buried.
"We were there an hour or so, going through things in the apartment to see if there was any indication of where she had gone," he explained.
"I found two pictures of two hunting knives," he recalled.
He explained that they seemed to be printouts from Active Hunting Ireland's website and that they had been printed on 11 July 2012.
He agreed with Seán Guerin SC, prosecuting, that they included a Buck Special Knife 119 and a Buck Special 119 Cocobola. Their blade lengths were 15.2cm (6 inches).
He said he also found a notebook in his search that Friday night. Inside it was the name of a website called fetlife.com.
"While we were in the apartment, I had looked it up on my phone and I showed my sister and the garda the images on it," he said. "It was a fetish lifestyle website."
"On the Saturday or Sunday, I logged on and created a user name to see if I could find anything to do with Elaine," he said. "I found one with no picture."
However, he said that the attributes described led him to conclude that this was his sister's profile. The username was Chained Brunette, he said.
"I gave the information to the gardai and I closed down my user profile," he said.
He agreed with Ronan Kennedy BL, defending, that the family had considered the possibility that some harm might have come to her by her own hand.
"We were also concerned that she went for a walk or to leave something at the grave and that she was maybe grabbed," he said.
Apartment 
His father's partner also testified today. Sheila Hawkins testified that she 'recoiled' when she came across oily latex in Ms O'Hara's apartment that day, while she and her partner were searching for a passport or something to help them find his daughter.
She was asked by Remy Farrell SC, defending, if she had found a black latex bodysuit in Ms O'Hara's home that day. Ms Hawkins said she had put her hand into a straw basket on a shelving unit.
"I recoiled because my hand felt this oily rubber substance," she said. "I saw what looked like black latex."
She said that she didn't tell Ms O'Hara's father at the time because 'the man was very distressed'.
She was asked about telling gardai that she was aware that Ms O'Hara had an interest in S&M.
"I amended that statement," explained Ms Hawkins. "My knowledge of her interest in BDSM was from a conversation with her father."
She explained that Frank O'Hara had rung her 'in an incredibly distressed state' after Ms O'Hara had left his home one day.
Mr O'Hara testified on Friday that his daughter had once told him that she was seeing a Foxrock architect, who tied her up.
Ms Hawkins was also asked about occasions when Ms O'Hara had confided in her, including telling her in 2011 that she had had sex for the first time.
Ms Hawkins, who is a psychologist, said that she found this credible.
"I placed her emotional development around the age of 15," she said.
Evidence from Elaine O'Hara's sister
Ms O'Hara's younger sister, Ann Charles, testified that she and the deceased had been close as children, but that they had not been particularly close as adults.
"I think because of her psychiatric difficulties, she acted quite young. She never really grew up," she explained. "She was quite naive in a way. She was very trusting of people."
Under cross examination by Mr Farrell, she agreed that she might have been immature.
"I suppose, in a sense, yes," she said. "She'd tell the man on the street her life story."
She said that Ms O'Hara had texted her towards the end of the 2011 to say that she'd had a miscarriage that May. She said she rang her back and asked her the usual questions, but said her sister had fudged them.
"She told me it was the result of a one-night stand and wouldn't really answer any more of my questions," she said.
The jury also heard yesterday from the man understood to be the last person to see Ms O'Hara alive.
Looking at a photograph of Ms O'Hara, Conor Gilfoyle testified that he gave her directions to a railway bridge near Shanganagh Cemetery on the evening she disappeared.
He said he was jogging and later met her on that bridge.
"She was walking towards the seafront," he said.
The trial, which is due to last up to eight weeks, continues before Mr Justice Tony Hunt and a jury of five women and seven men.