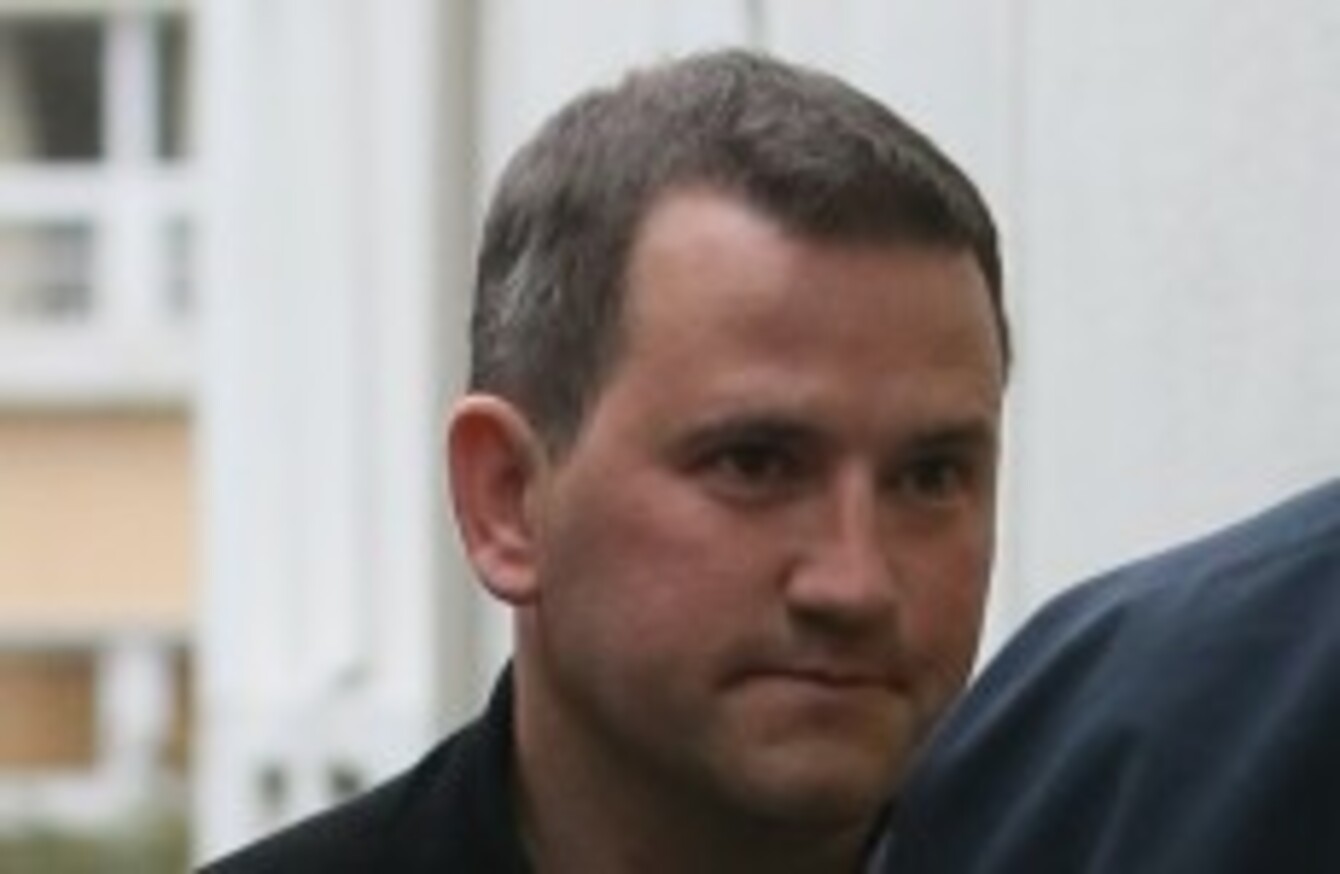 Image: Niall Carson
Image: Niall Carson
Updated 5.40pm
THE TRIAL OF Graham Dwyer, the man accused of murdering Elaine O'Hara began today in the Criminal Courts of Justice.
Dwyer, 42, has pleaded not guilty to the murder of Elaine O'Hara, a 36-year-old Killiney woman.
At the opening of the hearing, Sean Guerin SC, who is leading the prosecution, told the jury that evidence to be put forward will prove the pair had a sexual relationship and that they had been in contact for some years.
He then alleged that the two had been in contact for more than a year – by text message – before her disappearance.
Addressing the jury of seven men and five women, he said that their sexual relationship included acts of stabbing committed by Mr Dwyer on Ms O'Hara.
"That was a feature of the sexual relationship between them and that it reflected a deep-seated and a passionately held irrepressible desire on the part of Graham Dwyer to get sexual gratification by stabbing her," Guerin continued.
He put it to the jury that it was Mr Dwyer who sparked up their relationship by sending a text message to Ms O'Hara, stating:
"Hi Elaine, hope you are keeping well."
Ms O'Hara's response was: "Who is this please?"
Guerin said that text messages tell the story of their relationship – to a degree – and give insight into the sexual relationship between them.
The barrister stated that after the relationship was renewed in 2011, it became clear that BDSM (bondage, domination, sadism and masochism) was a factor.
In a message sent from an 083 number, which Mr Guerin alleges is owned by Mr Dwyer, the sender tells Ms O'Hara that he is a sadist.
The message goes on to say: "You should help me inflict pain on you and help me with my fantasy. Blood turns me on."
Mr Guerin told the jury that these were fantasies held by Mr Dwyer alone and that Ms O'Hara was someone whose sexual preference was submissive, involving restraint, which included being tied up and punished by another person.
Within minutes of them getting back in touch in March 2011, she wrote:
I'm not into blood anymore.
The jury was told that Ms O'Hara did allow herself to be stabbed on occasion by Mr Dwyer.
Another text alleged to have been from Mr Dwyer said: "I want to stick my knife in flesh while I am sexually aroused… I would like to stab a girl to death some time."
Another message read out in court said:
My urge to rape, stab or kill is huge. You have to help me control or satisfy it.
The prosecution told the jury of the accused's alleged desires: "You'll see that Graham Dwyer arranged to meet Elaine O'Hara at Shanganagh Cemetery to take her up to the mountain to kill her in satisfaction of that desire."
The court heard that there were also a text message discussion in 2011 relating to a case of a different woman who had been stabbed. Ms O'Hara received a message stating:
I am watching the case with interest… I would have loved to stab her… I can imagine the knife going in and out… lucky guy.
Mr Guerin read text messages where she says she wanted to sleep and he replies "I can put you to sleep". She replies "stop" and the text replies "I know you want it. 30 seconds to drift in to oblivion".
Guerin also suggested there was a "threatening" element, whereby a message states that if she didn't help him find a victim then she would have been the one.
"If you don't help me it could be you."
Mr Guerin says it appears that the responsibility was being "placed on her".
He then says it got to the point where O'Hara gets to a point in the relationship where she is resisting Mr Dwyer's advances and wants to stop being part of any "stabbing".
In reply to her objection to being stabbed, she received a message: "You don't get your way, I do…"
She tells the person sending messages that she is afraid it will set back her recovery and says "she doesn't want to go back".
The reply to this is: "It is something I want, it is not the same as cutting yourself."
Another message read out in court from July 2011, O'Hara says: "I don't want you to stab me anymore." She says "I will miss you… sorry to lose you".
She explains on August 2 that she wants children. However, in a text message she writes she needs "to be free of stabs unless you want to give me a child, sir".
Mr Guerin told the court that messages to Ms O'Hara agree to father a child for her. Messages go on to tell her to take folic acid and go to a doctor.
The court is told that O'Hara appears to then change her mind, stating in a message that she thinks it would be better to be in relationship.
She states: "You've no idea how hard that is though, now that I am marked with so many stab wounds."
Hospitalised
The jury was also told that Ms O'Hara had suffered from psychiatric difficulties and in the period before her disappearance was in hospital for a period of up to six weeks. The jury was told that text messages between the two phone numbers discussed suicide.
One message, which the prosecution alleges is from Mr Dwyer, states:
If you ever want to die, promise me I can do it.
The reply was: "Yes sir, I promise sir."
Mr Guerin said that the term "sir" was often used in the messages, as was the term "master". Ms O'Hara would often be referred to as "slave" said the prosecution.
"He knew full well of her psychiatric difficulties," said Mr Guerin, adding that Mr Dwyer also knew that she had previously been suicidal.
The prosecution claims it is "this weakness on her [Elaine O'Hara] part – if that is the right word" – that her "illness" was taken advantage of and "used to manipulate her" over course of the relationship.
During her stay in hospital in August 2012, she received the following text:
If anything happens to you, who knows about me?
"Nobody," replied Ms O'Hara."Ok, let's keep it that way," was the reply.
Other messages received stated:
…you must be punished for trying to kill yourself without me.
Mr Guerin said that somehow she was made to feel that she had "a duty to satisfy him by making herself available for punishment".
On the 21 August, the day before she was discharged, she texted the 083 number to say that she couldn't wait to get out, but that she was scared that she wouldn't be able to cope.
The reply to that message tells her that "if it doesn't work out this time", "the way out is through me", adding that all she has to do is say she wants to "get out".
She replied to the effect that wouldn't happen. She received a text asking her: "Are you happy to go on like this forever?"
Ms O'Hara is then told that she had a big punishment coming: "getting stabbed in the guts."
The prosecution alleges that their last meeting was when Dwyer allegedly told her to park at Shanganagh Cemetery, to only bring keys, and to head for the railway bridge.
The prosecution also alleges that the accused told her to leave her phone at home. A message said they would be "pretending to do someone for real". The prosecution said he had identified "almost the perfect victim" in Elaine O'Hara, in that she had a history of psychiatric issues, had just come out of hospital and that afternoon had visited the grave of her mother.
Guerin said there was every reason to think it was suicide by the way it would appear. The prosecution claims it was 'very nearly the perfect murder'.
***
Ms O'Hara went missing in August 2012. Her remains were found in the Dublin mountains on 13 September 2013.
Earlier, the jury was told that two men with an interest in fishing saw something "shiny" in the water of Vartry reservoir on 10 September. They managed to raise items out of the water, as the prosecution reminded the jury, it was a warm dry summer in 2013 and the water levels had dropped.
Gardaí later searched the area. Items recovered from the water included a set of keys, loyalty cards, handcuffs, a rope and two mobile phones.
The jury was also told that three days later a dog trainer came across remains in the woods near the Dublin Mountains. Just 65% of Ms O'Hara's remains – all skeletal – were discovered by the trainer. This included a lower jaw bone.
The cause of death could not be determined.
Mr Guerin said he would be presenting a series of evidence for the jury to consider, including: two mobile phones belonging to Ms O'Hara – a phone she was using at the time she went missing and a previous phone she owned.
Other items include her laptop, two Nokia phones that were discovered at Vartry reservoir by two men, a rucksack, CCTV footage from Belarmine Plaza, the residence of Ms O'Hara and a mattress, that was taken from her apartment, during a later search of her home.
The prosecution told the jury that the exhibit of the rucksack is relevant as CCTV footage shows a man leaving the home of Ms O'Hara in Belermine Plaza in Stepaside wearing a rucksack "just like the one" that was found in Vartry.
The mattress taken from the home of Ms O'Hara by gardai was tested for DNA. Mr Guerin told the jury that a DNA profile taken from semen found matches the DNA profile of Mr Dwyer.
The jury was also told that there is no forensic evidence to link Mr Dwyer to the scene where O'Hara's remains were found.
***
In the afternoon, two members of An Garda Síochána took to the stand to present maps of the alleged crime scene and other areas of interest. These included the offices where Mr Dwyer worked at 23 Baggot Street Lower, two mobile phone providers – the 02 store and the 3 store on Grafton Street – as well as Belermine Plaza in Stepaside where Ms O'Hara lived prior to her disappearance.
One photo shown to the jury was of the mattress from Ms O'Hara's apartment. The court was told that the photo shows "damage to the mattress" and there are three or four points where the fabric of the mattress had been "pierced".
The defence also asked the jury to be pre-warned about a number of the photographs, which are photographs of the partial remains found in the woods.
Mr Justice Hunt told the jury that a number of the photographs are not "pleasant".
The jury heard a testimony from the garda charged with taking photos of where Ms O'Hara's remains were found.
Detective Sergeant David Conway said a number of items had been found in the vicinity of the remains, including grey trousers, a pair of denim shorts, black leggings/pants and a running shoe. When questioned if he had any recollection of two condoms being in the vicinity, he replied that he had no recollection of two condoms being found but did not rule out the possibility that they had been.
A jury of five women and seven men was sworn in earlier this week. Mr Justice Paul Carney warned potential jurors the trial would be difficult.