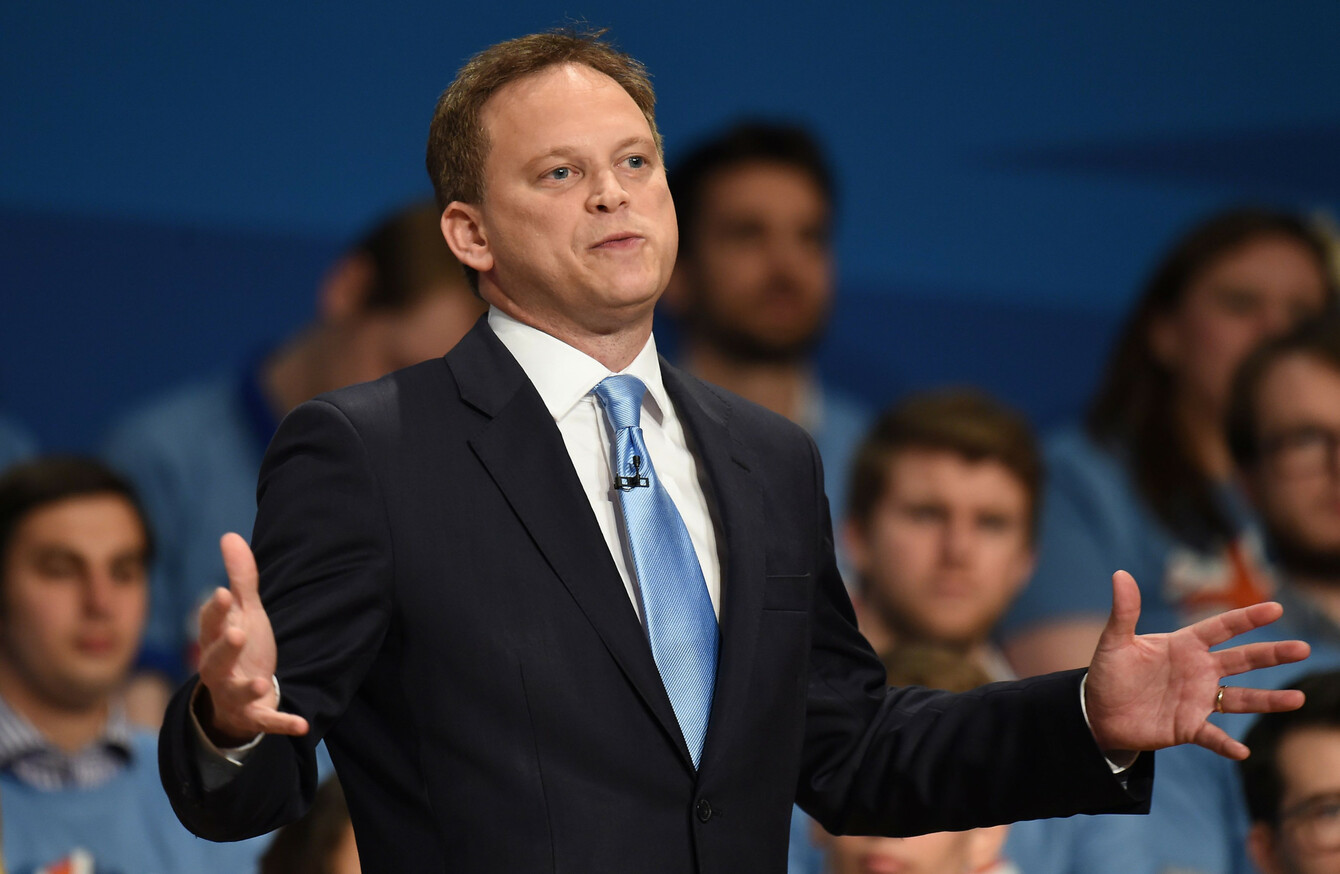 Former Conservative Party chairman Grant Shapps
Image: Joe Giddens via PA Images
Former Conservative Party chairman Grant Shapps
Image: Joe Giddens via PA Images
FORMER CONSERVATIVE PARTY chairman Grant Shapps has called on British Prime Minister Theresa May to step down as party leader, revealing that 30 MPs and a number of cabinet ministers agree.
Speaking to a number of news outlets today, Shapps compared May's current position to that of the end of Gordon Brown and John Major's. His remarks come after a faltering performance at the party's conference this week and cabinet infighting over Brexit.
"It's about feeling that having fought and not won that election and then not really having the relaunch that was wanted this far down the line, three or four months later, perhaps it is time to do something else and I think that means changing the leaders," Shapps told Sky News.
Shapps declined to reveal that names of the party members who want May to resign, but said "it does include five former cabinet ministers."
Speaking to BBC News today, he said:
There are about 30 colleagues who feel it would be better if we were to go to a leadership election. They include people who are interestingly strong remainers, strong leavers and people who are somewhere in the middle.
"If you look at previous elections and previous cycles you will see that Gordon Brown tried to struggle on through. You saw the same thing happen with John Major and in the end, it doesn't end well," he said.
"We don't think it's the way to do this and that actually it would be better to enable us to move on as a party by having a full leadership election now."
May's leadership has also been strained in recent weeks by Boris Johnson, the foreign secretary, who publicly undermined efforts to present a united front over Brexit with several newspaper columns and interviews setting out his own stance on the issue.
The latest round of political uncertainty surrounding May pushed down the value of the pound against the euro and the dollar on currency markets.
https://twitter.com/BBCNews/status/916196609733439488
May's reaction
Reacting to the revelations today, Theresa May said she enjoyed the "full support" of her cabinet.
"What the country needs is calm leadership and that's what I'm providing with the full support of my cabinet," May told reporters in her constituency in Maidenhead, west of London.
However, when questioned today Shapps disagreed with May's comments.
"Are there cabinet members aware? Yes. Do some support it? Yes," he said.
Brexit strategy divisions
Speculation around May's position has intensified in recent days after a chaotic address to the party's annual conference on Wednesday marred by coughing fits, a falling set and a prankster's interruption.
The Conservatives have 316 MPs in parliament. Under the party's rules, a leadership race can be triggered if at least 48 of those MPs express their support.
But leading figures in the Conservative Party disagreed with Shapps.
"I really think this is now just going to fizzle out," said Charles Walker, deputy head of the party's powerful 1922 Committee, which would initiate any leadership contest.
Veteran backbencher Michael Fabricant said of Shapps: "I wouldn't buy a used car from one embittered colleague – let alone take advice from him about who should be PM."
And former minister Rob Halfon, sacked by May, said the plot brought the Labour opposition leader closer to taking over the prime minister's Downing Street office.
"This knucklehead behaviour makes our party weaker and it allows Jeremy Corbyn one step closer to Number 10," he told Channel 4.
A former interior minister, May came to power last year after her predecessor David Cameron stepped down in the wake of the Brexit referendum in which he had campaigned for Britain to stay in the European Union.
Her position was badly weakened in this year's general election.
She called the snap vote but ended up losing her parliamentary majority and her cabinet has been riven with divisions over Brexit strategy in recent weeks.
With reporting by AFP.