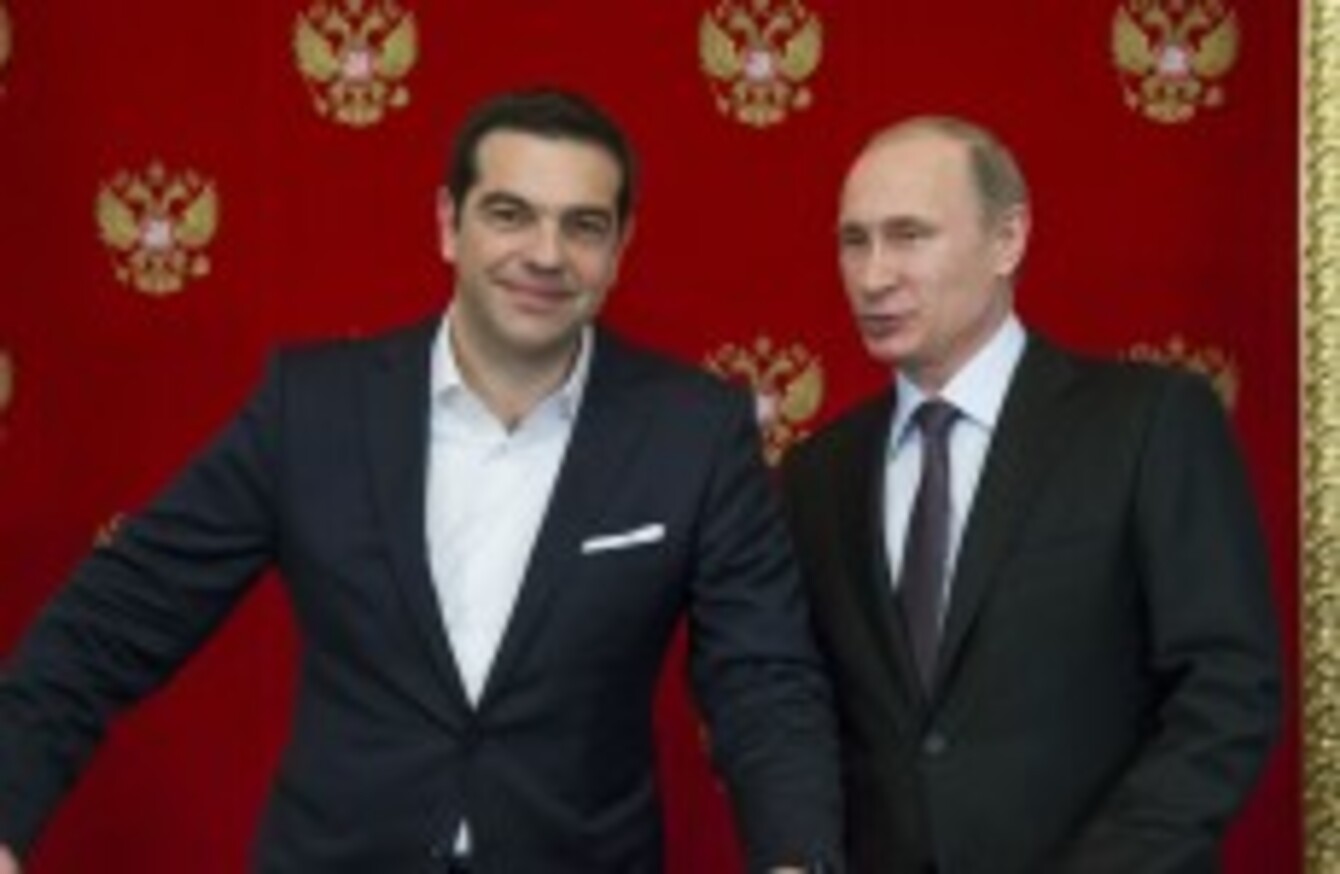 Image: AP Photo/Alexander Zemlianichenko, pool
Image: AP Photo/Alexander Zemlianichenko, pool
Updated 13.58
GREECE TODAY MADE a €459 million loan payment to the IMF after days of uncertainty, but that failed to fully dispel market concerns over its ability to honour its debts.
Prime Minister Alexis Tsipras called for an "honourable compromise" that would reopen Greek access to EU-IMF loans as his finance ministry confirmed the payment had been authorised and the government announced a fresh debt sale to raise cash.
"I am confident that despite the difficulties, all the forces will come to an honourable compromise," Tsipras said from Moscow during a two-day official visit.
But despite government reassurances and the raising of €1.14 billion from the sale of six-month bonds yesterday, mostly to domestic buyers, Greece remains in a precarious position, shut out from international debt markets and reliant on short-term bonds for borrowing.
Greek banks are dependent on the European Central Bank for financing, but the eurozone's central bank no longer accepts Greek sovereign bonds as collateral for loans.
Today Tsipras told students at the Moscow State Institute of International Relations his priority was to reach a deal with the EU and keep Greece in the eurozone.
We consider this problem facing us a common European problem and for this reason we seek a joint European solution," he said.
Since 2010, Athens has received two successive loans from the EU and the IMF totalling €240 billion in exchange for tough austerity measures and sweeping economic reforms.
Tsipras's government, which took power in January, has engaged in difficult negotiations with European leaders to continue receiving support while easing the austerity requirements in order to boost economic growth.
Experts from the IMF and the European Union are scrutinising a list of economic reforms proposed by Athens in a bid to unlock another €7.2 billion in loans to stave off possible bankruptcy.
Tsipras himself fuelled market fears over Greece's readiness to pay its debts when he warned German Chancellor Angela Merkel in a letter last month that Athens would not be able to service its debt without more financial help from the European Union.
And in a move that risks further irritating European neighbours, Tsipras has made no secret of seeking closer ties to Russia at a time when Moscow is at loggerheads with the European Union over the conflict in Ukraine.
Closer ties
In his meeting with Putin Wednesday, warm words were exchanged and a vague "joint action plan" on cooperation was agreed upon, with Putin insisting Athens has not asked for financial aid and that a Russian embargo on Greek produce would remain as part of a wider ban on EU agricultural imports.
Greece was particularly hard-hit by the January embargo decision, which was instituted in retaliation for sanctions imposed by the bloc against Moscow, as more than 40% of its exports to Russia were farm products.
In a sign of potential compromise, a proposal to set up joint Russian-Greek companies based in Russia that would provide a loophole in the ban were mooted yesterday by a Greek government source, under which Greek fruits and vegetables would not be considered as exports.
There is a desire from both sides to launch a procedure whereby Russia-based joint companies for Greek exporters of agricultural products," said the source.
Greece and Russia have talked up the possibility of closer economic ties between the two Christian Orthodox nations ahead of the visit – set to be followed by another trip to Moscow for Tsipras for WWII victory anniversary commemorations in May.
#Open journalism No news is bad news Support The Journal

Your contributions will help us continue to deliver the stories that are important to you

Support us now
Also prominent among the issues on the agenda was gas and energy cooperation, with Putin and Tsipras mentioning the possibility of Greek involvement in Moscow's new Turkish Stream pipeline project.
Energy Minister Panagiotis Lafazanis said Tuesday Greece had a "national interest" and was "strongly interested" in extending the planned Turkish-Russian pipeline to its territory.
'Baby steps'
Back in Brussels, eurozone experts were due to begin the second day of a working meeting on Greece's reform demands submitted at the end of March.
The discussions were only making "small steps", even "baby steps", a source close to the negotiations said.
And the Eurocrats are far from Tsipras's only problem: a demonstration organised by civil servants' union Adedy will be held in opposition to the IMF payment, the completion of which is seen as kowtowing to debtors at the expense of workers.
The demonstrators' call? That Greece's debt to be wiped out immediately, and in full.
First published 9.18am