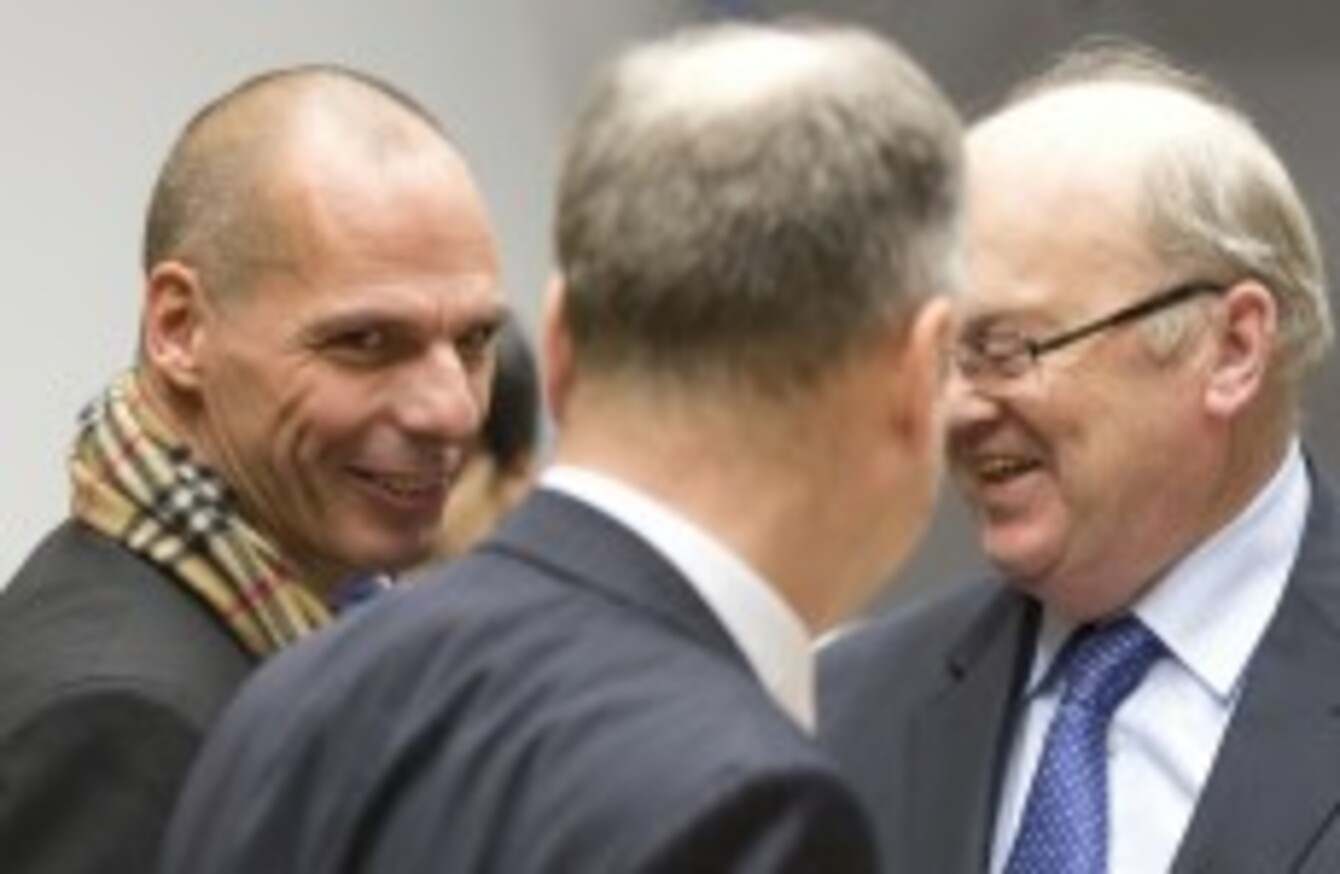 Image: Virginia Mayo/PA
Image: Virginia Mayo/PA
GREECE'S FINANCE MINISTER has today appealed to the Irish people to try to see things from the perspective of the people of his country, as his government attempts to reach a deal on its massive debt.
Writing in the Irish Times today, Yanis Varoufakis gives details of a meeting in which he says Irish Finance Minister Michael Noonan protested that ministers had not been given a look at the proposals they were there to discuss.
Varoufakis says in his article that he was not actually allowed to share the written proposals with any of the other finance ministers.
The euro zone moves in a mysterious way. Momentous decisions are rubber- stamped by finance ministers who remain in the dark on the details, while unelected officials of mighty institutions are locked into one-sided negotiations with a solitary government-in-distress.
He goes in to say Irish readers may look at his country's seemingly never-ending crisis and "allow themselves a feeling of mild superiority, on the basis that the Irish suffered quietly, swallowed the bitter pill of austerity and are now getting out of the woods".
The Greeks, in contrast, protested loudly for years, resisted the troika fiercely, elected my radical left-wing party last January and remain in the doldrums of recession.
He said this feeling is understandable, but unhelpful, and encouraged people to try to have a better understanding of the "Greek drama" and how the eurozone really works.
'Terror scenarios'
Today the office of Prime Minister Alexis Tsipras said it is hopeful for a last-ditch deal to stop it defaulting on its debt.
"Those who invest in crisis and terror scenarios will be proven wrong," a spokesperson said.
Greece has less than two weeks to break the deadlock in talks with its creditors to unlock the last €7.2 billion trance of its international bailout or face a messy euro exit and possibly even being booted out of the EU.
The Irish government has been holding high level talks with the Central Bank and the NTMA about the implications for this country of Greece exiting the eurozone. Speaking in Brussels last night, Noonan said:
We don't think there will be a contagion effect if there was a Greek exit but we've had conversations at a high level with the NTMA and with the Central Bank and we're watching the situation and we're taking advice from the ECB in Frankfurt and from elsewhere, but it's a European issue rather than an Irish issue.
Ahead of a fresh round of talks between Athens, the EU, ECB and IMF scheduled for Monday, Greeks reportedly stepped up withdrawals from the nation's troubled banks despite the central bank insisting the financial system was stable.
Savers took out one billion euros on Thursday, bringing total withdrawals to 2.6 billion over three days, financial website Euro2day reported.
- With reporting from AFP.