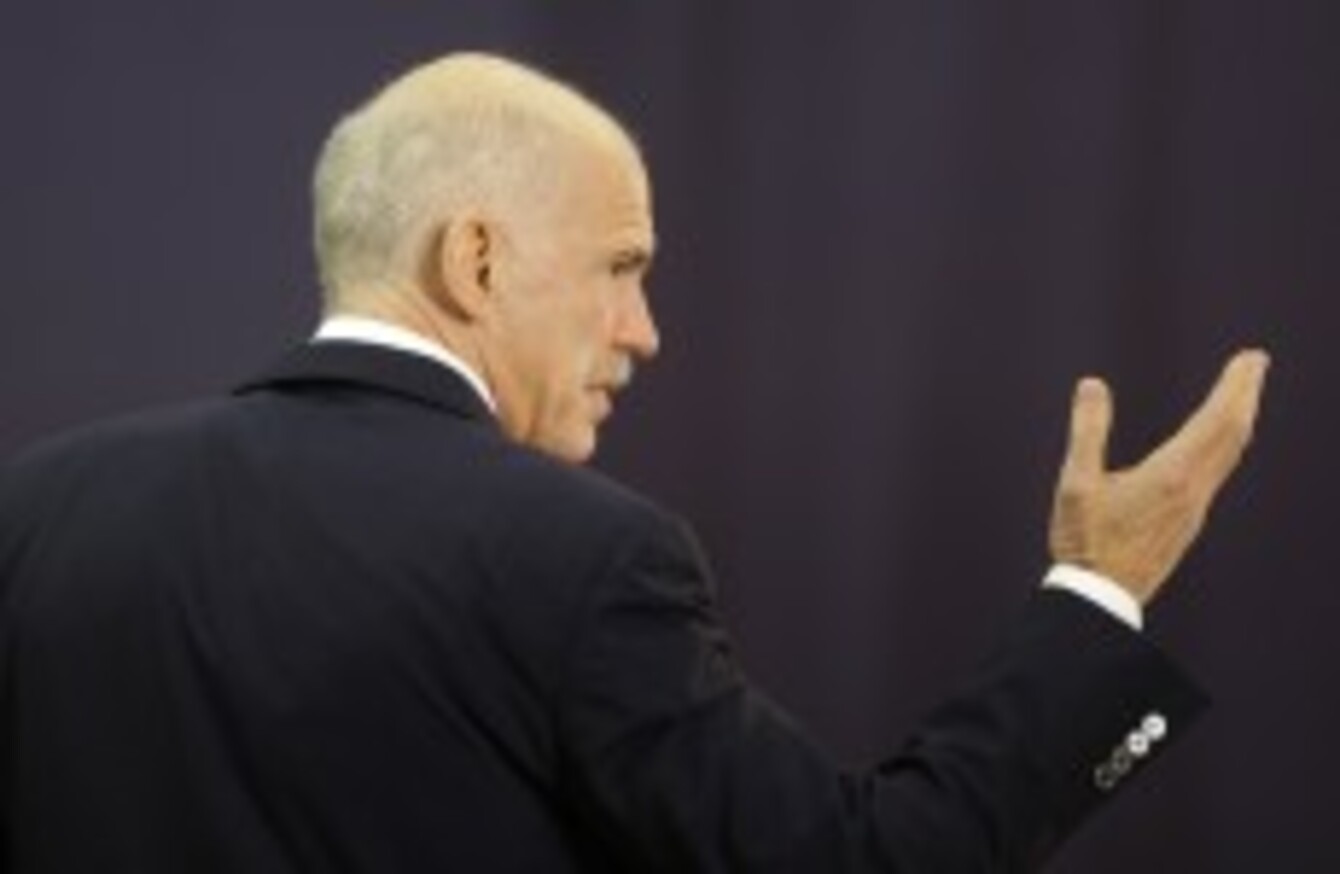 Papandreou yesterday
Image: Markus Schreiber/AP/Press Association Images
Papandreou yesterday
Image: Markus Schreiber/AP/Press Association Images
Updated, 18.29
GREECE'S PRIME MINISTER George Papandreou has told Sky News that he never wanted a referendum to happen and has now scrapped the plans to ask the Greek people if they want to adopt the second EU bailout deal.
In a separate report just breaking, a Greek opposition leader has called for Papandreou's resignation and staged a dramatic walkout during a parliamentary debate this evening.
Earlier today…
In a speech to parliament this afternoon, Papandreou said that parliament must vote on ratifying the country's second bailout deal, calling for a position of national unity.
The prime minister told MPs that the country's position in the euro is at stake but any referendum held would not question Greece's participation in the single currency.
However, he made it clear that turning down the package would be the beginning of coming out of the euro.
Papandreou continued to make a case for negotiation between his ruling party and the Opposition.
Commenting on the deal reached with its European partners on 27 October, the PM said that it has never happened that a country has its debt halved but still complains.
Defending his call for a referendum, he said that there was a "beneficial shock" for Greece and that it showed he was not only willing to listen, but also ask the Greek people, what they wanted.
"We trust them. We believe in their opinion," he said.
Papandreou added that other European countries recognised their right to go to a referendum.
However, he pulled back from the idea, stating that if a consensus could be reached at parliament level, the bailout deal could be adopted.
During the 45-minute speech, he asked the New Democracy party to come on board as negotiators with the Government.
While it was not exactly a State of the Nation address, Papandreou told members of parliament that "we are bearing a cross and they are throwing stones at us".
Going to an election would be a catastrophe for the country right now, he argued, stating that this was one of three options that Greece could take.
According to Reuters, Finance Minister Evangelos Venizelos remains opposed to any referendum. Speaking to parliament after Papandreou, he said that Greece must say clearly that it is not holding a referendum.
Previously…
Greek Prime Minister George Papandreou he denied speculation that he is on the brink of resigning, according to reports.
Greek state TV has reported that Papandreou told an emergency cabinet meeting today he would not step down, with a source saying "There is no resignation by the prime minister", according to Reuters.
His party is reportedly in talks with the opposition amid speculation that an interim government of national unity could be formed.
The BBC had reported that Papandreou would offer to stand down to enable a new coalition government. Members of Papandreou's party Pasok have already called for a government of national unity, and for Papandreou's resignation, while the leader of the opposition has now said that he would join a caretaker government until snap elections could be held, according to Reuters.
#Open journalism No news is bad news Support The Journal

Your contributions will help us continue to deliver the stories that are important to you

Support us now
Meanwhile, there is a growing belief that the Papndreou's controversial planned referendum on the EU bailout will not go ahead, the Guardian reports. The plan has brought the country's government is on the brink of collapse amid signs of a growing rebellion.
One member of Papandreou's Pasok party this morning told Greek radio that "The referendum is dead," Reuters reports.
Greece received a stark warning from France and Germany that its place in the Eurozone was on the line over the referendum proposal.
Vote of confidence
Papandreou's government faces a parliamentary vote of confidence tomorrow. He currently has a majority of two, but several deputies have already said they will oppose the referendum, the Financial Times reports.
One party deputy has already said that Papandreou himself is "history", according to the Press Association.
The split first appeared when finance minister Evangelos Venizelos publicly broke ranks, issuing a strongly worded statement this morning saying that euro membership should not depend on a referendum.
Venizelos's deputy Pantelis Oikonomou also said on television that a referendum would be "totally inopportune", according to the New York Times.
European share markets have been on the rise this morning as speculation about the future of Papandreou's government grows. A new government would be likely to mean no referendum, and a lower risk of a Greek default in the near future.
-Additional reporting by Sinéad O'Carroll