Source: TheJournal.ie/YouTube
THE NUMBER OF people killed in the Grenfell Tower fire has risen to 79.
The Met Police say that they are not sure how high the number of dead will climb to, but said that five people previously thought missing have been found safe.
Police had said on Saturday that 58 people were either dead or missing and presumed dead, but have revised upwards that number.
Photos and videos published by the Metropolitan Police show the gutted wreckage of apartments within the 24-storey tower block after Wednesday's fire.
With blackened rubble strewn across the floor and exposed pipes, one room is unrecognisable as a home until a bath and sink come into view — the dividing wall destroyed completely by the fire.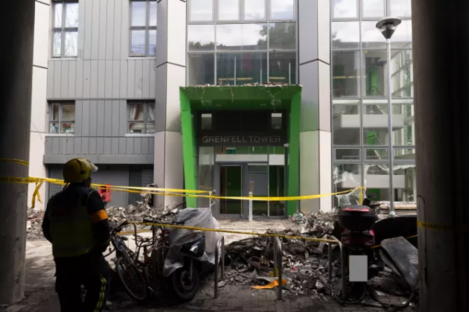 Source: Met Police
The remnants of an exercise bike, an oven and washing machine point to the lives of residents now shattered by the blaze.
"The conditions due to the fire damage verge on indescribable," said police commander Stuart Cundy, explaining that a full search of the building will take weeks.
"Sadly that work leads me to believe that the number of people missing, but as yet unaccounted for has risen from yesterday's figure of 58," he said, following further work to trace missing people.
"We must also prepare people for the terrible reality that some people may not be identified due to the intensity of the fire," he added.
The images released by police were taken by a recovery team inside flats where everyone inside has been accounted for.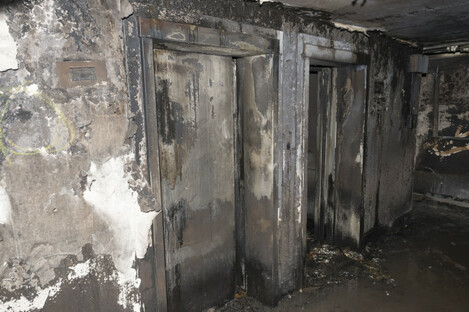 The Grenfell Tower lifts. Source: Met Police
Cundy said the investigation and search operation continues and is a massive undertaking.
"Our investigation will be wide ranging and exhaustive – it will seek to find out if any crimes have been committed and if so make sure that we do all we can to bring any person responsible to justice.
"This will take us some time, but I give my commitment that if as part of that investigation we identify anything that gives cause for concern for the safety of the public we will inform the relevant authorities."
Speaking today Cundy said that it is hard to describe the level of devastation caused by the fire.
He added that police had been from the top to the bottom of the building. He added that if there had been any illegality, he would "do everything within his gift" to bring them to justice.