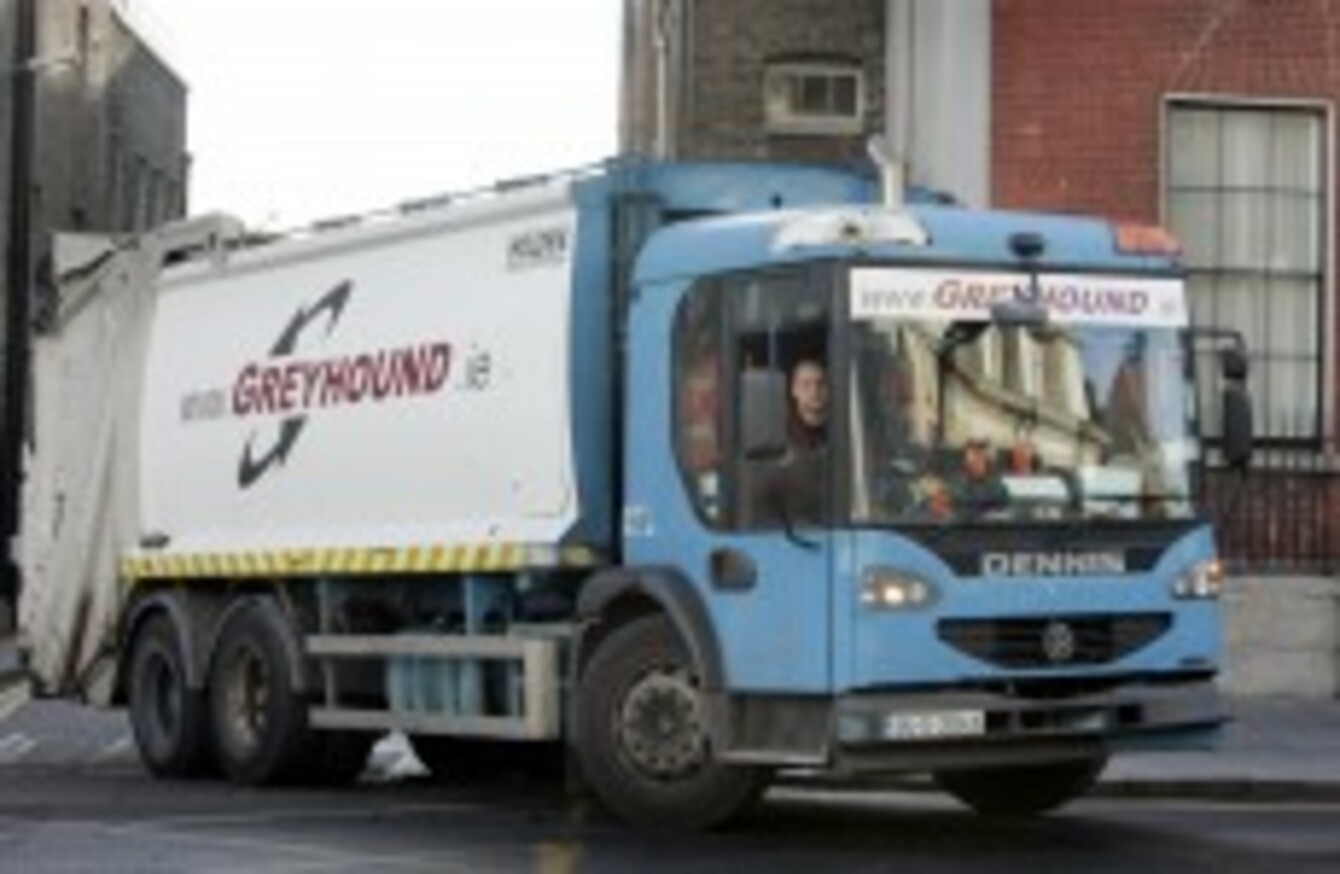 Image: Mark Stedman/Photocall Ireland
Image: Mark Stedman/Photocall Ireland
STAFF AT GREYHOUND Household, which collects recycling and rubbish in Dublin, have begun unofficial industrial action in Dublin city.
Greyhound Household said it "regrets the unofficial industrial action taken by household collection crews that operate in Dublin City Council areas".
"This does not affect customers in South Dublin or our commercial customers," it added.
Incident
A man was taken to hospital by ambulance after an incident at the Greyhound Knockmitten Lane depot in Clondalkin. The company said it is investigating whether the man was knocked down at the depot.
Sinn Féin Deputy Aengus Ó Snodaigh was at the scene when the incident occurred, and said it was a "deeply distressing incident" for the workers on strike.
He said that the person was sitting on the footpath when they were struck.
Clocking in
Greyhound said the action taken by the crews "is in defiance of a recommendation by the Labour Court".
A spokesperson rejected claims that the staff had been 'locked out' and said that when they arrived at work this morning they were asked to clock in "under the conditions recommended by the Labour Court".
The staff who are striking did not clock in and "refused to work under they new conditions" so they were asked to leave, said the spokesperson. They began staging industrial action outside the building's main entrance.
Greyhound is seeking to maintain full service to its customers, but said that collections today may run slightly late. It has a full contingency plan to ensure minimum
disruption to service to customers.
Greyhound Household has exhausted all industrial relations avenues to address historical terms and conditions of our household collection crews to bring them back in line with current industry norms in order to remain competitive in today's marketplace.
Greyhound Household has been negotiating new terms and conditions locally through the
Labour Relations Committee (LRC) & the Labour Court, but said today: "We have exhausted all avenues."
SIPTU response
Trade Union SIPTU said that Greyhound waste collection workers "have been unable to work at the company's plant in Clondalkin since 6am this morning". It said this was "following an attempt by management to unilaterally implement cuts to their wages and changes to their conditions of employment".
SIPTU Organiser, Henry O'Shea, said the proposed cuts to the workers' wages were of up to 35%, and there were also changes to their conditions of employment.
He said that: "Twice today, workers presented themselves for work at the Clondalkin plant under their current terms and conditions of employment and on both occasions management refused them entry."
O'Shea said that SIPTU has been in discussions with the management of Greyhound since February.
He also claimed that the Labour Court recommendation had not supported Greyhound's proposed pay cuts and changes to conditions of employment.
- First published 12.05pm