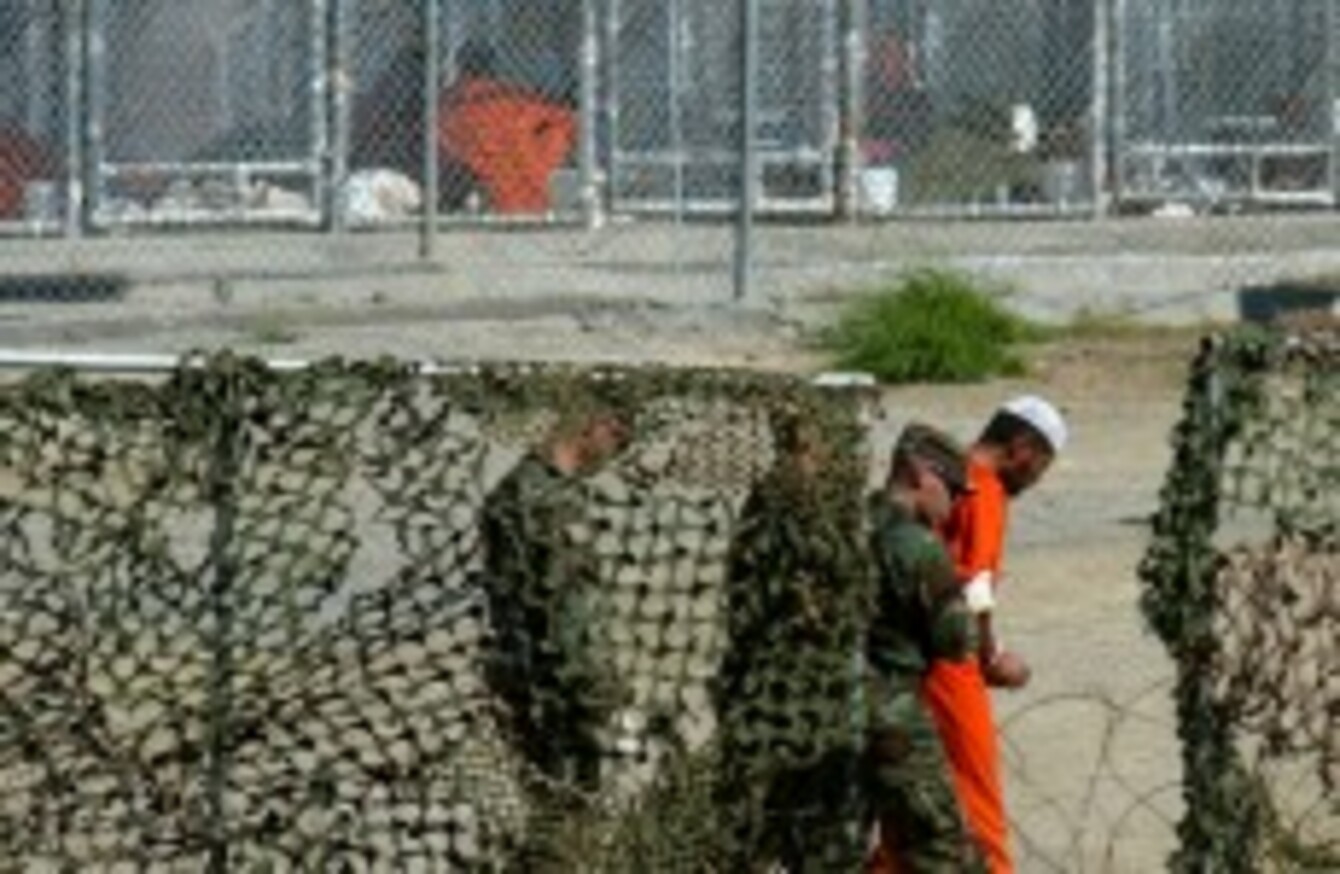 A detainee is escorted to interrogation by U.S. military guards at Camp X-Ray.
Image: AP/Press Association Images
A detainee is escorted to interrogation by U.S. military guards at Camp X-Ray.
Image: AP/Press Association Images
SIX GUANTANAMO INMATES transferred to Uruguay are leaving hospital free after more than a decade in what one called the "black hole" of the US military prison.
The men, who arrived in Uruguay yesterday on refugee status after 12 years of detention without charge, underwent medical exams at a military hospital after landing.
"That's the only reason they're not walking around the streets of Montevideo today like any neighbor's son," Defence Minister Fernandez Huidobro told local radio station Carve.
Uruguay's leftist President Jose Mujica had announced in March that the South American country would take in the inmates on "humanitarian grounds," in a bid to help his US counterpart Barack Obama fulfill his long-delayed promise to close the prison set up in the wake of the 9/11 attacks.
Huidobro said the men were all "fine," though he expressed concern over the "very diminished" condition of Syrian national Jihad Diyab, 43, who had staged a hunger strike and requested a US court to order prison officials to stop force-feeding him.
"I believe he's begun eating, so in a matter of hours I think they'll leave the military hospital and join everyday life," said the defense minister, who, like Mujica, is a former leftist guerrilla who spent time in prison during Uruguay's 1973-1985 dictatorship.
Diyab's lawyer Alka Pradhan said her client can barely walk and mostly uses a wheelchair after undergoing "horrible treatment" in detention, but is hoping to build a new life in Uruguay, whose government is giving the men financial support.
"He's really hoping that he can learn Spanish quickly, that he can integrate and show his gratitude to the Uruguayan people and prove that everything that has been said wrongly about him and the other detainees is false," she said.
The men, including three other Syrians, a Palestinian and a Tunisian, all in their 30s and 40s, were among the first detainees sent to Guantanamo in 2002.
Detained as part of the US "War on Terror" for alleged links to Al-Qaeda, they were never charged or tried.
They had been cleared for release but the US ruled they could not be sent to their home countries for security reasons.
A lawyer for former inmate Abdelhadi Faraj said his client, a Syrian national, had been reviewed and approved for release in 2009 by senior officials from across the US military and intelligence establishments, under a process ordered by Obama.
"You don't have to take my word for it when I say that Mr Faraj is not a threat to anyone," said the attorney, Ramzi Kassem, a law professor at the City University of New York.
"Every single US government agency with a stake in national security matters signed off on his release. And, now, the Uruguayan government has rightly decided to honor his human right to live as a free man," he wrote in an email.
A total of 779 prisoners have been held at Guantanamo in the nearly 13 years since the detention center was set up at the US naval base in the southeastern corner of Cuba.
The Pentagon said 136 now remain, of whom 67 have been approved for release by Obama's administration or that of his predecessor, George W. Bush.
New home
Faraj described his experience in a letter sent by his lawyers to Uruguayan newspaper El Pais.
"My name is Abdelhadi Omar Faraj. For the past 12 years I've also been known as prisoner number 329 at Guantanamo," he wrote.
He described himself as a migrant worker from a modest family who was arrested while trying to flee the war in Afghanistan in 2001.
He was detained at the Pakistani border, handed over to the US Army in exchange for payment, held in "sub-human conditions" and eventually flown to Guantanamo in June 2002, he said.
US authorities eventually cleared him for release but did not want to send him to Syria, by then in the grips of civil war.
"If it hadn't been for Uruguay, I would still be in that black hole," he said.
He said he was already a fan of the national football team and hoped to learn Spanish and find a job.
Lawyers said the men were eager to get in touch with their families and possibly bring them to Uruguay.
"He now considers Uruguay to be his country and has no intention of leaving in the immediate future," said Faraj's lawyer Kassem.