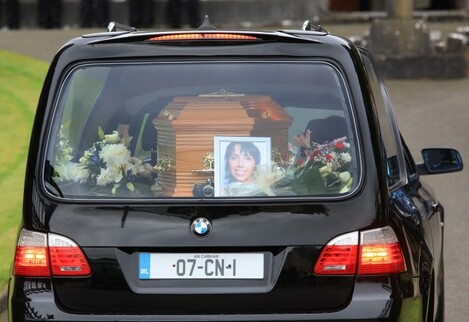 The coffin of Clodagh Hawe arriving at St Mary's Church in Castlerahan. Source: Eamonn Farrell
I would like you to focus on two families united in support and brokenness, sharing the burden; bewildered, pained and yet heroic.
FAMILY, FRIENDS AND colleagues of the Hawes gathered at St Mary's Church in Castlerahan were today told of a family which played an "amazing part" in the lives of the people around them.
Clodagh and Alan were "held in the highest regard" by colleagues, parents and children of the schools they worked in. Their three children were "gifted pupils, team players, budding leaders, warm friends".
"What a loss," Father Feilim Kelly told the hundreds of people who had come to the small Cavan church to pay their respects.
Source: Brian Lawless/PS
Five hearses brought the coffin of mother Clodagh Hawe in first, followed by the white coffins of her three sons Liam (13), Niall (11), and Ryan (6) and lastly, the coffin of their father Alan.
The service began with a presentation of symbols to represent the five family members.
Mary, Clodagh's mother, placed a family photograph on her coffin, a basketball was placed on that of her eldest boy Liam.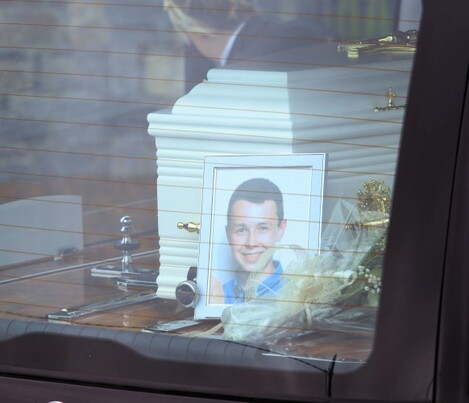 Source: Eamonn Farrell/RollingNews.ie
A trophy 11-year-old Niall received for excellence in sport was presented by Clodagh's cousin Audrey, and a woolly dog was placed on the coffin of the youngest member of the family, Ryan.
"Symbols make a statement.  As we begin our mass I would ask you all to stop and reflect on the symbols and the awfulness of the moment."
Father Kelly spoke of the anger and bewilderment, the despair and emptiness felt by those left behind.
How much more can a family endure?
A family at Christmas
The priest, who was a close friend of Alan Hawe's, shared an anecdote of visiting the family on Christmas Day a couple of years ago.
I know I was calling to see close friends and knew the welcome, Clodagh with her scones, red jam and mug of coffee, Liam, Niall and Ryan busily, like budding engineers, building all kinds of Lego. More importantly, they invited the old man and indeed showed him how to go about some intricate structures.
Ryan, the youngest of the three boys, had "the eyes of a rogue and a beguiling manner".
That is my abiding memory of a family at Christmas.
"There is a dark side too," Father Kelly told the congregation.  "How so much goodness could be destroyed?  How such happiness could be invaded?  How?  Why?
"It is not for us to seek answers or to surmise about behaviour.  We all are trying to cope with a tragedy beyond our understanding."
- With reporting by Michelle Hennessy.