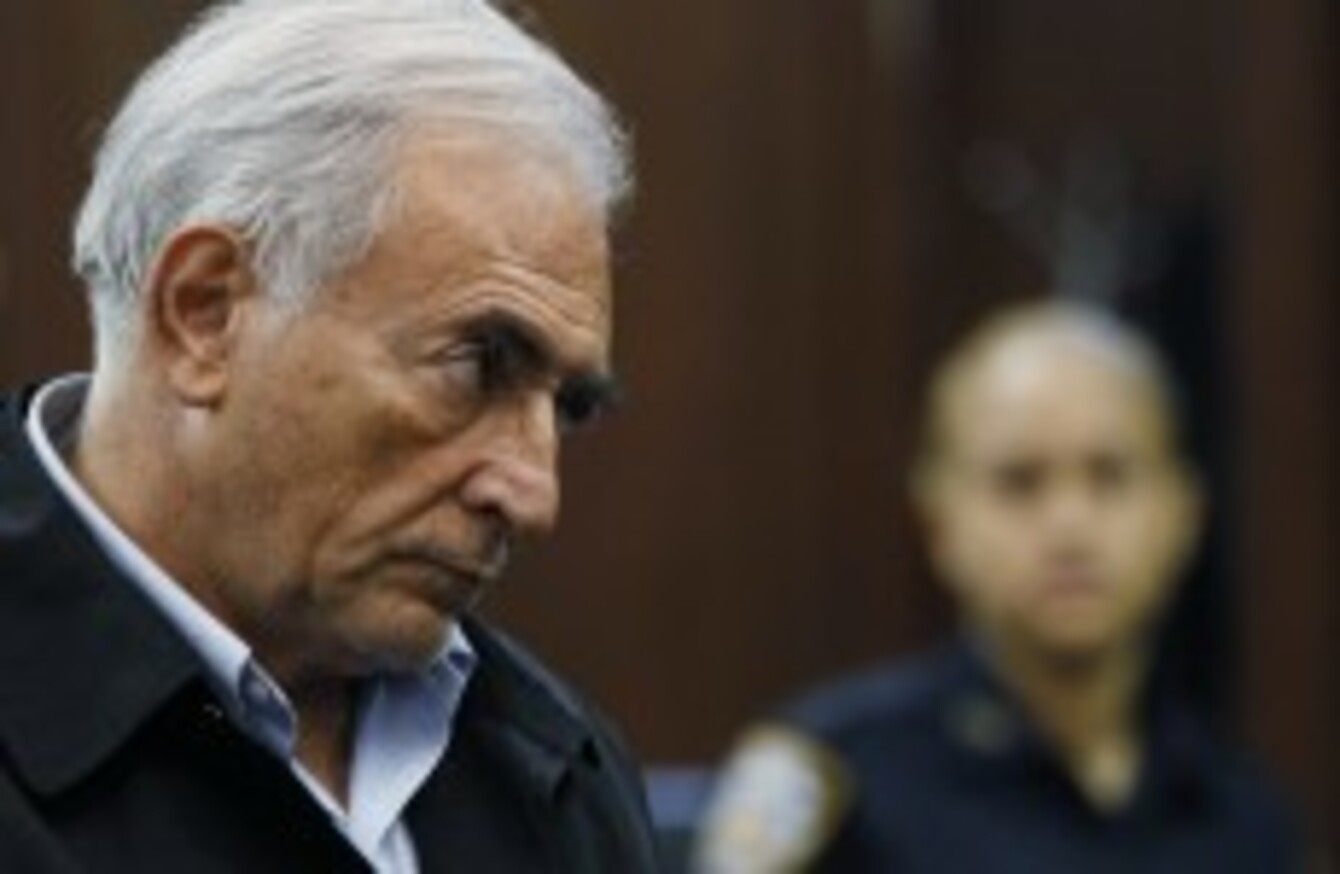 Strauss-Kahn at his arraignment on Monday in Manhattan Criminal Court
Image: Shannon Stapleton/AP/Press Association Images
Strauss-Kahn at his arraignment on Monday in Manhattan Criminal Court
Image: Shannon Stapleton/AP/Press Association Images
DOMINIQUE STRAUSS KAHN has stepped down as managing director of the International Monetary Fund amid a storm of controversy and charges of sexual assault and attempted rape.
The embattled head of the organisation has said in a statement that he wants to devote "all his energy" to battle the charges he faces in New York. He's due back in court today after being denied bail earlier this week. In his statement, Strauss-Kahn denied the allegations "with the greatest possible firmness" and said it is with "sadness" that he felt he must resign. He said that he was thinking of his family and that he wanted to protect the IMF:
I think at this time first of my wife – whom I love more than anything – of my children, of my family, of my friends. I also think of my colleagues at the Fund. Together we have accomplished such great things over the last three years and more.
A 32-year-old chambermaid at the Sofitel Hotel in Manhattan told police that Strauss-Kahn came out of the bathroom in his room naked, chased her down, forced her to perform oral sex on him and tried to remove her underwear before she broke free and fled the room. The allegations against him include unlawful imprisonment, attempted rape, forcible touching, two counts of sexual abuse and two counts of committing a criminal sexual act. Pressure had been mounting on Strauss-Kahn to resign as the week progressed.
The IMF says that the process of choosing a new leader is underway, but that for the moment John Lipsky will remain on as acting managing director. An official has said that the fund had yet to speak with Strauss-Kahn since his arrest at the weekend.
There is now a battle for the top job at the IMF, with developing countries like China, Brazil and South Africa attempting to break Europe's grip on the organisation. Europeans have led the IMF since its inception after World War II.
Strauss-Kahn remains confined to his quarters in the notorious Rikers Island until his gets the chance to make a second application for bail today. His initial plea was rejected as he was considered a flight risk.
- Additional reporting by AP