HEALTH MINISTER SIMON Harris has said he would be extremely concerned if someone seeking medical assistance was turned away from hospital and told they needed a GP referral letter.
Two weeks ago, a man suffered a severe heart attack shortly after he was turned away from a south Dublin hospital despite complaining of chest pains.
The Bray man had sought medical assistance at the minor injuries unit at St Columcille's Hospital in Loughlinstown. However, it has been claimed the man was told he needed a referral letter from his doctor.
The man sat down in the waiting area, unable to remain standing, but was again told there was no point in waiting and that he would not be seen.
The man then took a bus back to Bray in an attempt to reach his GP's office. After disembarking the bus and walking towards the GP surgery, he collapsed on the main street, where passers-by administered CPR before paramedics arrived.
The man was brought by ambulance to St James's Hospital, where he received surgery.
An investigation into the matter has been launched, with the minister stating that he could not preempt the outcome of the review.
'That is not the way a health service works'
"I would be extraordinarily concerned as Minister for Health if any citizen walked into any health facility, whether it be an acute hospital or elsewhere and sought medical help and was told they needed a GP referral letter. That is not the way a health service works, that is not the way we work as people," Harris told TheJournal.ie.
In a statement, a spokesperson for the hospital said that "established protocols" in place for people who self-present at the hospital would "be reviewed in light of concerns raised".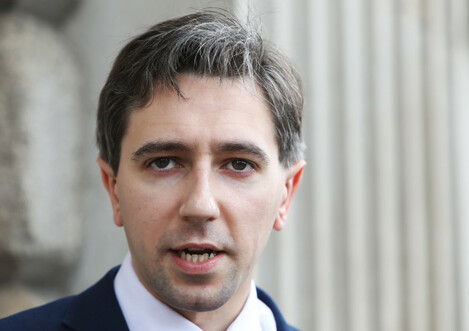 Health Simon Harris speaking to the media yesterday. Source: Leah Farrell/Rollingnews.ie
"I want this issue looked at fully. I understand there is protocol in place in relation to what should happen in such a situation. I want to check that was followed in full and I want to check that it was adequate," said the minister.
Harris said he has written to the hospital group CEO and asked that arrangements are made for hospital management to meet with the patient to ascertain all of the facts.
"I think it is important the health service talks directly to this man rather than having us talk about it through the media. Obviously staff that were involved will also be spoken to and I have asked that my office be directly informed," he said, adding that he will decide what further steps should be taken, if any, upon the conclusion of the review.
He commended hospital staff who work in the health service, stating that it is his experience the majority are dedicated and passionate people who "go to work to do their very best".