THREE TEENAGERS were detained for questioning by gardaí yesterday afternoon – after leading officers on a sea chase along the east coast aboard a stolen motor cruiser, thought to be worth around €180,000
The 40ft vessel was taken from Dun Laoghaire Harbour in south Dublin at around 5.30am yesterday morning, according to gardaí.
It was spotted around 20km to the south, off Greystones in Wicklow, at around 10.40am – prompting a bizarre chase sequence, as the stolen boat attempted to evade gardaí.
According to sources, the vessel appeared to suffer engine trouble off the coast of the Co Wicklow town, and the RNLI rescue crew from Dun Laoghaire were sent out in case of risk to life.
Soon, the engine started back up – and the craft began to make its way to the Marina at Greystones.
However, local gardaí were making their way out to the vessel on board a small craft from Greystones – and the crew of the stolen cruiser turned back out to sea as they saw them approach.
It's unclear quite what happened next – the cruiser may have rammed the pontoon, according to one source. Another source involved in the operation said there wasn't any close contact with the stolen craft.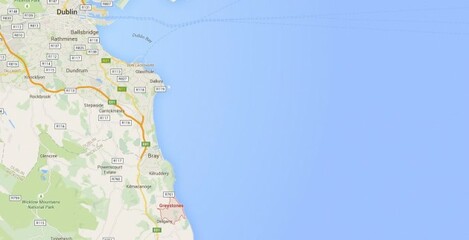 Source: Google Maps
Either way – gardaí decided to alert their air support unit, and the helicopter made its way to the scene to monitor the developing situation.
The cruiser was eventually run ashore at a beach close to Greystones – and the three teenagers attempted to make their escape on foot.
However, the helicopter kept track of them. A garda spokesperson confirmed two 18-year-old males and a female aged 17 were detained.
Two have since been released. An 18-year-old man remains in custody in Bray Garda Station this morning.
The cruiser was significantly damaged in the incident, a source said.