NEED TO CATCH up? TheJournal.ie brings you a roundup of today's news.
IRELAND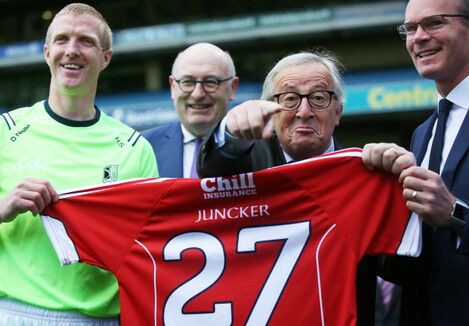 President of the European Commission Jean-Claude Juncker is gifted a jersey by Tánaiste Simon Coveney at Croke Park. Source: Sam Boal via RollingNews.ie
WORLD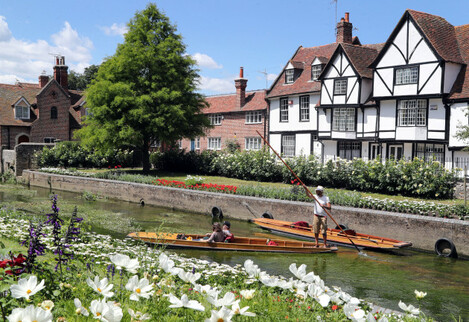 A couple take a punt in the sunshine through Westgate Gardens in Canterbury, Kent. Source: PA Wire/PA Images
#BREXIT: European aviation giant Airbus and BMW have warned that they could pull out of the UK if there's a "no deal" Brexit.
#FRIENDS AGAIN: The end of the Greek debt crisis was announced, in a deal that will give a big cash payout for Athens and close eight years of financial rescues.
#JAMES COMEY: The former director of the FBI described the separation of children from their parents at the Mexican border as shameful and disgraceful.
#MELANIA TRUMP: The First Lady visited the Mexican border wearing a jacket that said "I really don't care. Do U?" – an action that sent the internet ablaze.
PARTING SHOT
US site Politico reviews the current prospects of a united Ireland in the context of Brexit, which makes for an interesting international perspective on something we're very much used to hearing about. Here are some lines that caught our eye:
Once, Northern Ireland was the more progressive of the two polities; its residents had access to divorce and contraception — both unavailable in an Ireland under the tight grip of the Catholic Church. Now, it is Northern Ireland that looks like a conservative outlier, after the Republic of Ireland voted to legalize gay marriage and abortion by large popular mandates. (Both remain illegal north of the border).
A lot of educated, outward-looking, liberal-minded unionists would tend to favor remaining in the European Union," said Dan O'Brien, chief economist of the Institute of International and European Affairs. "There are a chunk of unionists reconsidering [their options] in the context of Brexit.
A united Ireland didn't seem so fantastical when it was on the front page of the Financial Times.
Get our daily news round up