NEED TO CATCH up? TheJournal.ie brings you a round-up of today's news.
IRELAND
Eleven-year-old Emily Gilsean from Dún Laoghaire, who created her own website, with the Taoiseach and Ministers.
WORLD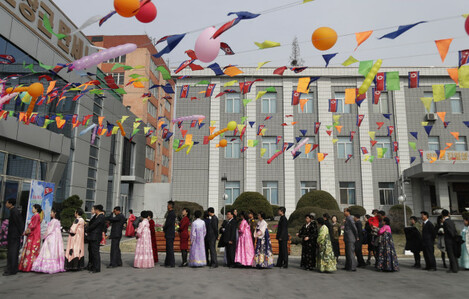 People line up to vote during the election at a polling station in Pyongyang, North Korea. Source: Dita Alangkara
#KIM JONG ONE: North Koreans went to the polls today for an election in which there was only one approved candidate on the ballot paper.
#BREXIT: The original former Brexit secretary David Davis said Theresa May's Brexit deal is "dreadful" and, in a way, worse than the UK's EU membership.
#MATERNITY CARE: Tunisia's health minister resigned after the sudden deaths of 11 newborn babies at a state maternity hospital sparked an outcry in the country.
PARTING SHOT
While our current Taoiseach Leo Varadkar took a seat in the Aviva Stadium next to EU negotiator Michel Barnier… what's our former Taoiseach been up to?
The Sunday Business Post has painted a picture of the post-Taoiseach life, describing Kenny's version as quite void of politics and "effectively retirement", and is keen not to interfere in Leo Varadkar's reign.
That's his policy at home, anyways. He has one quite important political past time: advising German Chancellor Angela Merkel.
They phone him for advice from time to time… They [Kenny and Merkel] were very close and she has perfect English.
Get our daily news round up