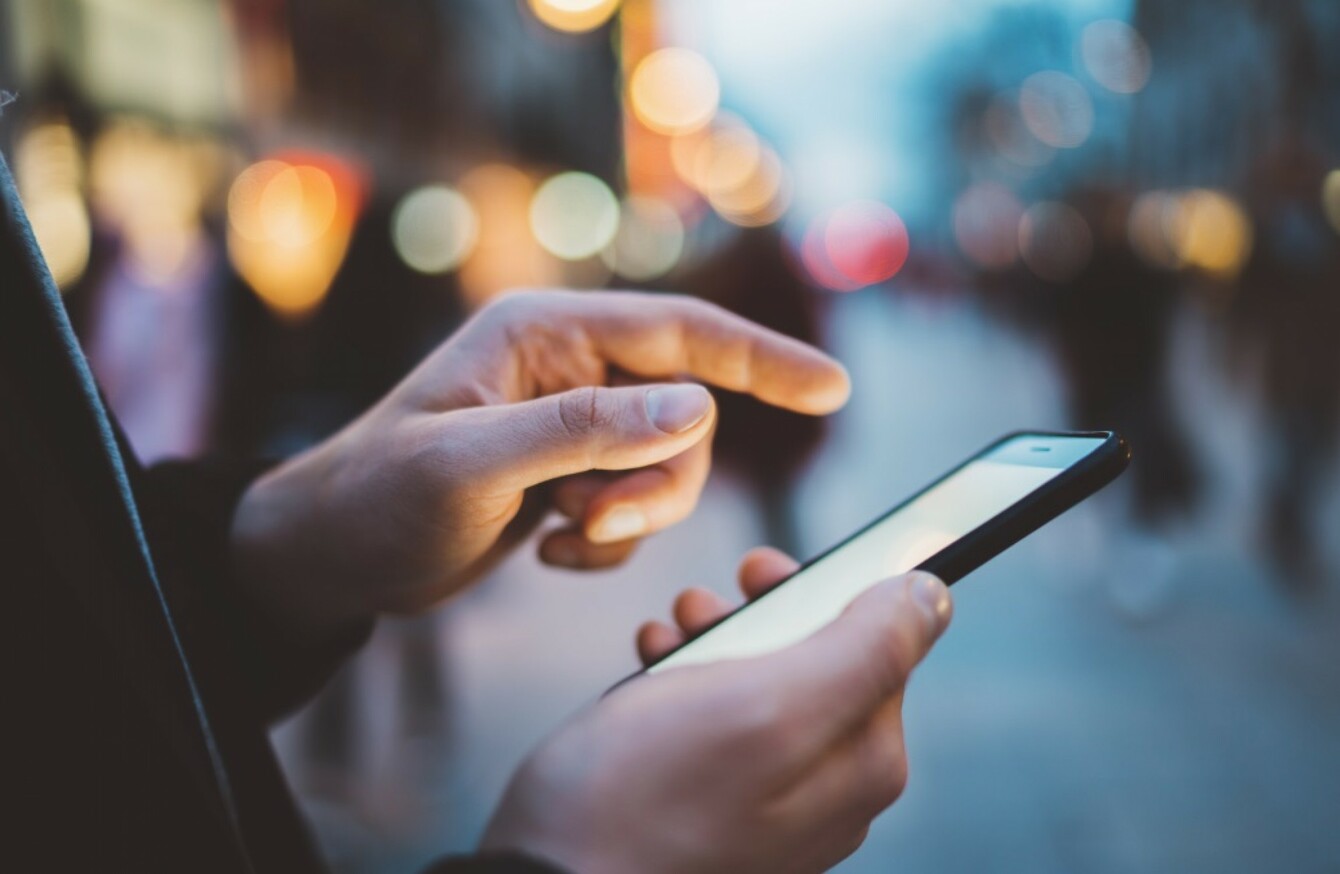 Image: Shutterstock
Image: Shutterstock
The way we live is changing fast. Every fortnight in our Future Focus series, brought to you by Volkswagen, we'll look at how one aspect of everyday life could change in the future. This week: personal safety. 
TO HELP YOU avoid danger to your personal safety when you're out and about, the Gardaí recommend a number of practical, common-sense precautions no matter the time of day: knowing where you're going, being observant of your surroundings, letting friends or family know your whereabouts and concealing any valuables.
But in the future, could technology help with some of these approaches?
Could devices like wearables and location-trackers provide additional peace of mind when you're walking home at night or sitting in the park on your lunchbreak, or could new apps and interactive software help us avoid getting lost in a new place?
Wearable tech 
According to a survey by security company ADT, 90% of millennials say that smartphones give them peace of mind when they're alone, while nearly 75% have an interest in buying a separate personal safety device.
So what could this include in the future? Well, according to Ericsson, personal safety is set to drive the wearables market more than health and fitness products in the coming years, with a growing interest in devices such as panic alarms or location trackers. 
One company already trying to tap into this market is Cork-based Run Angel, started by David and Ellen Caren. The pair decided to develop a wrist-worn safety device after David got into trouble while out on a run early one morning.
"We went out and looked at what was available in the safety space. There were these old relic alarms, but they were very cumbersome and ugly and there was no way a runner was going to use that. So we decided to come up with our own," he says.
They created Run Angel – a wearable safety device that emits an alarm of 120 decibels when activated, and also sends notifications with your location to a chosen network of your friends and family. 
"We see competitors that are silent wearables, but sound is an essential deterrent – it attracts attention and gives you an opportunity to escape. Then there's the connectivity aspect to it at the same time, so you can pair it to your smartphone," Caren says.
Although it was originally designed for lone runners, he adds that device is now being used in many different scenarios where people may need to alert others if they're in trouble.
"You can use Run Angel in different guises. You can trigger the alarm from your phone app, or you can set a silent alarm that just sends a message to your family, so if you're getting a taxi you can just put it in your bag," Caren says.
"We've seen it used by students going travelling, people going to festivals, bike couriers, farmers in the middle of nowhere, people camping in Iceland, someone working on an oil rig in bad weather or realtors in the US showing strangers into houses."
Smarter maps
There's no guarantee that an alarmed device will keep you safe when you're out and about, but there are still plenty of other ways that technology is helping to give us peace when we're travelling alone or far from home.
The very notion of "getting lost" is becoming less and less of an issue in the smartphone age, thanks to the endless maps and navigation tools available in a few quick scrolls.
But there are still times when the maps on your phone might let you down, like when you come out of a train station and aren't sure whether to turn left or right. To overcome this confusion, Google Maps is now testing a new augmented reality feature in its mobile app.
Source: Engadget/YouTube
Instead of just showing you a 2D map on a screen, Google will superimpose graphics over a live view of the street through your phone's camera, with large arrows and floating street names that should make directions clearer, and make sure you know exactly where you're going.
The company also has plans to highlight restaurants and other locations on a particular street, and may even be able to recommend places you'll enjoy using artificial intelligence.
When it comes to safety, there are a few more potential developments in the pipeline. Google Maps is testing a new feature in India where it will alert you if a taxi deviates from its route by more than 500m, highlighting if the driver isn't taking you directly to your destination for whatever reason.
The tech giant is also working on ways for your maps app to help direct you if there's a natural disaster. In the case of hurricanes, earthquakes or flooding, Google's SOS map alerts will provide extra information about the incident and navigation routes that will best keep you away from disaster-hit areas.
Criminal-tracking tech
Our growing reliance on maps and location-based services could even help prevent crimes or track down perpetrators. Google records people's locations worldwide all day every day, and in certain cases police in the US have used this data, via a search warrant, to track criminals and find witnesses.
Investigators are learning to pinpoint when and where an incident took place, and using Google data to analyse any devices with locations and movement patterns that may seem relevant to the crime. Right now the approach is not widespread, and is being used as an aid to help investigations, rather than the overall solution – but it could point to a safer future for us all.
Safer streets
Smartphone navigation systems are more than capable of getting you from A to B on the most efficient route possible – but sometimes the quickest route might not be the safest option.
Although this type of personal safety – keeping you off of badly-lit roads or quieter streets – doesn't seem to be on Google's radar just yet, there are other apps that aim to address traveller safety, often relying on crowd-sourced information from other users.
Some send push notifications when crimes are reported nearby, while others ask users to submit personal experiences of incidents. For example, Safe & The City allows users to rate routes around London based on factors such as street safety, lighting, footfall and if any crimes have been reported in that area.
Then there are location-trackers, which can allow family or friends to monitor your journey in real time if you're travelling alone, and that will send a notification if something is wrong.
In the future, personal-safety wearable Run Angel could be combined with additional features like live-tracking, analysis, or the ability to alert people nearby if you need assistance.
"Starting out, we didn't want to be that 'Big Brother' company watching you, but I think there's a demand for that now," Caren says.
"It's still an emerging area, but I think it's changing – people are trying to find more ways to protect themselves and parents want safety tech for their children."
At the end of the day, there's certainly no silver bullet when it comes to protecting yourself from danger, but technology may provide a few more tools in the future to give you peace of mind when you're out and about.
"You don't want to scare people into buying products, but you want to empower them so they can protect themselves and get on with their day," Caren adds.
"Other wearable companies are now seeing personal safety as an important feature, and I think more tech companies will be looking at this now in the future." 
The future is nearer than you think. Discover Volkswagen's range of current and next-gen electric vehicles at volkswagen.ie/electric.